Ombre colouring (where the hair moves from dark at the roots to light at the ends) has been a popular trend over the past few years. Not only has this hair colouring technique stood the test of time in the fickle world of fashion, but it has also made it to mainstream status so everyone from teens to mature women can be seen flaunting this look. To satisfy the demands for ombre colour, major hair care brands have even put out DIY ombre colouring kits, so a visit to the salon is no longer necessary to get this look.
In the past, ombre has been very dramatic in tone (usually going from brown or black to light blonde at the ends) and seen on long, straight hair, but over time this has evolved. Now, the ombre colours we are seeing are more subtle, chic and stylish. And, we are seeing it on all different hair lengths and types too. For some new ways to do ombre, check out the looks below.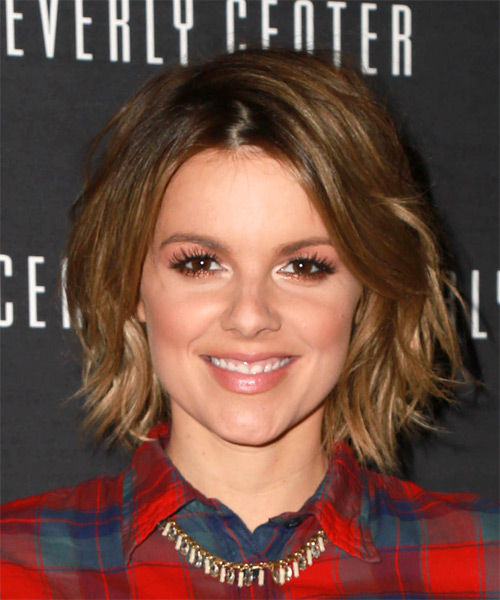 Ali Fedotowsky is rocking a subtle golden ombre hair tone here in her cute messy bob. Her hair moves from a light golden brown at the roots to a medium golden blonde at the tips for a subtle and smooth transition. This gives her a summery, bronzey glow all over and really warms up her complexion. This look is best suited for women with naturally medium to light brown hair with warm or golden undertones.
Katie Cooper is also looking lovely in golden blonde ombre that provides a cool effect on her naturally curly hair. Katie's layered hair looks lovely as it moves from a golden brown tone at the roots to light golden blonde at the ends. Her stylist has taken care to make the transition smooth which is especially important on very curly hair. This ombre tone will look great on women with a warm complexion and natural golden brown or blonde hair. As you can see on Katie, it looks especially good with freckled complexions too!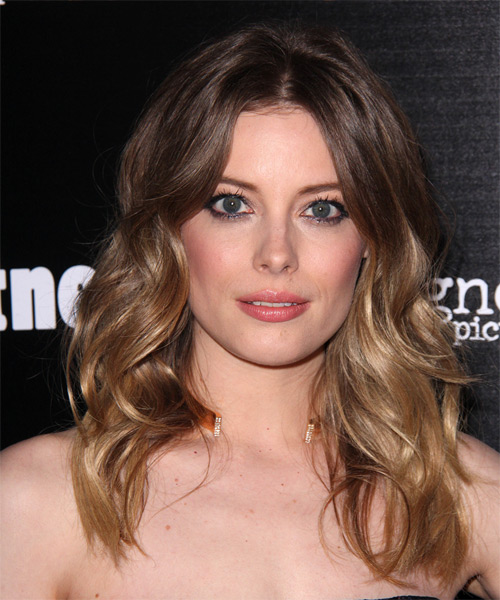 Gillian Jacobs is wearing another version of the ombre look here in her long layered tresses. Her natural dark brown roots flow into a dark blonde at the ends that has an all over ashy tone. Rather than have a bold, two-tone look, Gillian has used highlights at the bottom to create her ombre hair, instead of using the traditional "painting" method. This gives her subtler results that have a natural sun-kissed effect. Try this 'do out if you have naturally dark brown hair and a cool complexion.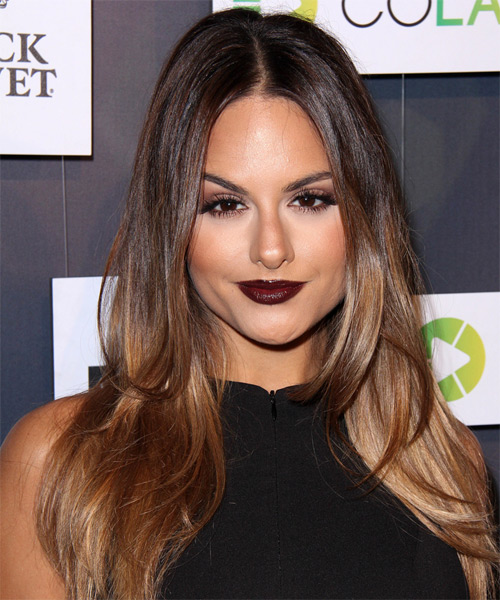 Finally we have Pia Toscano, vamping it up in long ombre locks. Her natural brown-black hair lightens up into a light caramel brown at the ends for a gorgeous effect. Pia has also used highlights to create her ombre hair rather than the painting technique for a more subtle transition. This look would suit women with long brown or black natural hair - shorter hair won't have the length needed to pull off the dark to light tones effectively.