Time to get creative and show your roots. It's called ombre' and it's still all the rage. Ombre is a French word meaning color graduating from dark to light. This color is also known as 'surfer strands' because the hair looks naturally sun-kissed. The key to this trendy color is subtlety! Your darker root color should flow into the lighter shade at the ends naturally. This color graduation works with your hair's natural beauty not against it. This hair color technique works on long hair, short hair, straight or curly and on virtually any hair color-the color combinations or endless. What really makes this look work so well is the natural finish. Busy girls on the go, take note- the fabulous part about this hair color is that it is low maintenance. No need to run to the salon to have your roots touched up on a regular basis-you can save time and money without sacrificing your style!
How to get the Perfect Ombre Color
When choosing the lighter shade make sure you only go three to four shades lighter than your darker root color. This will ensure a natural gradation of color. Because the technique needs to look as natural as possible, it is highly recommended that you go to a professional who is experienced in ombre color. They will be able to discuss with you the right shades for your skin tone and expertly blend the two colors.
Here's a great example of how to go from dark to light with natural looking results. Ciara's ombre color beautifully transistions from a very dark brunette base color to a warm, light honey blonde. Notice how the colors chosen were expertly blended to compliment her skin tone. Simply stunning!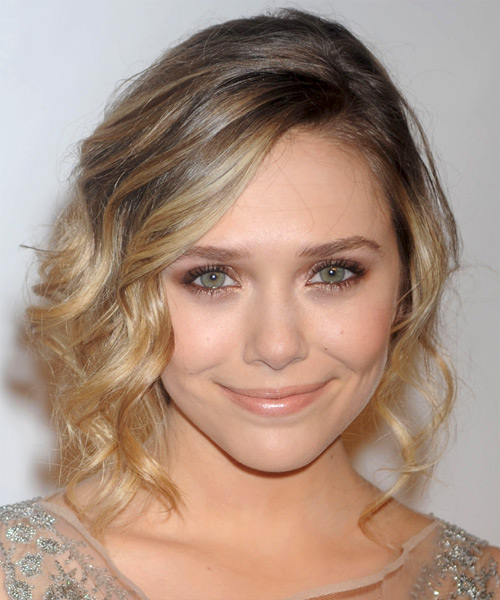 But this color technique isn't just for darker hair. Here's a lovely example of how to do ombre color if you are a blonde. Elizabeth Olsen shines as beige blonde roots effortlessly fade into soft and wavy champagne ends. This creates a seamless transition of color that enhances her complexion. Her hair color looks oh-so-natural and has a 'barely there' look to it.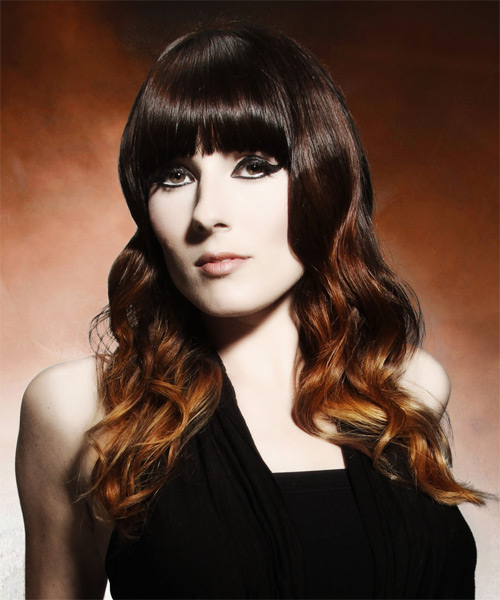 Here's something a little more daring. An edgy hairstyle is taken to another level with bold ombre color. The model's very dark brown base color gradually fades into dramatic orange-red loose waves at the ends. A heavy fringe and dark smoky eyes complete this striking, vintage-inspired look.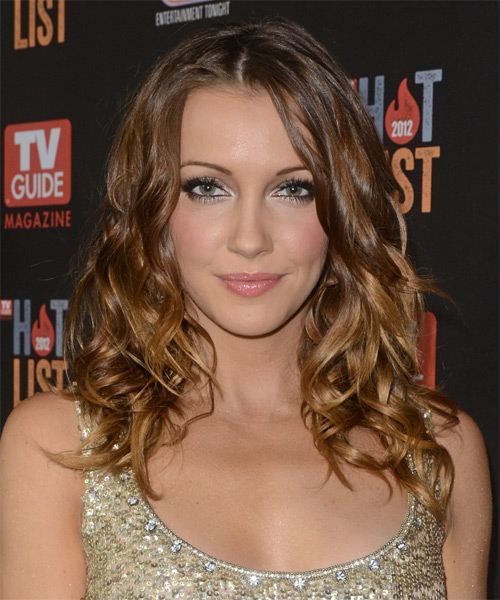 Like Elizabeth Olsen's blonde tresses, Katie Cassidy's hair is an example of ombre done very subtlely but with maximum effect. A beautful warm brown at the roots gently lightens into a lighter golden shade at the ends. Notice how the curls pick up the lighter shade, adding soft movement to this hairstyle. This is a very beachy look for women who like to have that sun-kissed glow.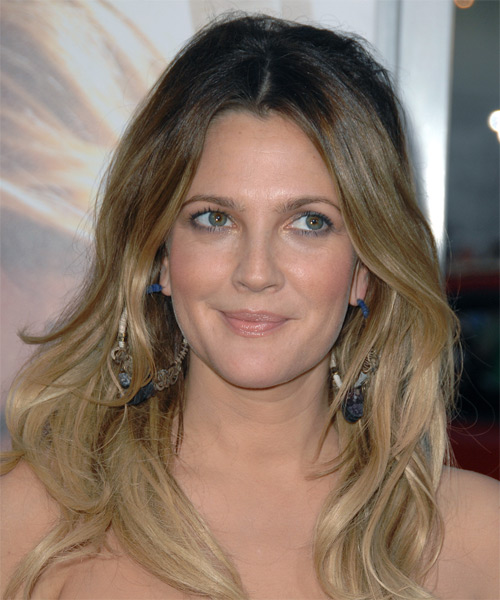 And here is the woman who some say started the ombre trend, Drew Barrymore. Drew has been rocking this ombre color trend for years in many different color combinations. No matter what style or color she always nails it. Drew works the ombre trend by keeping it natural looking and using tones that compliment her skin and eye color beautifully. If you are thinking of taking the ombre plunge, check out Drew's page in our Celebrity Hairstyle section!
New Ways to Do An Ombre Hairstyle
Ombre colouring (where the hair moves from dark at the roots to light at the ends) has been a popular trend over the past few years. Not only has this hair colouring technique stood the test of time in the fickle world of fashion, but it has also made it to mainstream status so everyone from teens to mature women can be seen flaunting this look. To satisfy the demands for ombre colour, major hair care brands have even put out DIY ombre colouring kits, so a visit to the salon is no longer necessary to get this look.
In the past, ombre has been very dramatic in tone (usually going from brown or black to light blonde at the ends) and seen on long, straight hair, but over time this has evolved. Now, the ombre colours we are seeing are more subtle, chic and stylish. And, we are seeing it on all different hair lengths and types too. For some new ways to do ombre, check out the looks below.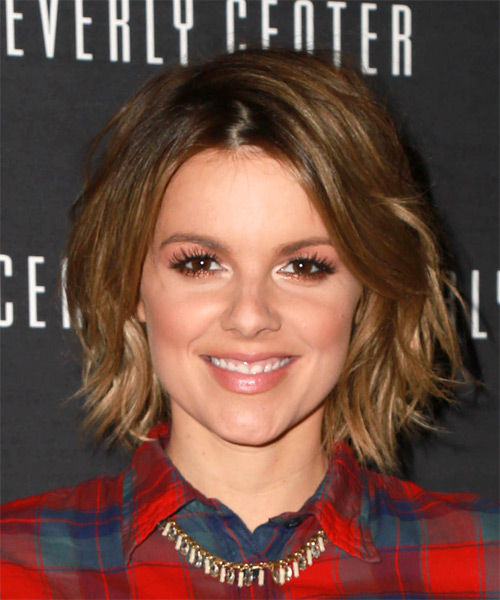 Ali Fedotowsky is rocking a subtle golden ombre hair tone here in her cute messy bob. Her hair moves from a light golden brown at the roots to a medium golden blonde at the tips for a subtle and smooth transition. This gives her a summery, bronzey glow all over and really warms up her complexion. This look is best suited for women with naturally medium to light brown hair with warm or golden undertones.
Katie Cooper is also looking lovely in golden blonde ombre that provides a cool effect on her naturally curly hair. Katie's layered hair looks lovely as it moves from a golden brown tone at the roots to light golden blonde at the ends. Her stylist has taken care to make the transition smooth which is especially important on very curly hair. This ombre tone will look great on women with a warm complexion and natural golden brown or blonde hair. As you can see on Katie, it looks especially good with freckled complexions too!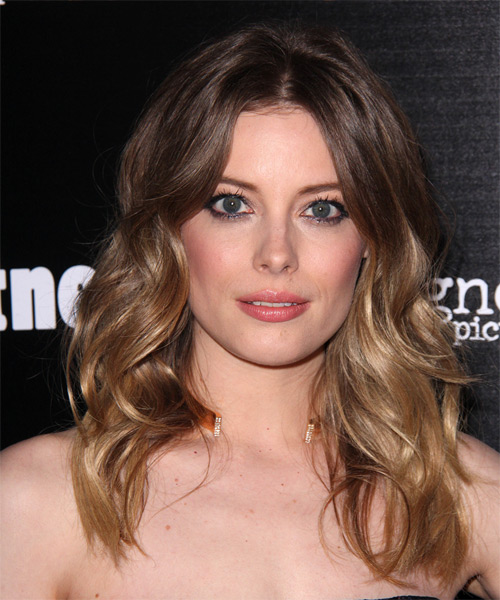 Gillian Jacobs is wearing another version of the ombre look here in her long layered tresses. Her natural dark brown roots flow into a dark blonde at the ends that has an all over ashy tone. Rather than have a bold, two-tone look, Gillian has used highlights at the bottom to create her ombre hair, instead of using the traditional 'painting' method. This gives her subtler results that have a natural sun-kissed effect. Try this 'do out if you have naturally dark brown hair and a cool complexion.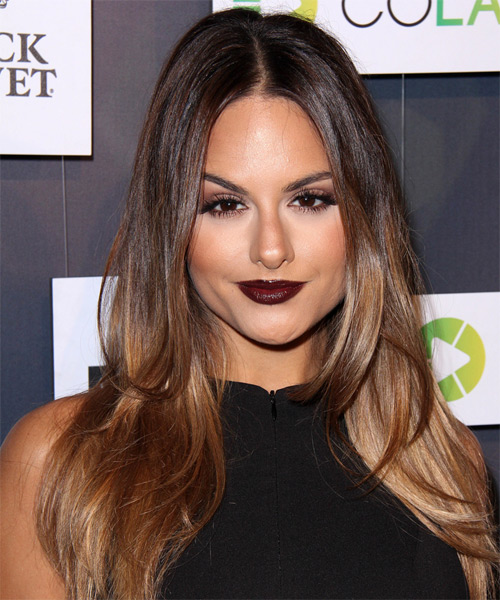 Finally we have Pia Toscano, vamping it up in long ombre locks. Her natural brown-black hair lightens up into a light caramel brown at the ends for a gorgeous effect. Pia has also used highlights to create her ombre hair rather than the painting technique for a more subtle transition. This look would suit women with long brown or black natural hair - shorter hair won't have the length needed to pull off the dark to light tones effectively.
Ombre Hair Color Do's and Don'ts
If you love the look of this low maintenance two-tone color and can't wait to try it out then check out these do's and don'ts first.
Don't Go Drastic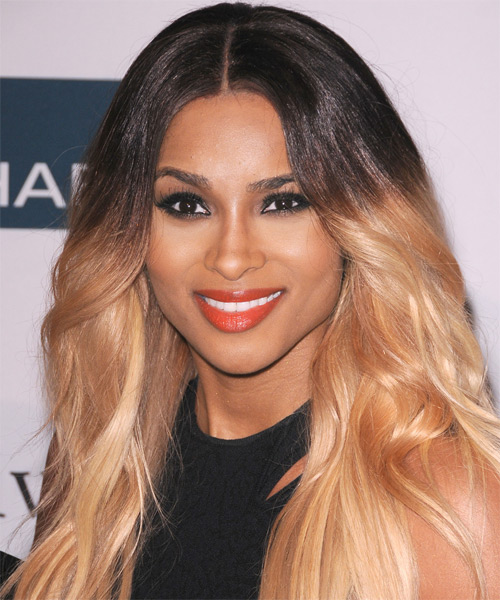 What really makes this look work so well is the natural finish. The difference between the two colors should be subtle, natural looking, and change from one color to the other gradually. A drastic finish which has a very obvious two-tone hair color result is not nearly as nice looking. Just ask Ciara.
Do Choose the Right Shades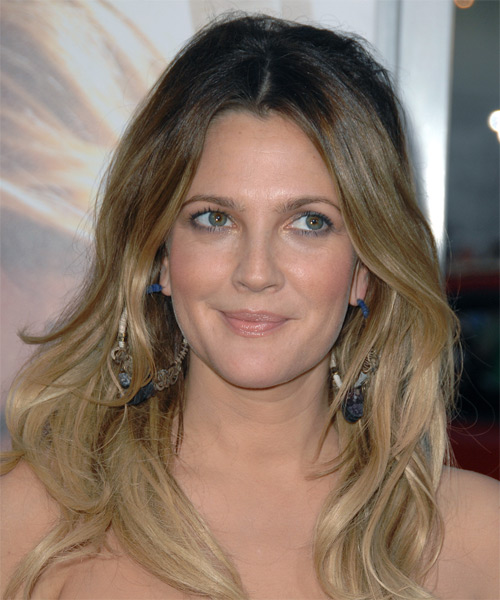 When deciding on your lighter shade, choose whatever color is 3 or 4 shades lighter than your darker hair color. This will keep the balance between the two colors as flattering and as natural looking as possible. Don't forget to also keep in mind that it might take more than one coloring session to get to the balance of colors that you want.
Don't Forget About Maintenance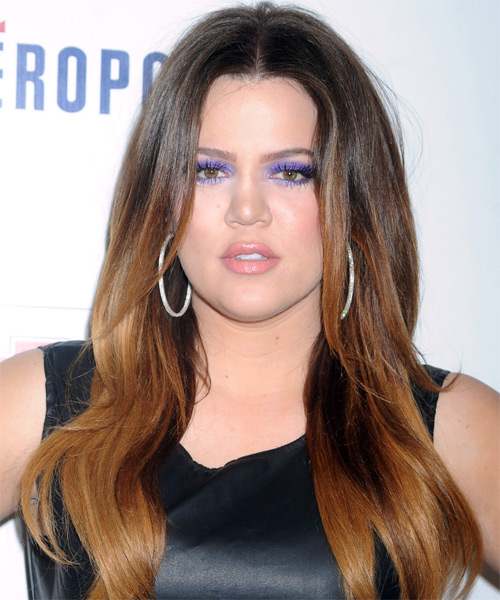 Although there is no quick or obvious regrowth with this color look, don't forget that maintenance is actually still needed. You may be able to get away with only a few color touch ups a year, but you do need to remember to keep up with those salon appointments so your color looks fresh. You will also need to takes steps to ensure your hair is well nourished so your strands stay healthy.
Do Go to a Professional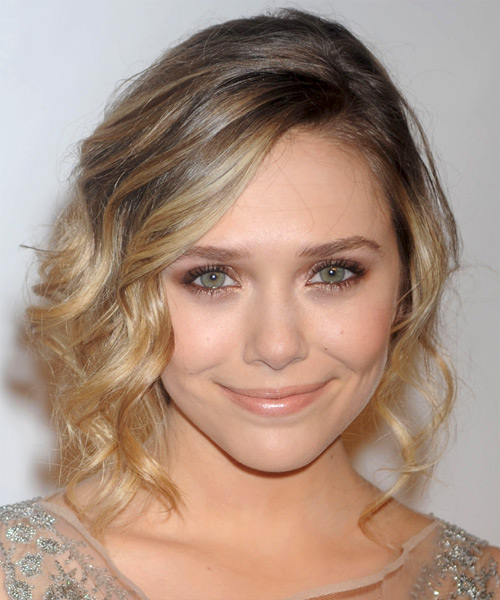 This type of two-tone color usually does involve bleach, so seeing a professional is essential. If you can see a specialized hair colorist who is experienced with ombre' color then that's great. If not, a professional hairstylist is still better than trying to do the color at home. Take a picture of the type of look you want to achieve so they know exactly what you want.
To see how you'd look with any of the great hairstyles pictured in this blog, click on the above images to try the virtual hairstyles with your own photo!