If you love wearing your hair up but want a finish that is more eye catching than a traditional sleek updo, give one of these big updo options a try.
To create these looks you will need to have the following supplies on hand (will vary by style):
Fine tooth comb
Hairspray- super hold
Hot rollers, or velcro for softer looks
Crimping iron
Elastics
Hair pins
Bun donut, sock or piece of fabric
Big Braid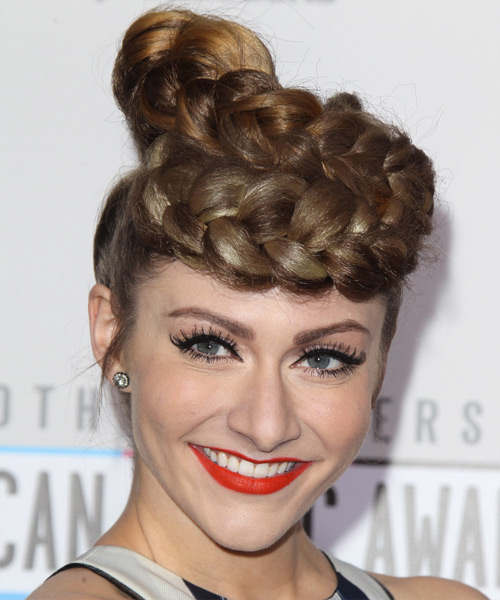 This big braid adds plenty of interest and texture to the updo, and is also a great option for those who need to flatter their forehead or cut some length from their face shape. Ensure the braid is tight and styled securely with no fly-aways for the best finish.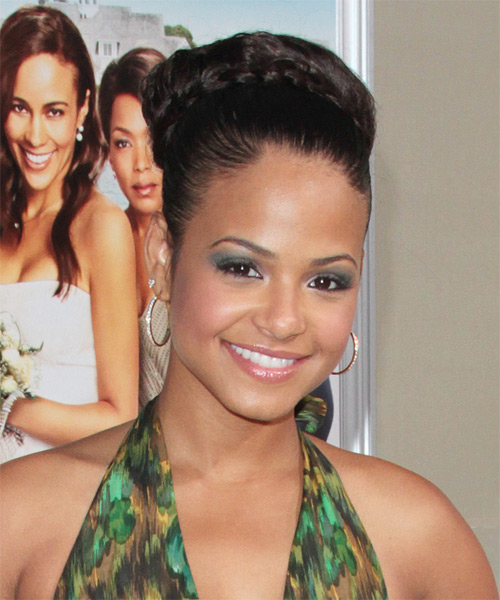 Christina Milian adds extra style and volume to her updo by adding a thick braid at the crown of her head. This compliments her bun nicely. For another look, the bun can be braided as well before it is twirled into place for a more funky, textured look.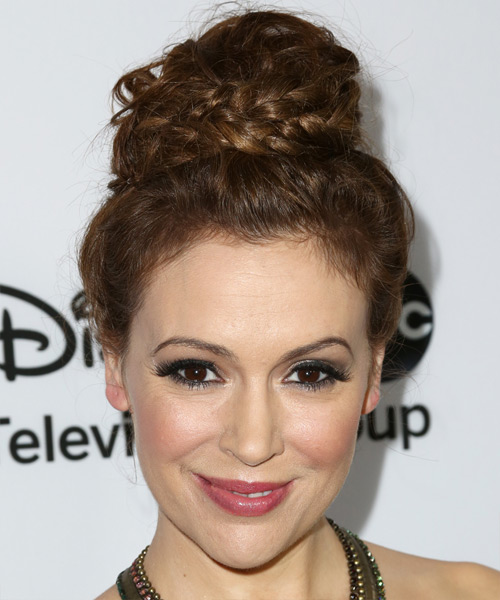 Alyssa Milano creates a big updo with her medium length hair by adding a crown of braids. Ladies with finer hair can use hairpieces here to add the braids for the appearance of extra thickness.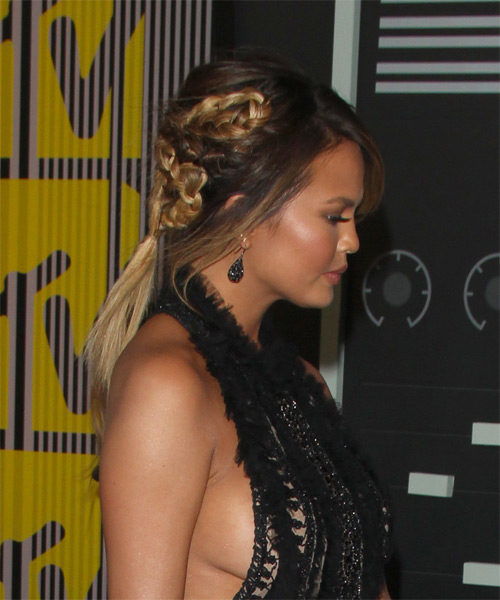 Chrissy Teigen's round face is complimented with this funky braided up-do that features a long side-swept fringe in the front. The hair is braided and twisted, then pinned into place with the ends poking out at the nape. This is an edgy hairstyle that is ideal for women who want to turn heads.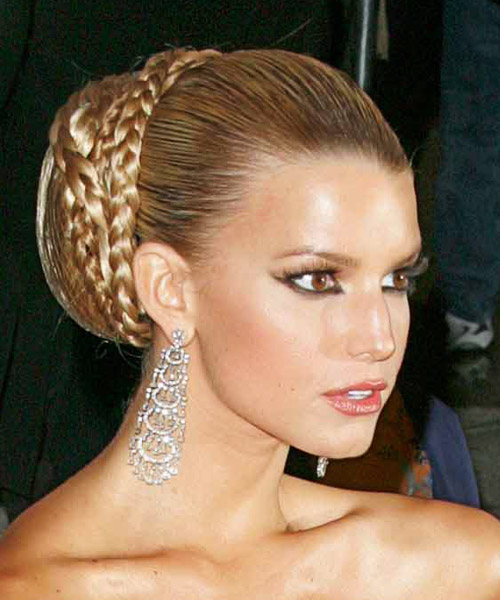 Here, Jessica Simpson goes all out and adds a ring of braids around her large bun at the back of her head. This adds stunning texture and amps up the glamour in this updo.
Crimped Volume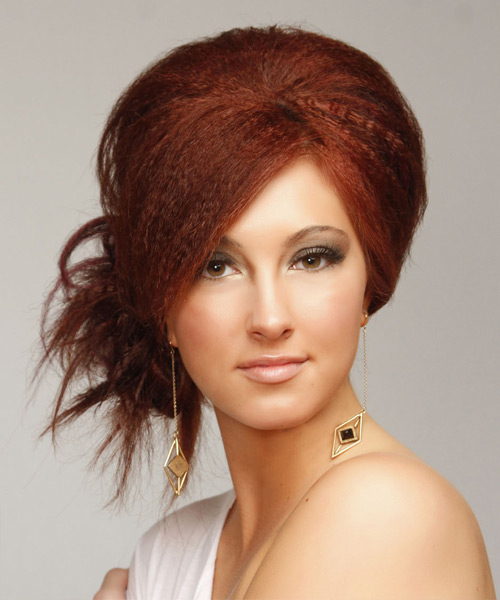 The next best feature of this updo, other than its voluptuous volume, is the crimped texture. It gives the updo a finish that you just wouldn't get if the strands were straight. The deep side part is also a fantastic feature, as is the backcombing through the roots and the messy side bun.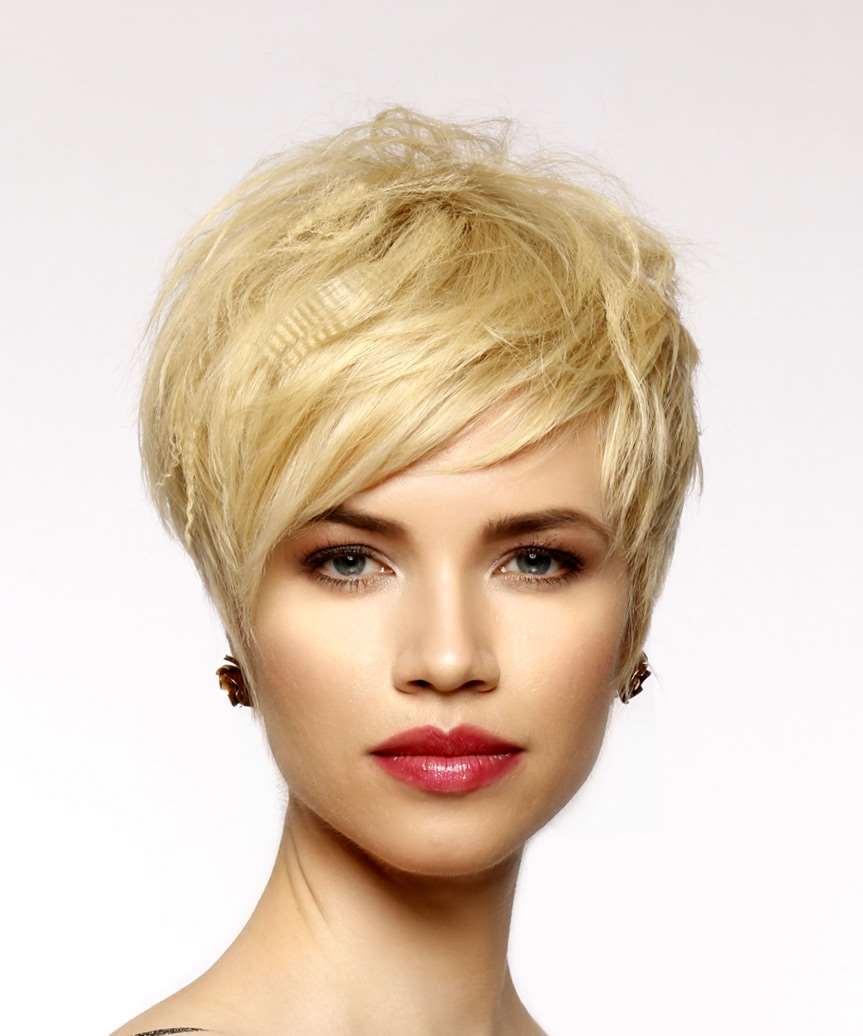 While short hair can't technically be put into an up-do, crimping it up can add an extra dimension of style. Our model's pixie cut looks edgy and cool here with crimped sections and a tousled texture all over the crown.
Full Curls
Curls and updos are a classic combination and always look great. This big updo uses full curls as its styling feature. They look great piled on top of the head and make a nice contrast to the straight hair through the roots.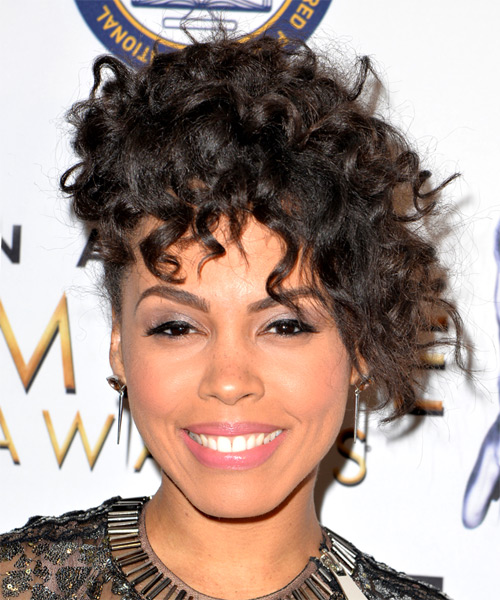 Naturally curly hair doesn't need much in the way of styling to look stunning in an updo. Amirah Vann's big 'do uses her natural curls to create volume at the top that tumble to the side. If you have a similar hair type, pull the hair up to the top quite tightly and then just let your curls do their thing!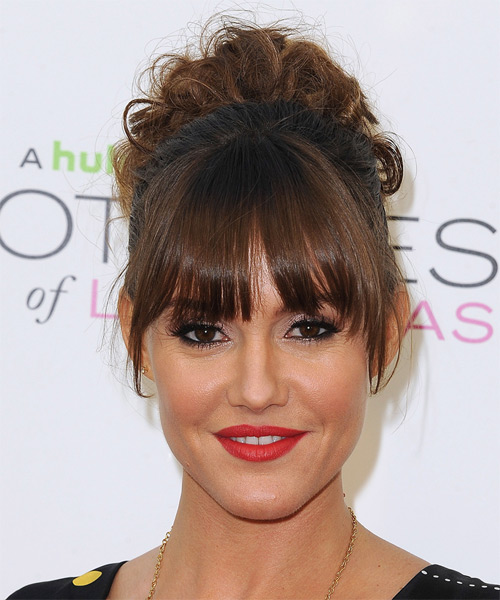 Erin Hayes lets her curls do their thing by sweeping them up into a bun at the top of the head. This updo looks especially beautiful with her eye-skimming fringe and the soft layers around the temples to frame her face.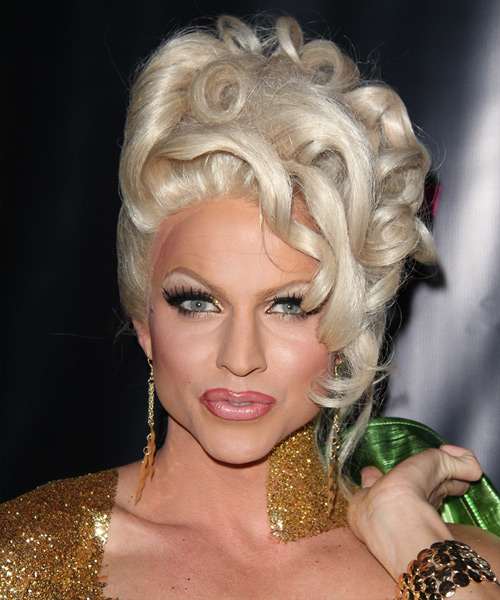 Drag queen superstar Courtney Act knows how to work her tumbling curls into a larger than life updo with fantastic results. For an Anna Nicole Smith-inspired hairdo, try these corkscrew curls that are upswept and left to tumble to one side.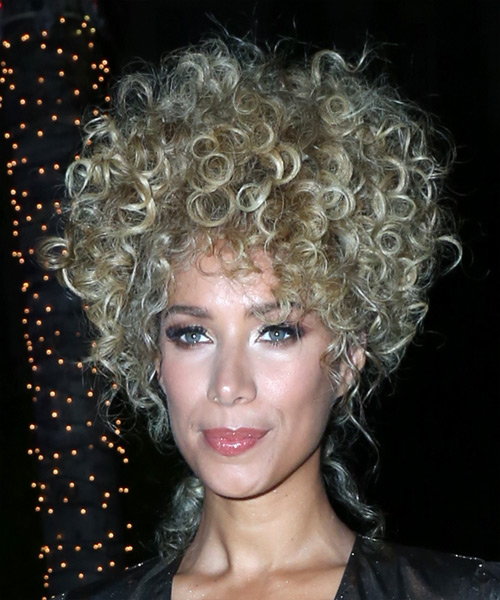 Long and curly hair can be hard to tame sometimes but why tame it when you can create a big updo with head turning results like this one? Leona Lewis uses her curly mane to create a tumbling up-do by sweeping her locks up to the top of the head and pinning them into place, leaving the ends to fall down around her face.
Thick Top Knot
Top knots have been a big trend and show no signs of fading away. To really put your top knot on the radar though, styling it thick and big is the way to go. The key is to keep your roots smooth and flat and to make your top knot as full and flared as you can. If your hair isn't really thick, wrap your hair around a sock or bun donut for extra volume.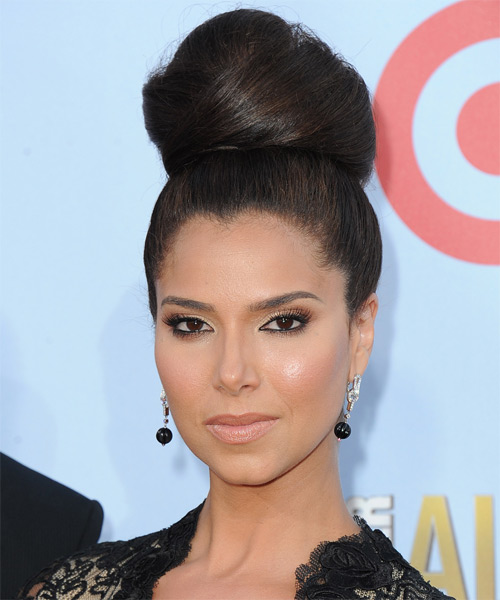 Roselyn Sanchez goes for full glam here with her giant topknot. To create this stunning look, backcomb your hair before smoothing it into this criss cross shape.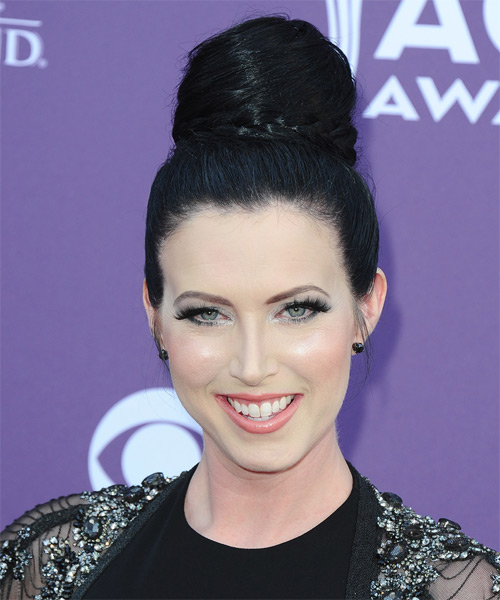 Shawna Thompson looks stunning with her raven black locks swept up into a thick top knot. This hairstyle brings all of the attention to the face and eyes so make sure your makeup is flawless when you sport this look!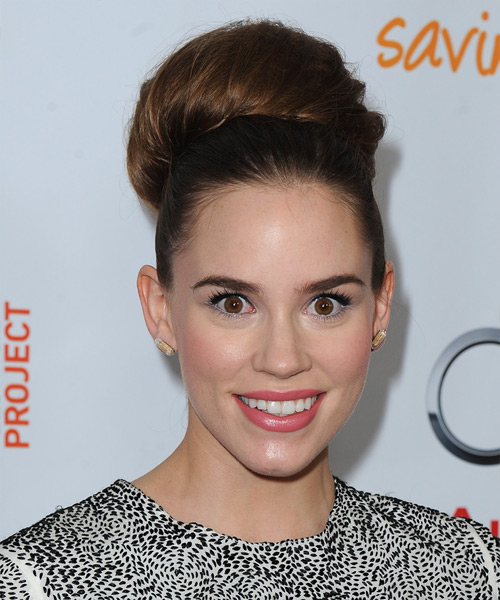 Christa B Allen looks stunning with a giant top knot here. This keeps her thick hair tamed nicely while the focus is on her flawless complexion and expressive eyes. If you don't have this thick hair type, use hairpieces or a sock underneath the bun for added volume.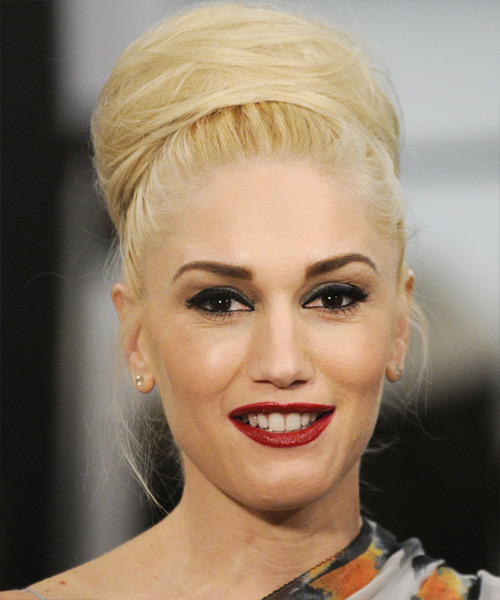 Gwen Stefani swirls her top knot around her entire crown for a different take on the topknot here. This look requires very thick/long hair, or the use of hairpieces to fill out finer locks. Lots of backcombing is needed to get the texture needed to create this topknot, along with strong hold hair products to keep it in place. Gwen has left some tendrils of hair out around her face for a sweet finish.

Looking for more big up-do hairstyles? Check out these videos for more ideas!