Copper highlights suit dark hair fabulously because it's not too light or too vibrant. If you want to add a natural looking sheen to your dark brown or black hair, check out these celebs who are looking cool in copper.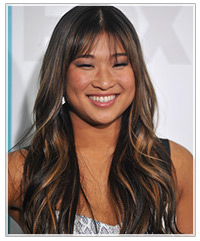 Jenna Ushkowitz looks amazing in deep copper highlights that have been added to the under layers of her long black hair. This color looks absolutely fabulous with her tanned skin. If you have long hair and want to copy this look, ask your colorist to apply sun-kissed copper highlights to the lengths and ends of your hair. This will give you a natural color progression and save you having to deal with visible root regrowth.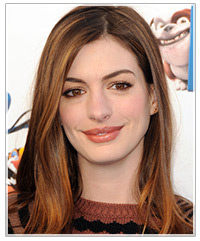 Here, beauty Anne Hathaway has opted for an all-over highlight job to brighten up her hair color. Her natural brunette locks look warm and bright with blended copper highlights.
Not only does copper make brunette hair shine, but it also brings out amber eyes like Ms. Hathaway. Plus, it works for all skin tones from fair to dark. If you do decide to copper-ize your locks, invest in a must-have peach lipstick. You can see here that regardless of their skin tones, both Jenna and Anne are looking pretty in peach!