Before Eva Longoria took over as Hollywood's hottest Latina, Daisy Fuentes was known as a beauty icon for women with tanned skin everywhere. Her looks haven't changed much since she broke out onto the scene…which means that she may need a style update in the hair and makeup department, but it also means that she hasn't really aged either, so good on her!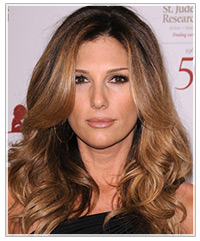 Here, Daisy is flaunting some sultry makeup that would look stunning on anyone with medium warm-toned skin.  She has a great base to work with naturally, but Daisy enhances her flawless skin with just a bit of sun-kissed bronzer on the hollows of her cheeks- this is a great trick for anyone who wants to look thinner or more 'sculpted'. Her brown eyes are intensified with dark brown eyeliner that has been used on the top and bottom lashes then smudged out slightly, and a warm brown eye shadow on the lids adds extra drama to her piercing eyes. Finally, her nude lipstick completes the look without over-doing it—you never want to have a bold eye and lip at the same time.
If you like this look but want to tone it down for daytime, simply line the upper lash line only and follow up with mascara and a sheer nude lip gloss. Simply gorgeous!