Melissa McCarthy is one of Hollywood's funniest leading ladies, not to mention one of the most beautiful too! With her sparkling green-blue eyes and gorgeous smile, Melissa looks wonderful both on and off the red carpet thanks to her happy demeanour and inner confidence that always shines through. Plus, she's got a great head of hair and knows how to work the right cut and color for her face shape. Melissa has a full face with a defined chin and high cheekbones, therefore she looks best in hairstyles suited for round and heart-shaped faces. If you have a similar face shape, check out Melissa's best hairstyles for some style inspiration!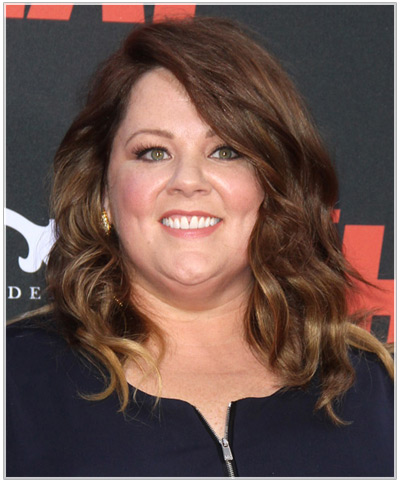 Here, Melissa is wearing a simple layered haircut that looks amazing styled in loose waves. This haircut is perfect for women with full faces as it provides contour around the cheeks and chin, plus the deep side part provides a flattering slimming effect. Melissa's color is a fabulous bonus to this hairstyle as well. The rich, warm chestnut shade looks amazing with her peaches and cream complexion and brings out her hazel eyes, and the blonde tips add an extra hint of sun-kiss to her 'do. To get this hairstyle, ask your stylist to layer your hair around the face and throughout the lengths and ends to give it some movement and body.
Color-wise, Melissa's look can be achieved with an ombré effect that lightens from rich chestnut on the top to dark golden blonde on the bottom. This suits women with a peaches and cream complexion or otherwise warm skin tones.
To style, Melissa has used a curling wand to enhance her waves, leaving the ends straight for a funky finish.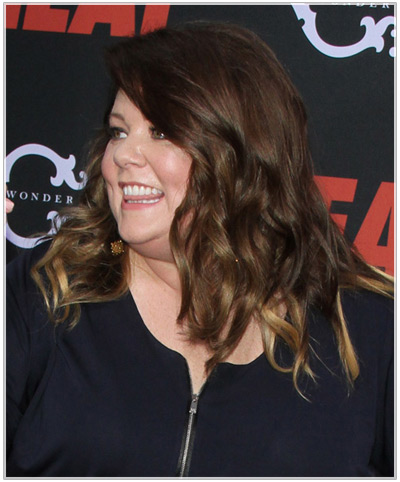 Here, Melissa is going for a chic and sophisticated look with this deep brunette 'do. Melissa has ditched the ombré look for a rich monochromatic espresso brown hair color that leaves her hair looking ultra glossy and healthy (one of the many perks of having brunette or black hair!)
This hairstyle is slightly longer than her previous 'do, and is a great length for women with fuller faces. The soft layering contours her face nicely and creates a nice frame for her bright eyes and those fabulous cheekbones. While the previous hairstyle had lots of volume throughout the lengths and ends, this 'do has major volume in the crown area which suits women with fuller faces nicely.
To style, use a large round brush to create a bouncy blow-out like Melissa's, first by adding volume at the roots and then wrapping the lengths and ends around the brush to create big curls, as seen here. Tease the roots with a comb to add even more height and then softly brush the rest of the hair in place. You will need a good hairspray to maintain the volume and bounce throughout the day and night.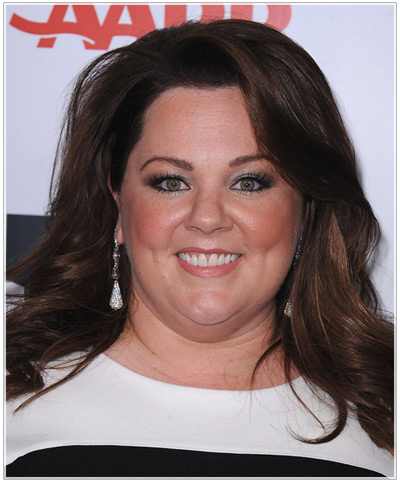 Another styling option would be to put the hair into a classy updo (like a French twist or chignon) maintaining the volume in the crown area and leaving the shorter layers around the face out. Not only will this frame the face nicely, but an updo creates more length in the neck and is very flattering for women with fuller faces.