At the age of only ten, Madison Moellers already has an impressive acting career behind her. With roles in The Mentalist, The Young and the Restless, and Shameless already, imagine what her resume will look like by the time she hits 20! Being such a busy actress means that this girl has seen more than a few red carpets in her time already, and has some great looks that pre-teens can get some inspiration from. Although tweens may want to copy more mature looks, say from the Kardashian clan, Madison Moellers has a look that is guaranteed to be parent-approved, plus it still looks stylish. So whether you're a pre-teen or a parent of one, read on to find out how you (or your daughter) can get this look.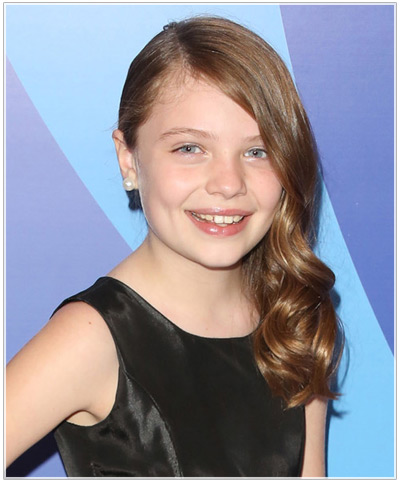 The Hairstyle
This is one of the hottest styles on the red carpet lately, and the best part is that it suits any age. Plus, it's one of the easier evening hairstyles to do and doesn't require a trip to the salon. Here's how to get it:

Start by washing the hair and adding some styling products to your towel-dried tresses. If you have naturally frizzy hair, or hair that has a difficult texture to smooth, use an argan oil product that will smooth the hair and protect it from heat styling. On the other hand, if you have fine hair, or hair that lacks volume, use a good volumizing mousse to pump your locks up.


Next, blow-dry your hair sleek with a round brush, making sure to build volume at the roots. You can achieve this by using the classic "flip your head upside down" technique. Or, for better results, blow-dry your hair in sections, lifting the hair straight up and concentrating the hot air on the roots. Then, give it a shot of cool air, hold and then dry the rest of the section. The longer you let the roots cool, the longer your volume will stay in.


Once all of the hair is dry, make a deep side part and use a curling wand to create soft waves throughout. Take a section of hair about one inch wide and wrap it around the wand, moving away from the face. Do this until the entire head has been curled.


Finally, take the side that will be tied up (the side of the part with less hair), twist it loosely towards the back of the head and use hairpins to secure it into place. Add a mist of shine spray and voilà- red carpet hair!
The Makeup
Ok, let's face it; she isn't really wearing any makeup. And although tweens should be encouraged to let their skin breathe as much as possible, some may want to hide blemishes or just wear a bit of makeup to feel special. If this is the case, here are some suggestions for pre-teen makeup:

Use a dab of concealer on any blemishes or redness that occurs naturally under the nose, on the chin, etc.


A light coat of pearlescent eye shadow is a good choice for a pre-teen who wants to wear makeup-it's barely visible but they still feel like they are wearing something.


Tinted lip glosses are a great option for tweens—it gives them a bit of color and shine, whereas wearing lipstick makes them look like they are playing dress up.
Know of any other good pre-teen hairstyles and makeup tips? Let us know in the comment section below!