Fourteen-year-old actress Ariel Winter knows how to wear makeup for her face and age. Rather than pile it on to look older and sexier (like most young starlets do) she lets her bright skin shine through and only uses makeup to enhance her adorable features. Teens and tweens everywhere can copy her makeup easily, which is guaranteed to look gorgeous…and more importantly, be parent-approved!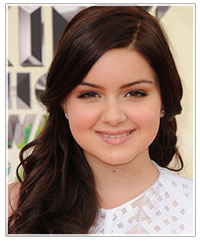 Teenagers have skin on opposite sides of the spectrum- it's either flawless and bright, or plagued by oil and acne. In both cases, using a mineral makeup (make sure it's pure minerals—read the labels) can help to produce a glowing base like Ariel's.
The main focus here is on the eyebrows and eyes, so make sure your brows are shaped to perfection, then use a warm shade of terra-cotta eye shadow on the lids and in the crease. Blend it softly up towards the brow bone. Next, add a bit of dark brown eyeliner, focusing on the outer corners, and top it all off with a brown mascara. Ariel has chosen a very sheer light pink blush with matching lipstick, which is a great choice for teenagers as it looks girlie but still natural. Ariel has full cheeks and has applied her blush under the cheekbones—if you are self-conscious about having full cheeks, this is a great technique to copy.
Don't forget to wear a pretty hairstyle to complete the look!