Step 1: Wash Your Face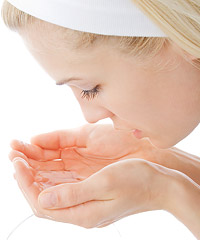 Tie your hair back and then grab your cleanser or facial soap and give your face the once over. You can do this first thing in the morning (a refreshing way to wake up), at your bathroom sink before you hit the shower or even in the shower. For advice on determining your skin type and the right cleanser to use, take a look at our beauty articles, Skin Type Consultation and The Right Skin Care Products for Your Skin Type.
Step 2: Apply Toner
A toner should be applied after cleansing and should be selected based on your skin type. If you're happy using simple water as a toner then just make sure it's cool and then give your face a splash. Other toners can be applied with some cotton pads and a simple swipe of your hands.
Step 3: Nourish with Moisturizer
Moisturizer should be applied straight after toning while your skin is still a little wet (if you're toning with water, leave your skin damp by patting away any excess water with a towel) to retain as much moisture as you can. During the day you'll just need a light moisturizer which you can wear as is or under makeup. Choose one based on your skin type and needs and don't forget to make sure it includes sunscreen. After your moisturizer has been absorbed then your morning skin care routine is complete!
See, it's that easy!
To receive the most benefit you do need both a day and night skin care routine but once you've gotten into the habit of these routines then I'm sure you'll agree that 10 minutes a day is worth it for the glowing complexion you'll receive. Team it with our Daily Hair Care Routine in 6 Easy Steps and you'll have all of your beauty bases covered!