As part of TheHairStyler.com's prom hair survival guide, we explain how to make sure your prom hair complements your dress' mood.
The mood of your prom dress is the attitude or feeling its style, cut and color create; for example, is it cute, emo, boho or glamorous? When you've figured that out, you need to match your prom hairstyle with your dress .
We've put together a list of moods of prom dresses and some suggestions for prom hair styles that would suit them:
Cute Prom Hairstyles
If you like the cute and flirty look, maybe go for a short prom dress with an empire waist, or a cute little strapless bubble dress in pink or white. Match your prom hair and dress with a cute hairstyle that's styled into natural loose waves- like Sarah Jane Morris' hair at the Critics' Choice Awards 2009.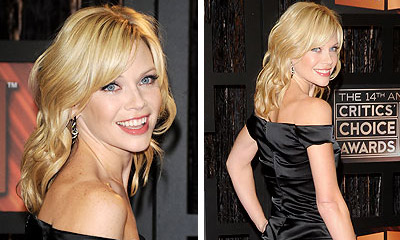 Sarah Jane Morris: Critics Choice Awards
Vixen Prom Hairstyles
If your dress is daring- maybe with an eye-catching slit, figure-hugging lines, off the shoulder or strapless- go for a sexy hairstyle. Try something half up half down with waves tickling your shoulders; or side-swept waves like Alicia Keys' Oscars hair 2009.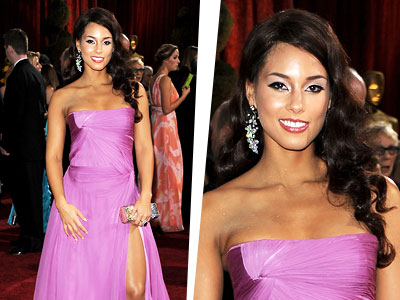 Alicia Keys: Oscars Hair
Rocker/Boho Prom Hairstyles
The rocker/boho look is casual, hippy and a little flower-power. Your dress might be long and flowing and your bodice embroidered. Try a prom hairstyle like Amanda Bynes': her braids through the front are quite boho, and the sides have been left to flow below her shoulders. You might also want to check out some of the Olsen twins' boho hairstyles.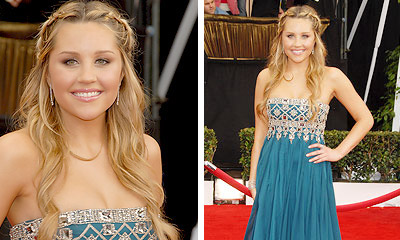 Amanda Bynes: Wavy Long Hair
Emo Prom Hairstyles
An emo prom dress will probably be black. It might have a layered skirt and hook and tie bodice, or maybe it'll be über short in vinyl, or maybe longer and military style.
You can definitely make the emo hair look work for your prom, and you can definitely get prom hair to match. Try something like Twilight's Kristen Stewart's red-carpet hair. It's a combination of red and black color sections and it's got a cool messy and textured look about it. Its dark brooding quality makes it a bit emo, and I guess the piecey two-tone color and volume make it look like scene hair too.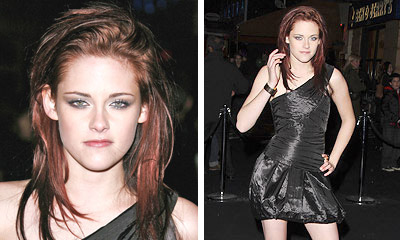 Kristin Stewart: Emo Prom Hair
Burlesque Prom Hairstyles
For burlesque style, check out any photos of Dita Von Teese or Lady GaGa (and Christina Aguilera at the American Music Awards 2008), and watch the film Moulin Rouge. It's a style that's pretty much a combination of vintage and sexy in a retro and theatrical way. Try a hairstyle like Dita's soft layered bob, or Katy Perry's hairstyle at the Critics' Choice Awards 2009.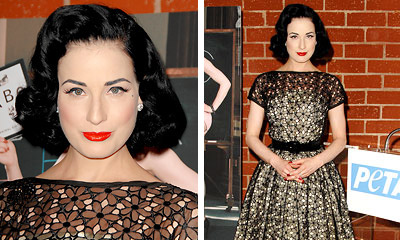 Dita Von Teese: Wavy Medium Hairstyle
Glamorous Prom Hairstyles
The glamorous look is sophisticated, classic and uncluttered. It's not about being daring or extravagant, but subtle and graceful. Angelina Jolie was definitely the queen of glamor with her Oscars hair 2009 (and Natalie Portman was a close second), in a form-fitting strapless black dress. If you like the glamorous look, try prom hair like Angelina's: it's elegantly pulled back to show off her face, neck and accessories.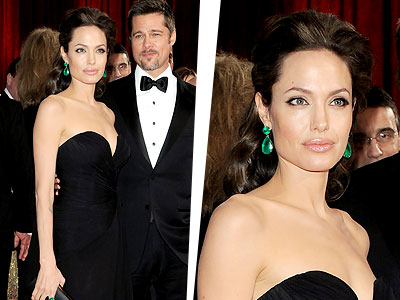 Angelina Jolie: Oscars Hair
Match Your Prom Hairstyle and Dress
It's a good idea to match your prom hair and dress- in fact, no prom hair style should be performed without your stylist seeing your dress first. Something you really need to bear in mind is your dress's "loudness." Ask yourself, "How loud is my dress stating its mood?" and balance your hair accordingly. Related is the cut of your prom dress's neckline. Adjust your hair to suit the amount of flesh you're showing.
In terms of your prom dress's "loudness," here are some examples. If it's a cute dress, is it subtly cute, or does it scream "THIS DRESS IS SO CUTE!!" with lots of over the top frills and bows etc? Or, if your dress is more of a vixen style, is it subtly sexy- like with a modest slit and form-fitting fabric- or is it really out there, with a huge slit... maybe in crimson red?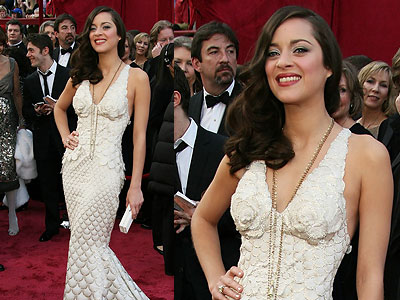 Marion Cotillard: Oscars Hair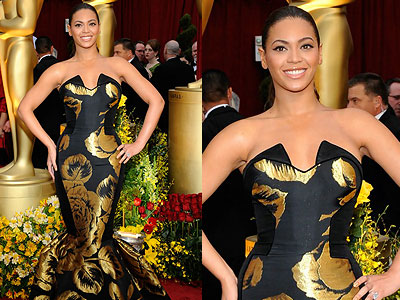 Beyonce Knowles: Oscars Hair
You need to balance your prom hair with the loudness of your dress. I mean, if your dress is stating its mood really loudly (another example: if you're going for the emo look and you've chosen something in daring black vinyl and fishnet) then keep your prom hair subtle or you'll look like you're trying too hard. And it's a similar rule of thumb the other way round: if the mood of your dress is quite subtle then turn up the volume on your hair or you're in danger of looking boring.
The "loudness" of your prom dress can also be a product of the weight of its lines. If it's a more classical dress with solid and heavy lines, avoid over doing your look and choose a contrasting hairstyle with soft waves and creative curls; if your outfit's cute, soft and bouncy with lighter lines, a smoother and more structured hairstyle is going to work best.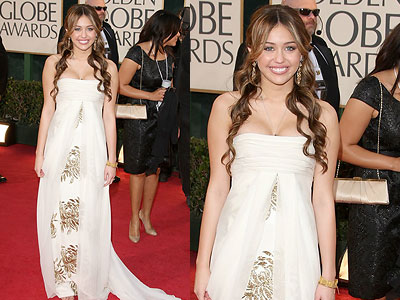 Miley Cyrus: Golden Globe Awards Hair
The cut of your prom dress's neckline affects the "loudness" of your look and the kind of hairstyle you should get too. For example, if your dress has a high collar and you wear your prom hair out, it'll run the risk of diluting the "loudness" of your dress (because it will partially cover your dress). Or, if your prom dress has a low-cut front or back it's a good idea to balance your look by allowing your hair to fall gently on your bare skin.
To help you out, have a look at the pictures of celebrities we've included in this article. Miley Cyrus has balanced a very exposed neckline with soft curls falling on her shoulders. Beyonce has balanced her loud patterned dress and plunging cleavage with a simple half up half down hairdo. Marion Cotillard, on the other hand, wore a relatively simple glamorous white dress and chose big sassy curls to amplify the overall sexiness of her look.
Remember to choose a prom hair style that suits the mood of your dress. Choose any dress you like- they're all great- but make sure the style you decide on makes you feel comfortable. You don't have to be a star to look this good at your prom. Just follow these simple guidelines about matching your prom dress and hair (without going over the top), and you'll be well on your way to looking fab at your prom.