New hairstyle ideas are a must for the holiday season, and we've got them covered at TheHairStyler.com. We update our hairstyle database daily with hot new celebrity looks from events around the world; so this holiday season, whether you're attending a work Christmas party, a college bash, or even a family reunion, you'll definitely find a great new hairstyle suggestion at TheHairStyler.com.
Holiday Event: Office Christmas Party
Hairstyle Suggestion: Eva Mendes' Bob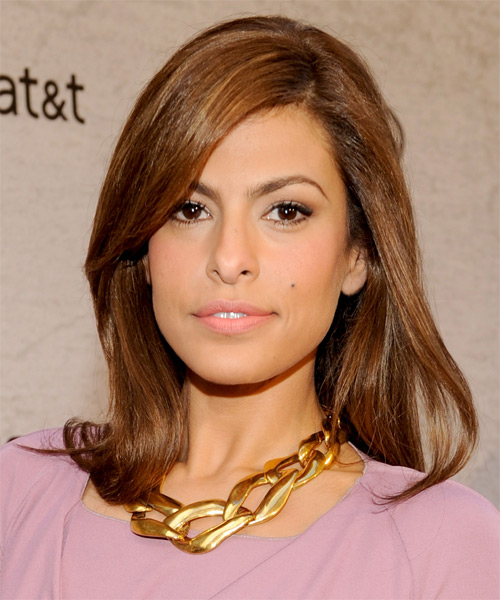 If you work in an office everyday then chances are you'll be having some sort of end of year Christmas bash. So you need a hairstyle that's good enough for the office (smart, professional, practical), but that also says: "Hey, I've got a life outside this place too... I'm as comfortable drinking a cocktail in a trendy bar on a Saturday night as I am sipping a red wine while getting cosy with my man in front of a DVD ."
Eva Mendes' one length bob is a perfect hairstyle if this sounds like you (or someone you'd like to be). It's shoulder length, and its minimal layering make it a great choice for the office because, without being over the top, it still frames and softens the face. At the same time though, it's a trendy hairstyle that's fashionable at the moment, and with a little wax to define the ends- and maybe if you flick them out a little- you can easily inject more flirtyness and spunk into it.
Other Suggestions: Jenny McCarthy's medium length bob; Victoria Beckham's straight short hairstyle.
Holiday Event: Nightclub Indulgence
Hairstyle Suggestion: Jessica Biel's Straight Long Hairstyle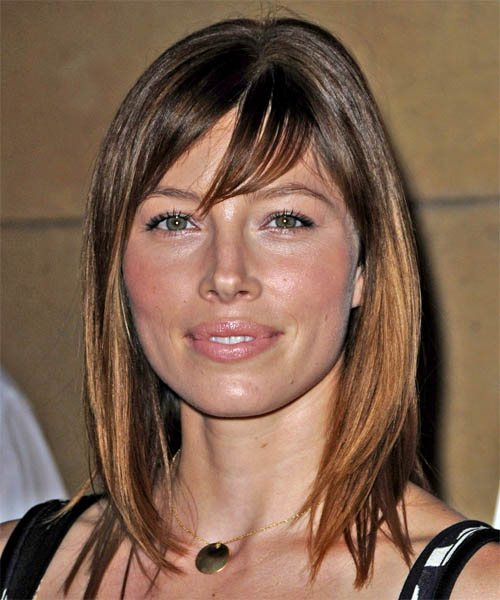 Music, dancing, fashion: the essential ingredients of a night on the town clubbing. The end of the year is a massive time for hitting the dance floor in your best gear, especially with New Year's Day just around corner. One word sums up the kind of hairstyle you need: SEXY.
There's no doubt Jessica Biel's latest hairstyle is sexy and perfect for some late-night clubbing action. Whether you're in NY, London, Rome, or Sydney, this style would look smoking hot. It's been blunt-cut to sit on the shoulders, and dazzling layers were jagged-cut through the ends for a sassy finish.
Other Suggestions: For something a bit different go short, funky and glamorous like Pink's American Music Awards hairstyle.
Holiday Event: College End of Year Drinks
Hairstyle Suggestion: Natasha Bedingfield's Straight Long Hairstyle
It's that time of year for high school and college kids the world over to get loose and celebrate the end of the calendar year. It's all about fashion and practicality when you're that age. You need a hairstyle that proves you don't stay home all night on the weekend gaming, and that's manageable enough to do on the fly (because who knows where you'll wake up- and that's if you even make it to bed...).
Natasha Bedingfield's straight long hairstyle is ideal for the college kid party girl. Random layers through the back and sides ensure it looks funky and adds plenty of volume. If you've got naturally straight hair all you need to do to get this style looking great is apply a little bit of molding cream (which will easily fit in your bag) to make the ends nice and piecey.
Other Suggestions: Mary Kate and Ashley Olsen's boho hairstyle; Lisa Origliasso's emo hair.
Holiday Event: Family Reunion
Hairstyle Suggestion: Reese Witherspoon's Wavy Medium Hairstyle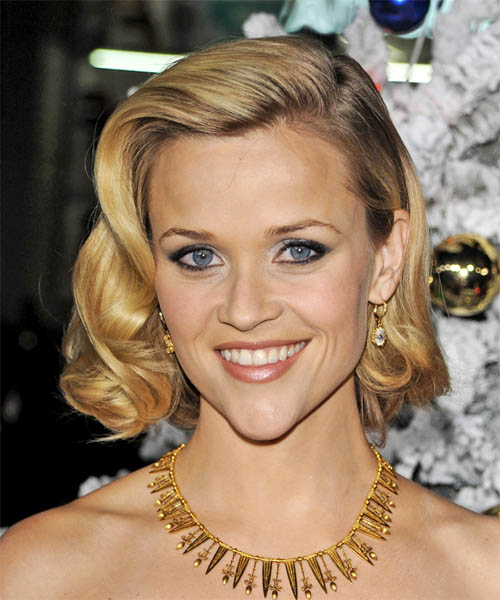 A big part of the holiday season (whether you like it or not) involves getting together with the extended family. Maybe it's a dinner or lunch; or maybe it's a more "traditional" or somber occasion- but whatever it is, you need the right hairstyle. You need something that shows you're serious about the occasion and want to "look the part," but you also want your family to notice that you're doing okay for yourself- you're fashionable, you care about your image and you're successful.
My advice: go for something like Reese Witherspoon's classic wavy hairstyle. It's basically a bob- which isn't too showy for a family occasion- but she's given it a little bit of a twist and added a subtle (but definitely noticeable) amount of sassiness by styling it to one side and using hot rollers to add some waves.
Other Suggestions: A perfect ponytail like Lauren Conrad's or Beyonce's.
Holiday Event: Romantic Date
Hairstyle Suggestion: Kim Kardashian's Pinned Long Locks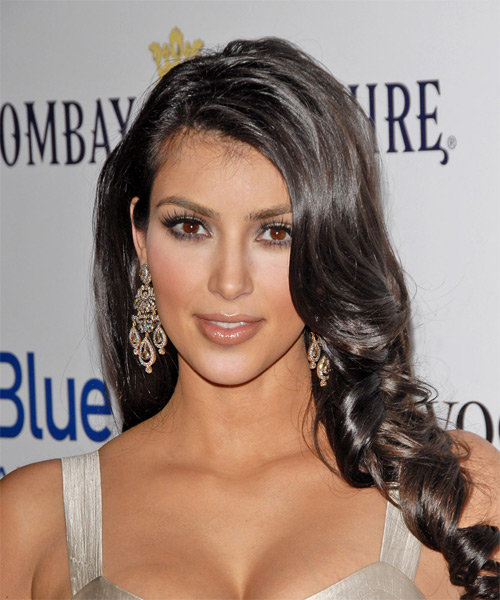 The lucky ones this holiday season will be cashing in on their time off work and Christmas bonuses by going on some seriously romantic dates. I'm imagining [note: I say "imagining "] classy restaurants, frocks, nice music, and indulging in some delicious meals (and price tags) that you'd otherwise balk at.
Kim Kardashian's got just the 'do for you if you're planning something romantic. This hairstyle would look great with a sophisticated dress and heels. The reason it works so well is because it's effortlessly seductive- giving the impression that the wearer has natural charisma without really trying. The secret lies with the pins and the way they lift the hair to show off the neckline, and the random pieces left out to soften the face.
Other Suggestion: Hayden Panettiere's updo.
It was reported recently that Victoria Beckham is so dedicated to her outfits and images that she often lies in bed visualizing the look she wants to achieve and takes detailed mental stock of the items she needs to create it. You don't need to go to that much trouble this holiday season. Get the look you need and the new hairstyle that'll suit you in no time at all with these great tips.