Everyone's face shape is generally either oval, round, square, diamond, triangle, heart or oblong, and different haircuts and hairstyles suit each face shape differently (if you're unsure of your face shape then try our free face shape quiz). Layered haircuts in particular are great at bringing out the very best of every face shape. Here I'm going to focus on short, medium and long layered hairstyles for square face shapes.
1. Short Layered Hairstyles for Square Faces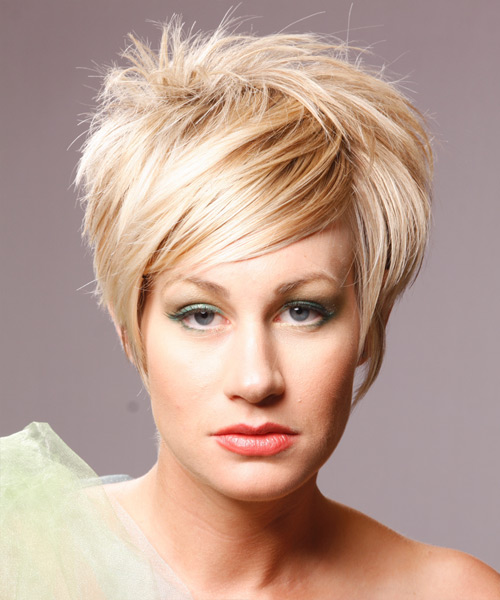 Short Straight Hairstyles
This short straight hairstyle with uniform layers through the top and over-extended layers through the front and sides is perfect for our model's square face shape. The top has been layer cut shorter with some razoring to create soft high spikes which add length to the face. The front bangs have been left longer and then styled to one side to create a diagonal movement. The sides are also slightly longer and wispy for a soft finish. When you look at this hairstyle your eye immediately gets drawn to the top and the side-swept bangs, and the result is you hardly notice the model's square jaw line. Tricky deception!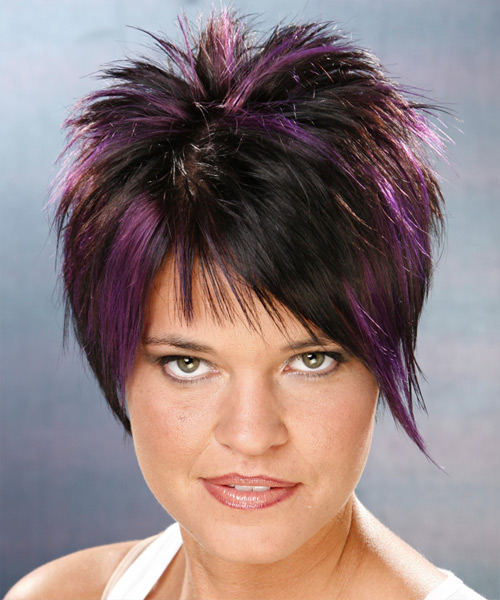 Another great uniform layered hairstyle for square face shapes with straight hair is this short and spiked messy look. The overall shape achieved is oval (round on top with height), and it works well to add length to the face and minimize the appearance of squareness. The bangs are light and wispy with a vertical opening or movement to one side. The sides have been left longer and razor-cut to make them wispier and kick-out, drawing attention away from the model's square jaw area. Bright highlights have also been used to further accentuate this layered hairstyle's shape and movement.
2. Medium Layered Hairstyles for Square Faces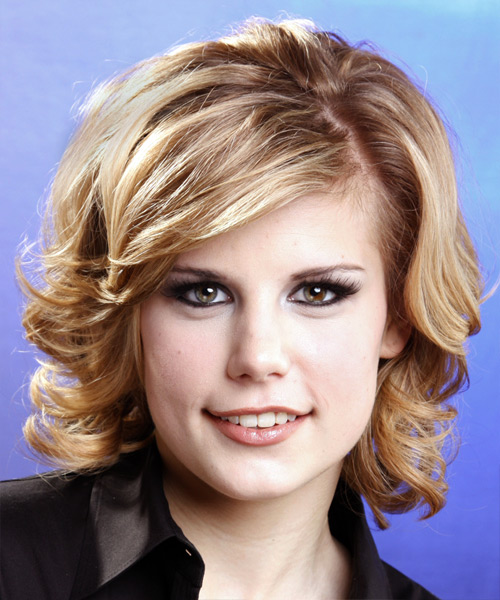 This medium length wavy and flicked layered hairstyle is a very good example of what to do if you'd like to flatter your square face shape. The back has been cut to the shoulders with layers gradually getting longer to about half way up the head (or eye level from the front). The sides have been angle-layered in the same way and finish at the same height (weight line), allowing them to kick-out softly, thus drawing attention away from the model's square jaw line. The front bangs have been swept to one side and the side part on top finishes half way back the head, allowing the crown to be teased for height (lengthening the face).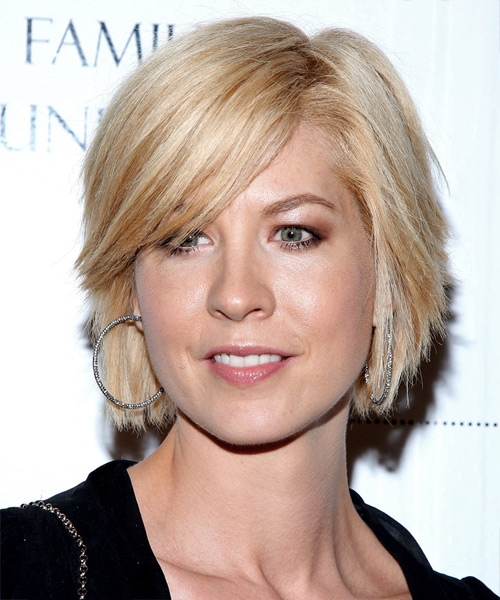 This is a soft and elegant graduated layered hairstyle for straight hair, and it demonstrates how the technique of layer cutting can make a big difference to the appearance of the face's shape. Without the layers this hairstyle wouldn't suit square face shapes, but with them the hair angles down at the sides and softens the jaw line. Also the kicked-out mid areas draw attention away from the face. The side-swept bangs work well to create diagonal movement- or a triangular shape- that changes the entire look of our model's face.
3. Long Layered Hairstyles for Square Faces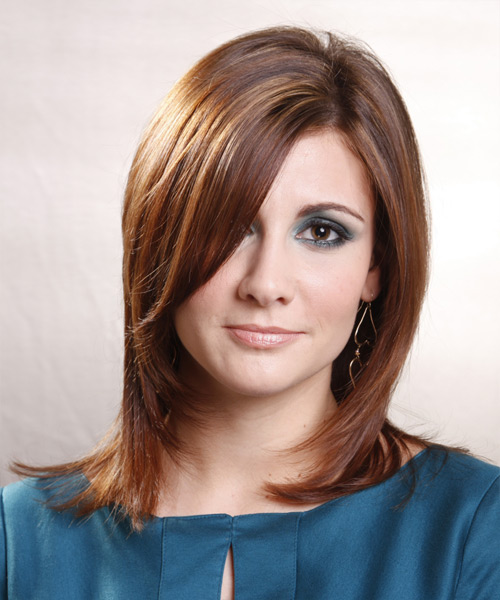 Soft face-framing layers have been cut into this hairstyle which flatter a squarer face. The wispy sides fall just below the chin and extend to the back, creating the illusion of a curved length that compensates for the lack of height through the top. The bangs are side-swept to create the appearance of a more triangular face shape- a necessary deception for squarer faces.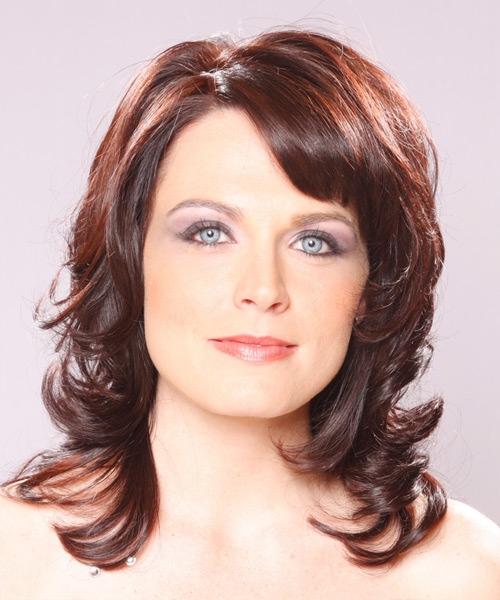 Heavy and over-extended layers through the back and sides allow our model's hair to fall into its natural shape, accentuating its waves. These waves, or the curved nature of this look, soften our model's strong and heavy jaw line. Her bangs, although a little too short, are swept to one side and create the best shape. The top is somewhat flat, yet acceptable, due to the long length and shape of the back and sides falling forward.
Once you have established that you have a square face shape, finding the best layered hairstyle to suit you is not really very difficult. You just have to follow some simple guidelines:
Always try to soften your strong jaw line with soft wisps or curves (waves/curls).
Side-swept bangs create diagonal movement and decrease squareness.
Hairstyles that have an element of height on top work well, particularly when rounded in shape.