Award season has come and gone, but it's approaching that time of year to gear up for those special events that happen during the summer months. Due to the covid pandemic, we have not had a lot of events where we can get inspiration from for the upcoming season. With that being said, there have been a few red carpet events that have taken place recently. We are going to have a look at some of the looks from the past season that is still trending and will great for your night out on the town.
Updos are a vital part of any fancy occasion. Whether it's a wedding, formal party, or graduation, the summer months are a time to put on that new dress, amp up the makeup and of course, pull those locks into a pretty, eye-catching updo. The key to achieving the perfect updo is to pay close attention to your face shape. Because your hair is pulled back and up, more of your face will be exposed. The wrong updo can accentuate all the wrong things.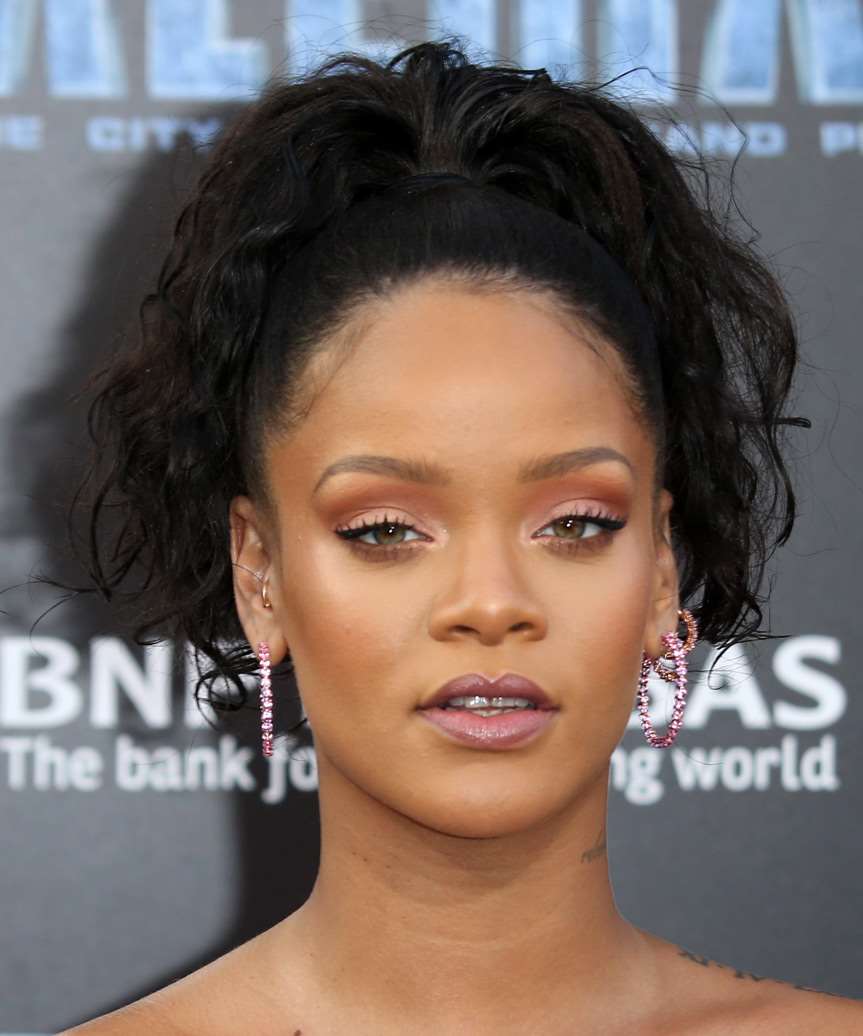 Some of the pictures we are going to show you have highlights or the hair has been dyed. If you want to do the highlights or the full head of color to pull the look together, you want to make sure that you touch up your color once every 4 weeks or so. This is going to help ensure that your color stays vibrant and bright.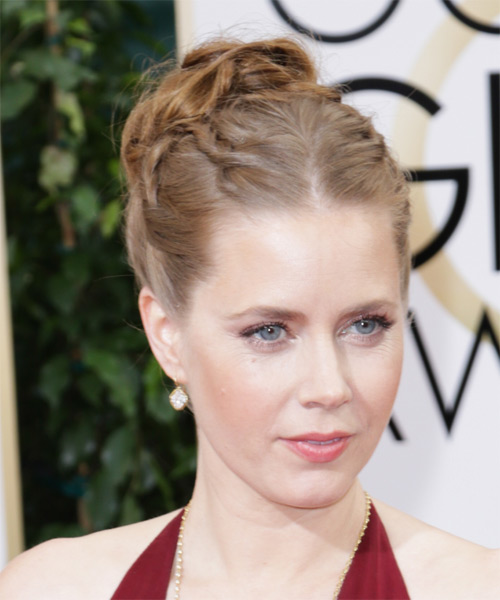 Amy Adams not only won a best actress award at the Golden Globes but she stunned the crowd with her pretty and unique updo that was created just for her. The beautiful red head's updo was all about braiding and twisting. Parted down the middle and pinned high on the crown, Amy's hair was breathtaking and reminded us of a modern Grecian goddess. Try this hairstyle out if you have a round, oval, heart or triangular face shape and need a fabulous way to get your hair off your shoulders on those hot summer nights!
This hairstyle is fabulous because her hair is out of her face so you can see her makeup nicely and the top of this look creates height which makes her look taller than she is.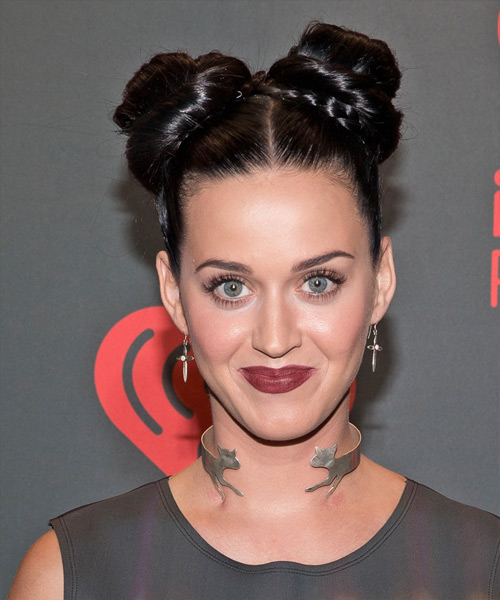 This is one updo that is not suited for the majority of women and is probably more suited to a trendy young woman who wants a unique updo. Katy Perry once again does not disappoint in the head-turning hairstyle department. How fun are her two buns? Her glossy black hair is parted down the middle and slicked back with two voluminous buns pinned to the crown. Like Amy's updo, this style would suit a round, oval, heart, square or triangular face shape. This is a good hairstyle option for summer clubbing!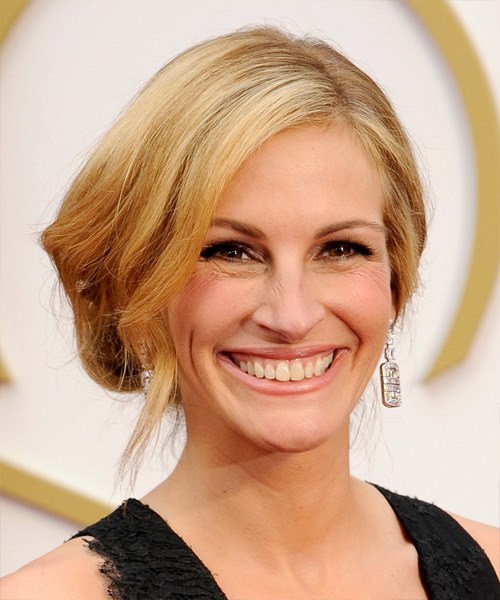 Julia Roberts wowed at the Academy Awards not only with her blonde tresses but also with her pretty updo. Her hair was side parted then woven into a low, casual twist. A single wave was left out in the front, further softening the look. This pretty woman's updo was loose, natural and deconstructed - the perfect hairstyle for a confident and beautiful woman who needs a sophisticated summer updo.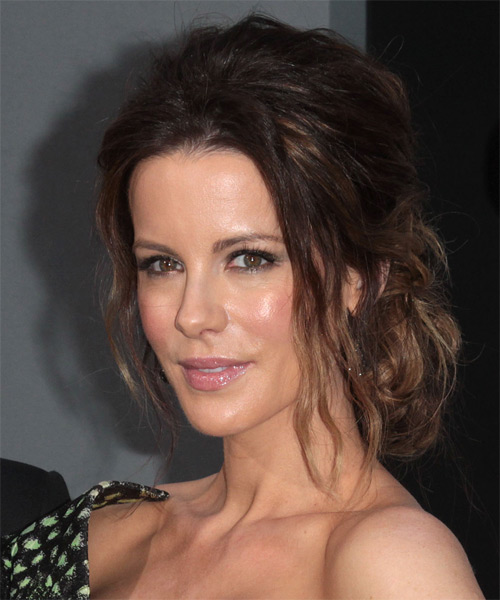 Kate Beckinsale's red carpet updo here is simply romantic looking. Kate's beautiful ombre hair was teased to create volume at the crown then pulled back and pinned low on the neck. A few wavy tendrils are left out on the side to further soften the look. Try this one if you have a round, oval, heart or triangular face shape. This hairstyle is perfect for a summer cocktail party - pair it with a strapless dress for a cool evening style.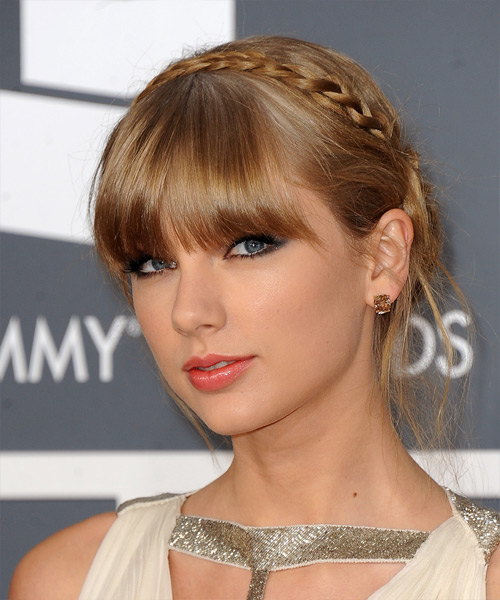 Bang on! Here's a beautiful Grecian inspired updo on the lovely and talented Taylor Swift. Taylor is known for her amazing song writing and her musical career. She has recently released new album that we did not see coming! She not only provides us with the wow factor from her music but also her choice in hairstyles. Taylor's unique updo was created by braiding her hair and wrapping it around her head like headband. Her look was completed with a long, heavy fringe that makes her baby blues pop. Try this one if you have an oval, oblong or diamond-shaped face. A great summer updo to wear with your long flowy gown and gladiator sandals.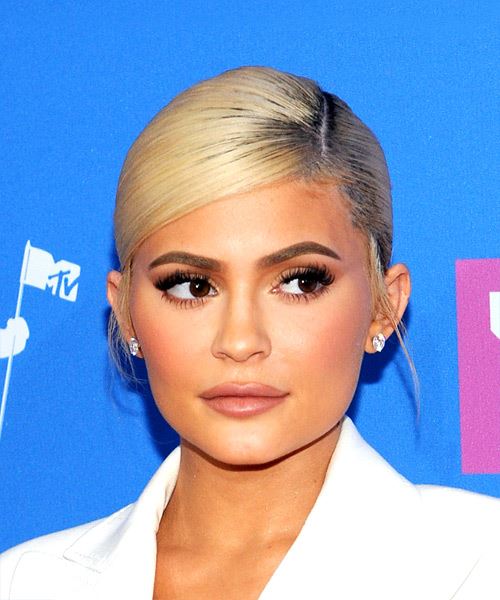 Kylie Jenner is trend setter! Her makeup line is gorgeous but right now, all we can focus on is this upstyle formal hairstyle. Her hair is tied up at the back and the front is sleeked back which gives this look a more formal feel to it.
She has pulled out a few pieces of hair in the front. This might seem like her hairstyle is coming undone but that is not the case. These pieces of hair help to frame her face and give this look some flow when she is walking.
I love this hairstyle because it opens up her face nicely which will allow everyone to see her flawless makeup application. Her bangs are neatly tucked behind her ear so she doesn't have to worry about your bangs getting in the way of this look.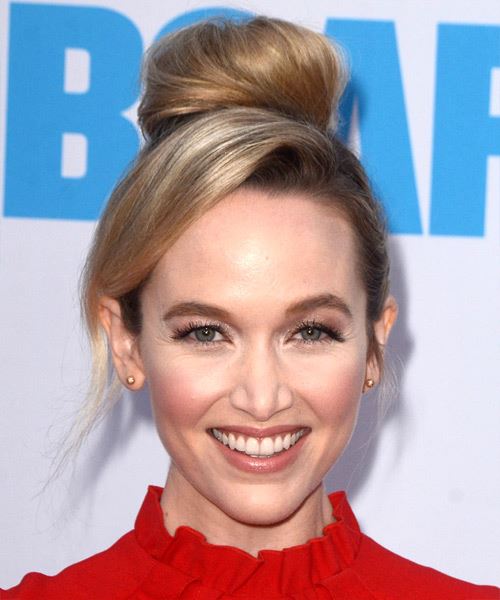 Kelley Jakle is flaunting this gorgeous upstyle! If you are looking for a style that has height to it, then this is the style for you!
This hairstyle will work with or without bangs which is a great thing to note. It does work best with long hair as the more hair you have, the fuller your bun is going to look. You can always use faux hair buns to pull this look off if you have short hair and want a new hairstyle for your formal event.
You hair is up and out of your face which is great for the summer evenings. You will not have to worry about your hair becoming frizzy from your body heat as your hair is off your shoulders which I love. It is also nice to note that her ears are showing. This is great for someone who loves wearing earrings and wants people to notice them. Due to the fact that the bun is in the centre of her head, your eyes tend to focus on her eyes and lip area. This is lovely because these facial features will be the key attraction on your face for this look.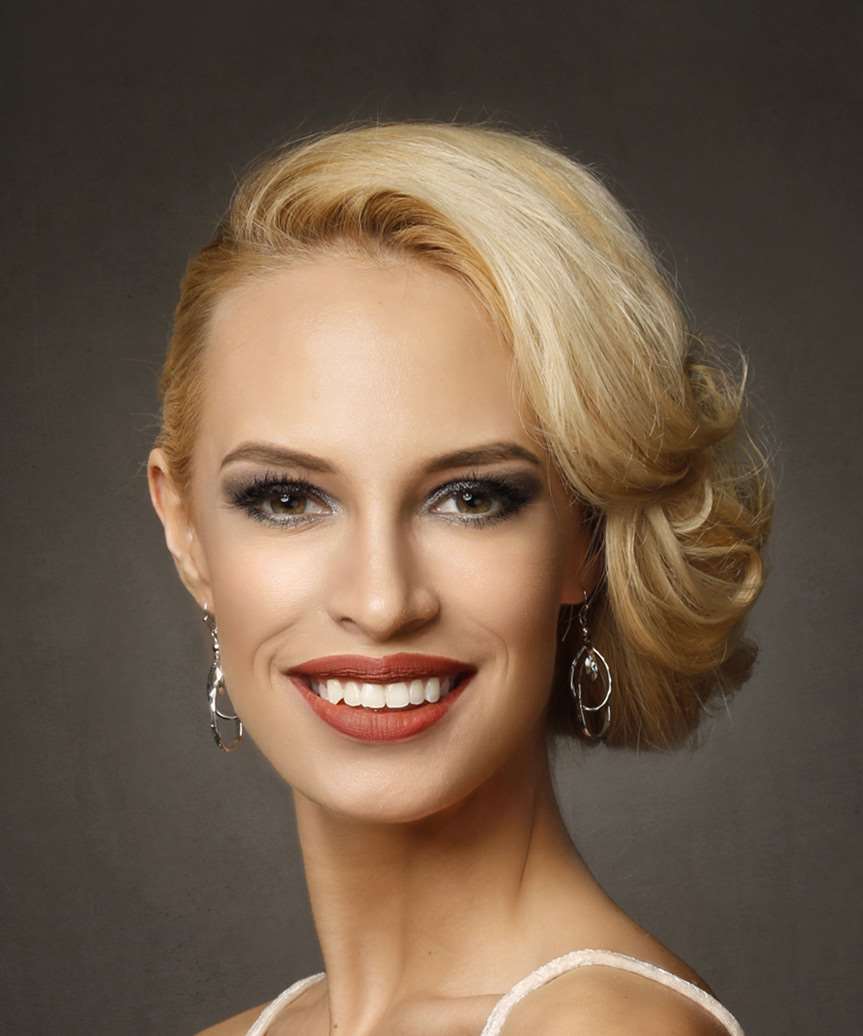 Our gorgeous model is showing us a classic upstyle hairstyle. It is a style that you have seen in many movies and is a classic. Her hair has been tucked in the back and pinned to perfection. This gives an illusion of shorter hair and gives you a bob hairstyle feel which is nice for someone who wants to see what short hair will look like on them.
This hairstyle is ideal for all face shapes. The only downside to this look is that glasses will not suit this look because of the way the hair falls to one side of her face. Your neck area is very open with this look so it is time for you to show off your gorgeous necklaces or wear an outfit that is flattering for this aspect of the hairstyle.
The gentle waves help to frame her face and also put focus on her gorgeous eyes. This means that when you do your makeup application and want to focus on a focal point, your eyes are going to be the star of your makeup application. Do not forget to highlight and contour your face and neck area to tie this whole look together.
Things To Avoid With Updos
When you are looking for an elegant updo hairstyle, there are a few things you would want to avoid.
Firstly, you do not want to just put your hair up in a pony. This is a lazy way to do your hair and you want your hair to be the star of the show at your formal event. If you do place your hair in a pony tail, try adding a braid to wrap around the pony tail or you can pull a few pieces of hair out the pony tail to help shape your face.
The next thing you want to take note of is your face shape. You do not want to do an upstyle that is going to negatively affect your face shape. For example, if you have a square face shape, you would want to ensure that your updo is going to help soften the edges on your face that your face shape creates.
If you are going to do an updo, you want to make sure that your outfit matches your hairstyle. You do not want to have this astonishing updo and wear a top or a dress that covers up your neck. You are ging to look like you have no neck and you are going to create the illusion of an oval face shape which you do not want. So make sure that your outfit highlights your neck area.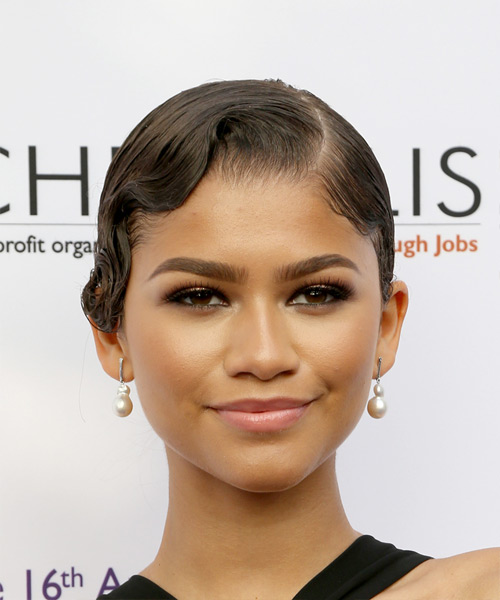 How To Maintain Your Updo
A tip from the runways: spray some hairspray onto a makeup blush brush and gently brush over the top and the sides of your hair. This is going to keep the flyaway hairs in place and help to get rid of the frizzy look that you might currently be rocking.
Accessorizing is a great add on for your updo hairstyle. It is also a lovely way for you to hide your elastics and bobby pins. Certain accessories such as a gorgeous scarf or alice band can help keep your hair in place as well.
Keep bobby pins close by. This will help you keep your hair in place when a pin might fall out or might break while you are out at your formal event.
You want to make sure your bangs are clean and in place throughout the evening. Use some hairspray to ensure that your bangs stay in place. If you have glasses, make sure that your bangs are out of the way so that you do not have to keep playing with them to see through your glasses.
Doing updos with newly washed hair will not work as well as when you do them a day or two after you wash your hair. Newly washed hair tends to be softer so it does not style as easily and you have more flyaway hairs and more frizz.
You want to make sure that you cut your hair once every 6 weeks or so to ensure that the ends of your hair stay healthy. Some updo hairstyles can show your split ends so you want to make sure that your hair is looking as healthy as possible all the time.
As you can see, your formal hairstyles can be an upstyle and still look as fabulous as ever! You need to keep in mind that these hairstyles cannot stay in for more than a day otherwise they tend to start dropping out of place. If you want to keep the style in for more than a day, make sure that you do the hairstyle tightly and use bobby pins and hairspray to freshen up the look for the next day.
If you like some of the hairstyles that we have shown you today but not sure how they are going to look on you, do not worry! We have a virtual hairstyler for you to use. All you need to do is upload a photo of yourself onto our site and choose a hairstyle that you want to try. This is going to give you a better idea of what is going to look nice on you and what is not. There are hundreds of other elegant updo hairstyles for you to choose from if you are not happy with the choices we have shown you in this article.
You are going to be looking like a million bucks in no time with your new updo hairstyle!