Wearing a hairstyle like this can add length to round face shapes or square face shapes and is also a breath of fresh air from the usual super slick looks we see, so if you have the urge to try something new, consider a style where the higher and messier, the better!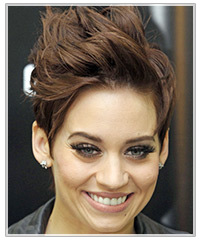 Ex Pussycat Doll Kimberly Wyatt looks like she was caught in a wind tunnel, but frankly, it works! Her jagged layered haircut looks fabulous piled high on her crown, and gives plenty of dimension and movement. One thing is for sure- to pull off this look you need to invest in a super strong hairspray.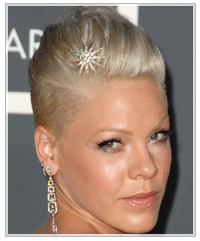 Here, Pink shows us how to look windblown and polished at the same time. Her hair is shaved close to the head on both sides with the top layers remaining longer. The hair on top has been blow-dried upwards and back to create a slick Mohawk-esque 'do. Her hair is literally standing on end! But, the end result is a super cool updo that stands out from the crowd.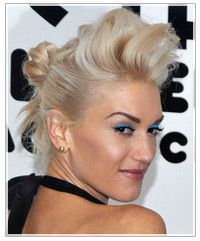 Gwen Stefani was ahead of her time with this airy updo. If you want to sport a super voluminous style but are too timid to get the chop à la Pink, try Gwen's take on windblown hair with this messy twist that is pure rock n'roll. Simply tie your long hair back in a twist and add mega hair volume to your bangs.