These retro-inspired curls are super glamorous and chic. To pull this hairstyle off you will need a strong sense of fashion and confidence, not to mention killer makeup. This hairstyle isn't for wallflowers, to pull off barrel curls you should love being in the spotlight, because it's definitely going to be on you!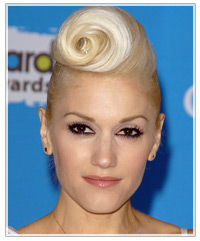 Gwen Stefani has always been a trailblazer in the hair department, so when she rocked this look back in 2006, she made headlines for all the right reasons. Her super slicked back sides and perfectly swirled barrel curls showed off her gorgeous face and icy blonde hair color. You can re-create this look by pulling your medium or long hair back in a tight roll and pinning it into place, leaving the hair on the crown out. Then, add volume by teasing the roots and tucking your hair into a large roll. Secure it with hair pins and you're all set!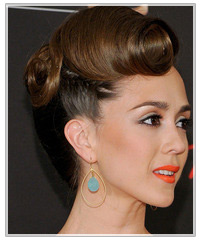 More recently, Christina Bennett Lind flaunted this updo on the red carpet. Her dark brown locks were styled similarly to Gwen's but she added some large barrel curls near the back as well. Christina topped her look off with gorgeous turquoise and gold earrings and orange lipstick.