A Short hairstyle is always in style. Bobs and pixie cuts always look modern and in style which is something that you want to keep in mind when choosing a hairstyle. You want something that will always be in style for a long time. If you have a short hairstyle but you want to spice things up a bit, here are a few ideas that you can choose from. Keep in mind that you need to take into consideration your face shape when you choose a hairstyle from the list below. You want a hairstyle that is going to show off your facial features.
It is also important to consider if you wear glasses or not. Some hairstyles are styled to cover the forehead and or eye area. If you wear glasses, these hairstyles will not suit you. You need to either choose another style that has a more open face or you need to start to wear contact lenses.
Why having shorter hair is more manageable
Having shorter hair for a male or a female is more manageable for you to maintain for a few reasons. Firstly, shorter hair tends to dry a lot quicker. This is going to save you time in the morning when getting ready. Your hair will take a lot quicker to style and during the summer, your head won't feel as hot as it did when you had longer hair. This is going to help you stay cooler during the summer.
Why you should consider cutting your hair
Your hair will grow back! A lot of women say that when they cut their hair shorter, they feel like they have a rush of empowerment. The Adrenalin that floods your body once you cut your hair makes you feel like you can conquer anything!
Your hair might look healthier after you make a change. A lot of us are scared to cut our hair so we often trim our hair and not cut enough off. By changing to a short hairstyle, you are most likely going to get rid of any split ends and unhealthy bits of your hair that is damaged towards the bottom of your locks.
Styling your hair for the first few times might take you a bit longer and might take some practise. Once you get it right, styling your hair will become a breeze and you will have fun in the morning doing it!
A short hairstyle can be styled for formal occasions as well as for casual ones. Often they are easy to transform from one occasion to another, just like changing your makeup from during the day to an evening look.
Short hair cuts to suit your face shape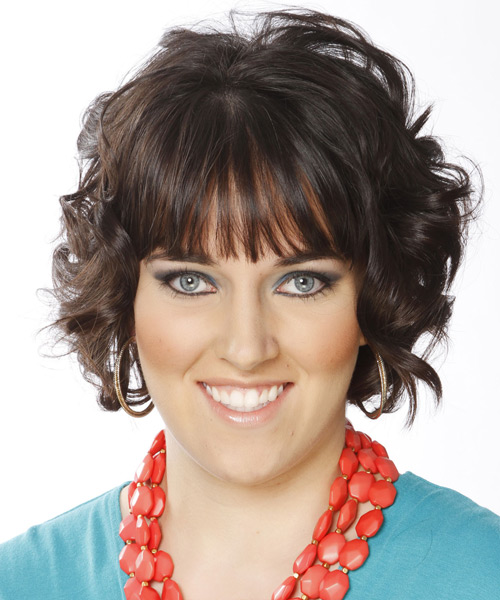 Heart face shape
: A heart face shape will best suit a wispy, layered short haircut. This cut can be shoulder length or a bit shorter. The layers will help to soften your chin area.
Oval face shape
: Angular Bobs are the best style of cut for an Oval face shape. Keep in mind that oval face shapes will suit most haircuts but if you are looking for a shorter haircut and have an oval face shape, then an angle bob is the best for you. It will give your style a bit of an edgy look and give you a sense of mystery which takes your hairstyle to a different level.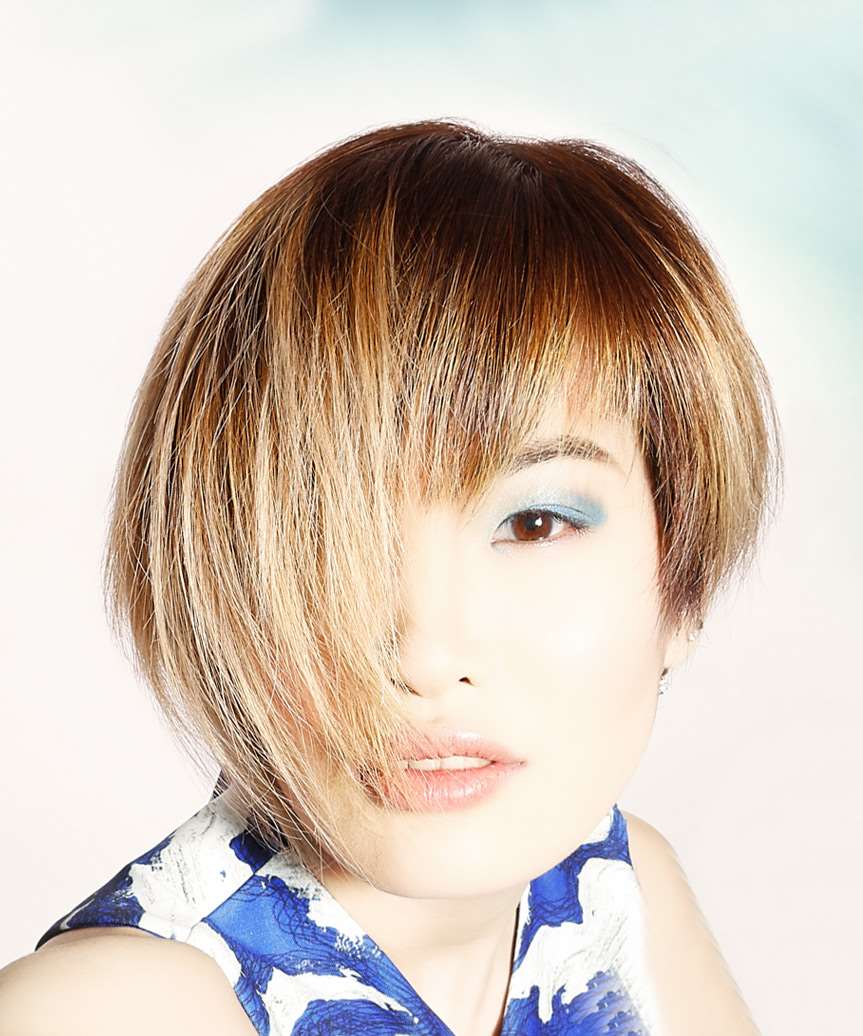 Square face shape
: Shoulder length cuts are the best for a Square face shape. Reason being is that the longer bob helps to soften the edges around your face and creates the illusion of contouring your face and neck area without having to use any makeup.
Round face shape
: Pixie cuts are ideal for a round face shape as this is one of the most open face haircuts that you can get. The open face look is what you want to go for as it will help create the illusion that your neck and face area is longer than it actually is.
Long face shape
: A Side-parted curly bob will suit a Long shape face shape best. The curls will help to create the illusion that your neck and face area is shorter than what it really is and the side part gives this look some much needed life. The side part helps to give the top of the look some volume whilst letting it fall to the side of your face. This helps to ensure that the hairstyle as well as the cut does not make your face look longer than it really is.
Please keep in mind that the styles that were mentioned above for the face shapes are a rule of thumb and does not work for everyone. These are just guidelines that you can use to help you choose a haircut that is going to best suit your face shape. Some people can be an exception to the rule. It is also important that you talk to your hairstylist before choosing a hairstyle as some people have a combination of more than one face shape. You need to work together to choose the best style to suit you!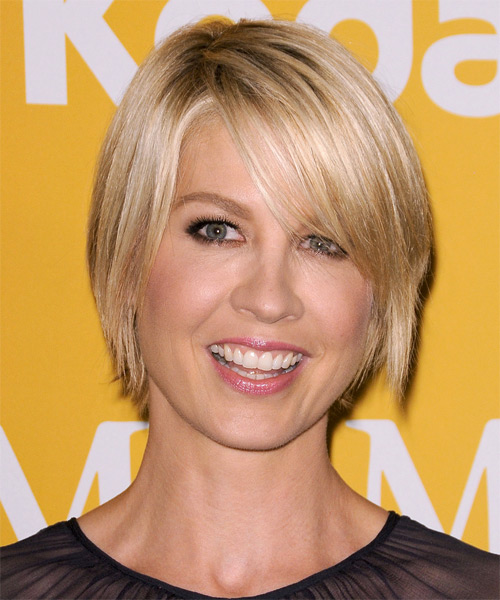 Multiple face shapes
: Jenna Elfman is looking as trendy as ever with this gorgeous tapered bob. The bob frames her face well and shows off her jaw-line. This specific cut has a
side-swept fringe
which gives you a bit of a glamour look as well as a mysterious look which is always a powerful aspect to a hairstyle. This hair cut is ideal for someone who has a round, oval, heart or
triangular face shape
.
Multiple face shapes
: Keira Knightley is always looking so trendy with her short hairstyles. This is one of her hairstyles which is a winner in our eyes. This bob ends at her jaw-line which contours her eyes, cheeks and jaw-line. This results in the illusion of a perfect oval face shape. The ends of this bob is tapered towards the sides and with her natural waves being shown off in this hairstyle, the waves create texture and volume to this look. This hairstyle is ideal for people who have an oval, square, heart, diamond or triangle face shape.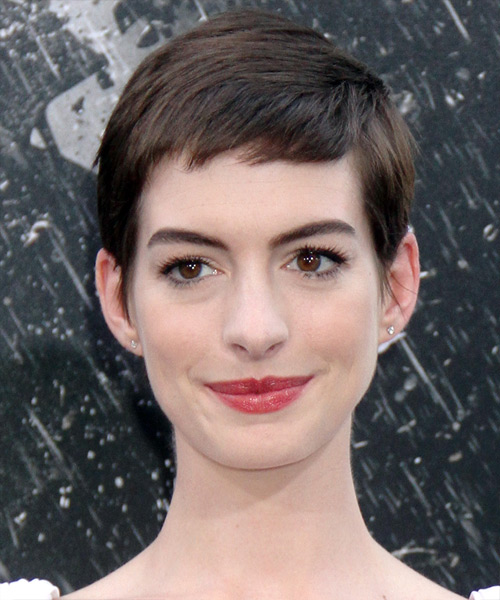 Multiple face shapes
: Anne Hathaway is a complete trend setter! I mean look how well she is rocking this short hairstyle! This is a short pixie cut that Anne let grow out a little. She then slicked it down and behind her ears to create that gorgeous glam look. This is a simple yet stylish hairstyle that won't take you long to do in the morning but will make heads turn throughout the day. This hairstyle is ideal for people who have oval, heart, diamond and triangle face shapes.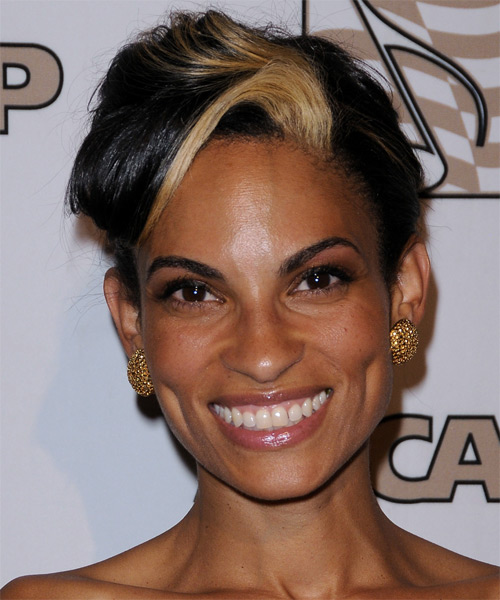 Multiple face shapes
: Goapele Mohlabane is looking fresh and funky with this short hair hairstyle. The sides are short and the top of the hairstyle is longer with a few layers place strategically. The blonde highlights in the front give this look a fun aspect to it. If you want to still the spotlight, then this is the hairstyle for you! This hairstyle is ideal for oval, round, triangle, square and diamond face shapes.
How to maintain your short hairstyles
Cut your hair every 4-6 weeks to keep the style in shape.
Use hair products to help keep those fly away hairs in place.
Make sure that you dry your hair using the correct hair products to ensure that once it is dry, your hair will fall into place for the hairstyle.
If you are adding highlights to your hairstyle, ensure that you touch up your highlights once every 6 weeks or so to ensure that the color stays vibrant and fresh.
Comb it less frequently to help with static hair texture.
Keep in mind that shorter hair needs less product. The more products you use in your hair, the more you will waste and the less effect it is going to have. At the end of it, your hair is just going to look oily.
Short hair needs to be washed more often than long hair. Some styles can be washed every day. You need to make sure that you use a shampoo that does not dry out your scalp. You can always use dry shampoo once a week in between washing your hair if you like.
Rinse your hair in a blast of cold water to give your hair that extra shine.
Try finding a style that requires less heating tools to style your desired hairstyle. This will help keep your hair from getting damaged and help the ends of your hair look as healthy as possible.
Use a cotton bud to push down any flyaway hairs that might be throwing your hairstyle out of place. Apply some hairspray to the cotton bud and run the cotton bud along the hairs that are out of place.
You can use oil based products to keep your hair looking shiny and keep your scalp moist if you have brittle or course hair.
Things to keep in mind before you choose to have a shorter hairstyle:
It might take you a week or two to get used to your new short hairstyle. Do not get discouraged right away if you do not like the style. Take the week to get used to it and if you still do not like it, then go back and get it styled in a different way that you might enjoy more.
Do not cut off too much at first! If you have never cut your hair short before, you do not want to go all the first chance that you get. Keep in mind that you can always go shorter but it is not as quick for you to grow your hair longer.
If you are scared go to all the way and cut your hair shorter, why not try out bangs first? They will help give you an idea of how the shorter haircut will frame your face and sow off your gorgeous facial features.
You need to remember that your hair will grow back. If you are really not happy with the short haircut that you chose, there are always ways to make you feel happier with your haircut. You can always add extensions if you like or you can change the styling of your hair.
Before leaving your hairstylist after getting your new haircut, make sure that your stylist has shown you how to style your hair correctly. You do not want to leave with amazing hair that is styled to perfection and then the next day you are not sure how to style it yourself so it ends up looking like you just got out of bed.
How to grow out your short hair
Having a change of hairstyle is as good as a holiday they say. This means that after a while, you might want to go back to having longer hair once again. There is an easy way for you to get your long hair back and that is to add extensions to your hair to give the illusion that your hair has grown over night.
If you do not want to use extensions then you are going to need to grow out your hair. You are going to want to get your hair trimmed once every 6 weeks or so to ensure that your hair is growing in the direction that you want it to be in the end. You also need to trim it so that your hair can be the length that it needs to be for the style that you want to achieve once your hair has grown out.
Short hair styles are easier to maintain in the long run but you are going to need to style it every day. There are many different ways that you can style your short hair. Short hairstyles are always in style and you are going to want to make sure that you choose a hairstyle that is going to suit your face shape. These hairstyles are going to turn heads in no time!