Just in time for summer, Lacey Schwimmer has added in candy floss pink, purple and blue tones to her naturally dark blonde and brown hair. While these colors are bold in their own right, they are soft enough to blend in with her main color and look fab with those baby blue eyes. If you have always wanted to try something super girlie and glam, this may be the look for you.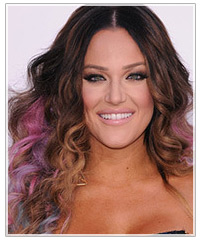 The first thing you need to do is decide if you want to use clip-in extensions or color your own hair. There are pros and cons to both. Using clip-in hair extensions will give you the flexibility to add or remove them as you see fit, and will also save your locks from any hair damage. On the negative side, they are harder to style and generally look less natural.
If you opt to color your own hair, you can be sure that the hair texture and style will look natural. However, it takes more maintenance to keep up these colors on natural hair, which means more money at the hairstylist as well. Consider both options before you take the plunge.
Finally, you need to choose your colors. Light pink, blue and purple look great on blonde, brown and black hair but remember that the darker your natural hair color is, the more vibrant the highlight tones should be. If you have red or copper hair, stick to pink tones. Keep them to the bottom half of your head and you are ready to rock cotton candy colors!