If you were born between February 19 and March 20, you are born under the sign of mysterious, soft and elegant Pisces. This sign is associated with compassion, love, dreams, illusions and music to name a few, and in general the natives of this sign are very softly spoken, kind and caring individuals. On the negative side, they can be moody, have addictive personalities and find it impossible to make routine decisions... which can really annoy some of the more fiery and airy signs of the zodiac!
Pisces women are sensitive, ethereal beauties that are immediately noticeable for their soulful eyes. Pisces women usually have soft, delicate features and round face shapes that can look very childlike and youthful. Pisces women can be quite shy and withdrawn, so their hair and makeup are always gentle and understated rather than bold and brash. Here are some Pisces celebrity beauties that know how to work their enigmatic beauty.
This is the one sign of the zodiac that is impossible to pin down as their appearances change so often and can easily blend in with the crowd, but on the other hand, this star sign can often pull off some of the most flamboyant, imaginative and creative looks known to man. That's just the dual nature of Pisces at work!

Appearance-wise, Pisces women will have clear skin with a certain plumpness to it (they retain water very well), and their large soulful eyes and thick eyebrows will surely be the main focus of their face. Their hair is usually long and wavy, just like a mermaid's, and will often have a silvery or ashy sheen to it.

If you are a Pisces woman, check out these hairstyles that are perfect for you below, as seen on some of Hollywood's most famous Fish!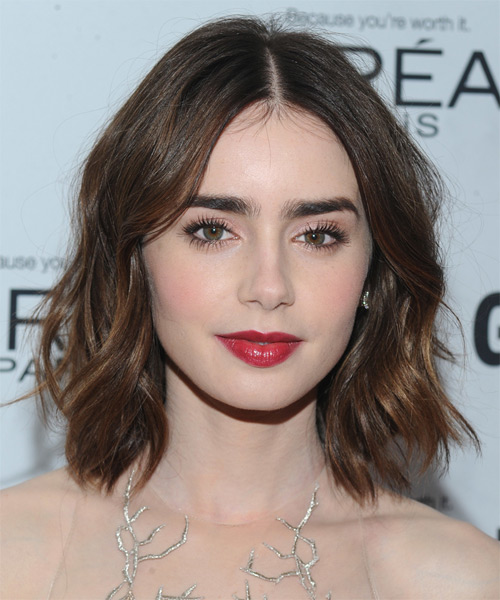 Lily Collins looks every inch the Piscean here with her clear, almost translucent skin, dreamy eyes and full lips. Her hairstyle is just right for this star sign as well, as it is soft, feminine and elegant—all traits that match the Pisces personality. Lily's soft waves compliment her oval face shape nicely, and work well with the look of this watery star sign.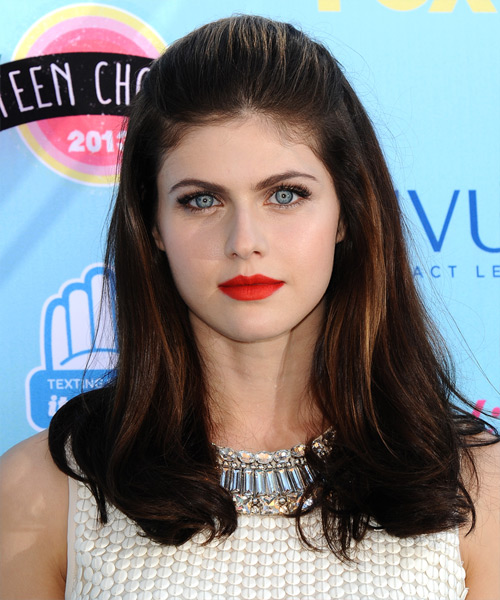 Alexandra Daddario has the ultimate Piscean eyes—large, luminous and hypnotic! Her hair is typical Fish hair as well being long, thick and curly. Alexandra has smoothed most of it out into a Sixties-inspired demi up-do that gives her a classic vintage look. Pisces are master mimickers and can pull off vintage or 'era' looks with ease, so get creative with your 'dos and travel back in time if you are a Pisces.
Lupita Nyongo is one of those Piscean women who like to make a statement through her hairstyles, clothing and makeup, and she does it with her simple yet eye-catching Piscean persona. Lupita always has a total look going from head to toe, using the Piscean flair for drama and illusion to create show-stopping looks. Here, she has gone for a short braided hairstyle to match her shimmery silver eye shadow and confetti coloured gown. If you want to see how to make a statement- check out this Fish's red carpet history!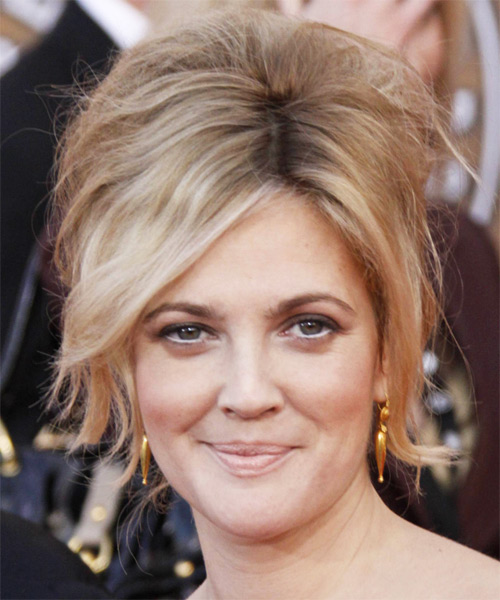 Drew Barrymore is another famous Piscean who has been quite the style chameleon over the years. From teen tearaway to earth mother, Drew has embraced a whole spectrum of looks and pulled them off without a hitch. Here, she is in a high volume up-do that has a hint of the Sixties going on with the bouffant, as well as a whole 'lotta softness thanks to the waves and layers around her face. You will rarely see a Pisces in a tight, slicked back hairstyle—they prefer looser, more relaxed up-dos for a big night out.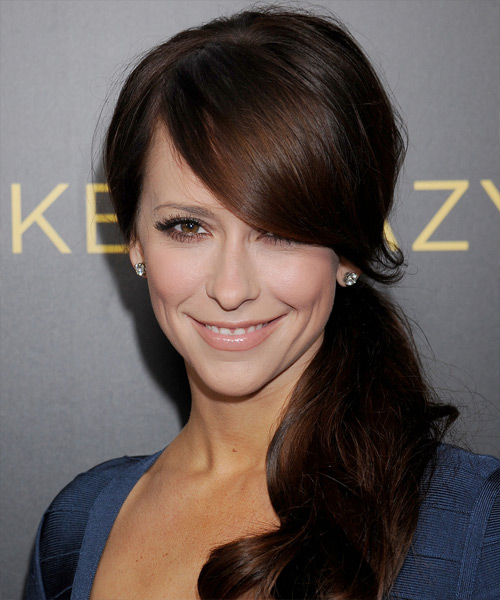 Jennifer Love Hewitt throws her long hair into a sleek side ponytail. This is a romantic look that gives a nice peek-a-boo effect with the long fringe covering one eye—perfect for mysterious Pisces women.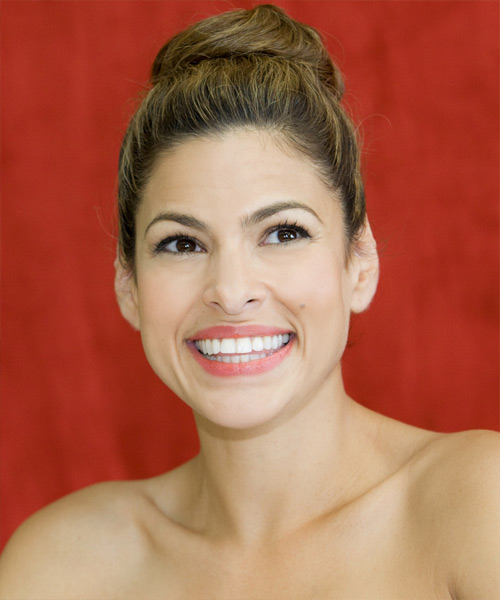 Eva Mendes' cute top knot is simple and elegant, plus it will show off those gorgeous Piscean features. This style works for day or night, and will work with medium to long hair.
The virtually ageless Drew Barrymore wears her hair here in a cute bob hairstyle with jagged layers throughout. Her bangs have been cut to the cheekbones to show off her bone structure, while the length falls just at her delicate chin—a beautiful look for a heart-shaped Piscean face.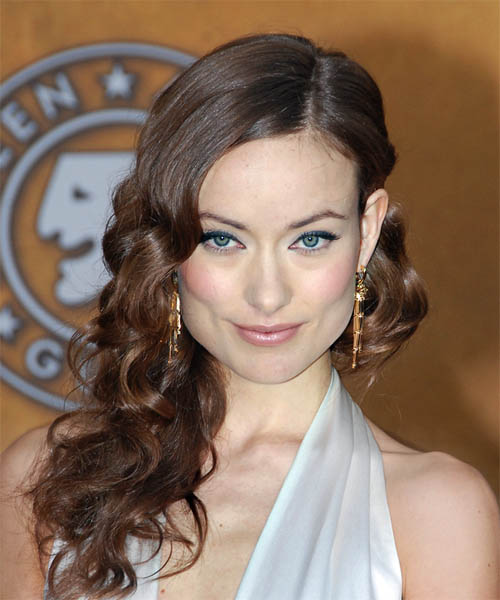 Olivia Wilde is working her mermaid waves here in this gorgeous half-do. This feminine and ethereal look is perfect for Pisces women and can be styled in minutes. Use a curling wand to perfect your mermaid waves and then simply pin one side back behind the ear and you are ready to go! Olivia's stunning blue Piscean eyes are highlighted with this hairstyle, and her vintage style white gown is the perfect Piscean outfit!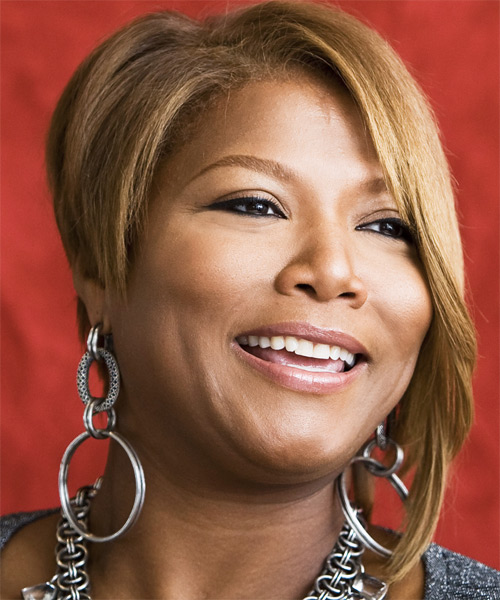 Pisces women can do short and trendy hair too! Queen Latifah shows off her glowing complexion and soft features with this graduated blonde bob. This is a fabulous haircut for Pisces as it creates a bit of mystery with the side swept fringe and has soft, wave-like layers around the face. Pisces women like to look unique, even eccentric, and this asymmetrical bob will definitely set them apart from the crowd. Queen Latifah adds a style bonus with her silver jewellery, which is Pisces' favorite metal.
Pisces women are style chameleons but will always maintain a soft and feminine appearance. They are the "feelers" of the zodiac and their appearance is just one way that they will artistically express themselves.
There you have it—some of the best looks for the female Fish to flaunt. To all of the creative, passionate and gorgeous Pisceans out there—Happy Birthday!