Jamie Chung was sporting a gorgeous red carpet look recently that made the most of her glossy hair and glowing complexion. Not only did she get the makeup bang on, but her hair looked super voluminous and oh-so-glamorous. Jamie's hairstyle will suit women with oval, oblong, square and diamond shaped faces who have medium to long hair. Her makeup is suited to her warm complexion, so if you have golden undertones, then this look is made for you. And the best part is, Jamie is a big fan of department store makeup brands, so you can get this look without breaking the bank.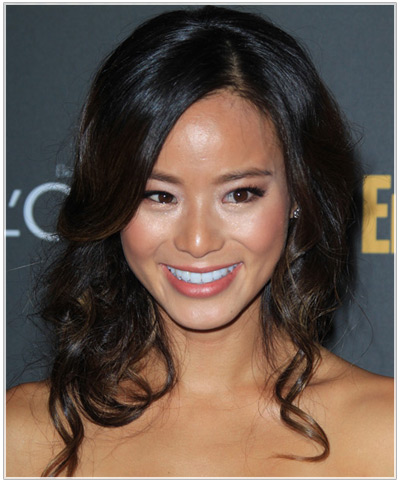 First, let's start with the hair.
This is a half up, half down 'do that creates a beautiful frame for the face. This is one style to rock when you want your face to be the center of attention, not your hair. Follow these steps to recreate this look:

The key to this hairstyle is volume, volume, volume! Start by adding mousse and a root booster to your towel-dried hair. Then, blow-dry the roots of each section straight up using a large round brush. Try to allow them to cool before drying the lengths and ends—this will lock in the volume.


Use hot hair rollers (large size) and wrap each section of hair until the whole head has been set. Roll the hair at the crown and back in a downward motion. Wrap the sides vertically, away from the face. Once the rollers have cooled, unroll each section and use your fingers or a comb to separate the curls slightly.


Create your part. Jamie is going for an off-center part but a center part would look just as good if it suits your face shape.
• Backcomb the roots at the crown to add volume, and then sweep the hair from the top of the head and smooth it over backwards.


Leaving the front sections out to frame the face, sweep the rest of the hair back and pin it into place. If you have thick hair like Jamie, secure it by taking sections of hair, twisting it slightly and then pining it loosely into place.


Apply hairspray to keep it all in check.
Jamie is a self-confessed sun worshipper, so it's no surprise that her makeup palette is made of sunset peach and bronze shades. This works well with her warm skin tone and dark hair and eyes. To get this look:

Start with a lightweight foundation all over the face, using concealer on problem areas.


Apply a warm beige eye shadow to the eyelids, followed by black liquid eyeliner. Jamie swears by L'Oreal HIP cream eyeliner, which (bonus!) will only set you back a few dollars.


Next, bring out those lashes with black mascara. Jamie told Allure magazine that her favourite brand is Cover Girl Lash Exact waterproof mascara, which is good for short eyelashes that don't have much curl to them.


Finally, use a shimmery bronzer on the cheeks and a warm beige-pink lipstick on the lips. Jamie is a big fan of MAC products, so check out their line for the perfect sun-kissed blush and lippie shades.
Jamie has chosen to go without jewellery here, but if you want to bling up your look, go for gold or rose-gold metals to harmonize with your makeup palette.