It's hard to believe that Macau-born American actress Ming-Na Wen is 49 years old-- most people would guess that she is still in her twenties! In addition to being a youthful beauty, Ming-Na has been ranked by Goldsea Asian-American Daily as "One Of The Most Inspiring Asians Of All Time". As one of the first Chinese-Americans to have a contract role for a TV series (for the soap opera As the World Turns), some would say she paved the way for other Asian actresses to make it big in Hollywood. She went on to feature in the acclaimed movie, Joy Luck Club and from there has built up a very successful career in Tinseltown. Professional life aside, let's check out how Ming-Na does her hair and makeup to suit her Asian features and look oh-so-glamorous on a daily basis.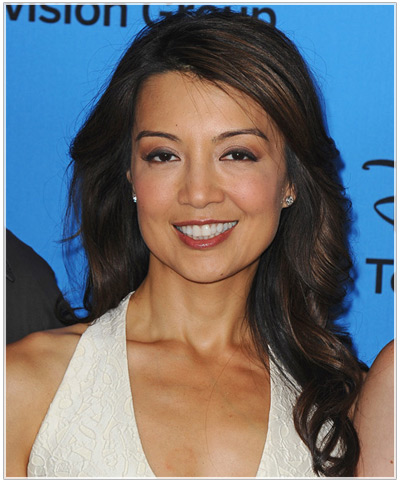 The Hair:
Ming-Na knows that just because you are approaching 50, there is no need to cut your hair off. More and more, women are keeping their locks long as they get older- and why shouldn't they? As long as the hair is kept in good condition and color, you can go for it. Ming-Na has kept her base color a soft black—it isn't a cool blue-based jet black that may look too harsh against her skin—but rather it is a warm brown-black that harmonizes with her skin tone nicely. To add some extra glam factor, soft auburn highlights were added to the top layers which catch the light and also create a warmer vibe, again to match her warm skin tone. If you have naturally black hair and a warm skin tone, this is a great way to add some subtle color to your hair while giving you a fresh new look.
To style, Ming-Na has infused volume and body by using styling products to add some bounce. If you have straight Asian hair, try using a root booster or mousse on your towel-dried locks before you begin to style to get better results. Your hair will hold the curl longer if you add some sort of product beforehand. Next, add some curls by using rollers or a heat styling tool like a heat wand or curling iron. Don't make your sections too big or else your curls will fall flat faster. Once you have set your curls, use a fine-mist high-strength spray to keep them in place. Ming-Na has parted her hair on the side here which works well for her square face shape, but if you have an oval, triangle or diamond face shape you can also experiment with a centre part.
The Makeup:
Working with her warm skin tone, Ming-Na sticks with earthy shades that give her skin a rich glow. To copy this look, start with a warm bronze eye shadow base. Then apply a dark brown shade just above the lash line and the crease to make the eyes appear larger. Finally, line the upper and lower lash lines with a dark espresso brown liner, smudging it out slightly. On the lips and cheeks, Ming-Na has chosen blush tones to give her a glamorous glow, which is a good choice for warm complexions.
Hollywood career aside, you can't deny that Ming-Na is definitely inspirational in the hair and beauty department!