Kourtney Kardashian is from one of the most beautiful families on the planet—all of who have fabulous hair. If you crave long, glossy locks like Kourtney, here's how to get it.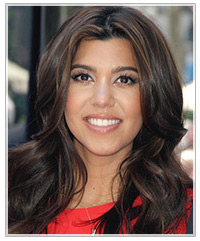 First, you have to be a hair care expert. Kourtney raves about her favorite hair care products on her personal blog. She swears by using Frederic Fekkai products and a weekly Joico K-Pak hair masque. As the owner of the one of the silkiest, glossiest manes around, she must know what she's talking about! If you haven't already—start a weekly TLC session for your hair, especially if it's as long as Kourtney's.
Next, we have the hair color. Like all the Kardashians, her natural color is a deep dark brown hair color that is sometimes highlighted with caramel or red hair tones. In this photo, we see a sun-kissed effect created with auburn highlights, which is a great look for summer.
Style-wise, Kourtney loves long, wavy hair. You can get this look by adding long layers to your hair and using extra large hair rollers to add some bounce. Kourtney is usually rocking a centre hair part, but if your face is square or oblong, use a side hair part instead. That's it—all you have to do now is enjoy your Kardashian-esque hair!
To see how you'd look with the great hairstyle pictured in this blog, click on the above image to try the virtual hairstyle with your own photo!