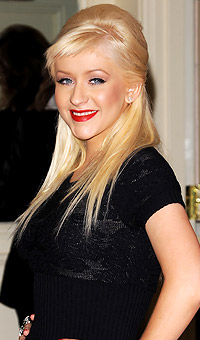 Christina Aguilera has had some great hairstyles, but we're not so sure about this one. Here's she was pictured yesterday at the Power of Women Luncheon in Beverley Hills CA. There were a handful of celebrities there, including Anne Hathaway and Eva Longoria Parker, but we couldn't take our eyes of Christina. What an awful hairstyle, we're thinking. And it's such a shame too because the Power of Women Luncheon is the perfect place to showcase some real style.
She should have chosen an old favorite from her repertoire of great hairstyles. Take a look at some in our Christina Aguilera hairstyles gallery. Stand outs include her elegant updo hairstyle from a while back. It's the perfect combination of height on top and smooth, sleek and pinned up sides. And then there was her great curly hair style: a perfect look for her diamond face shape thanks to her side part creating the illusion of width and angled bangs reducing the appearance of her face's length.
Her current hairstyle is a half updo gone wrong. By the looks of things it's been teased up at the top, smoothed over and tied at the back. There's probably a little ponytail there securing things. Her bangs are harsh and short- cut practically to her her hair line- and the rest of her locks have been left to fall below the shoulders. The height on top harks back to bad 60s beehives and the jagged bangs seem to be attempting some kind of 90s grunge thing. Together they spell confused.
That's probably not the best message for the Power of Women Luncheon. What do you think? Could Christina have done better?