Alyssa Milano shot to stardom in the Eighties as an actress on "Who's the Boss?" and quickly became an idol for teenagers everywhere. Decades later, Alyssa is still known as a true beauty and has barely aged since her time in the spotlight. Although we don't know what her secret is, we do know that she can pull off a variety of looks and make them work, with this throwback to the Eighties being a prime example!
Maybe she didn't mean to look Eighties here, but the feathered wavy bob and makeup choices do look a bit retro. In any case, Alyssa is rocking this look, which is soft, elegant and feminine. If you want to copy this look at home, here' s how: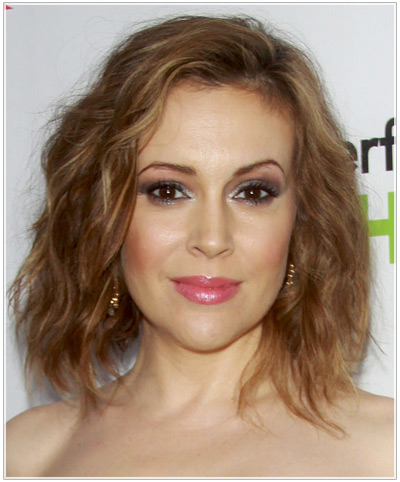 The Wavy Bob
Bobs are hot this season but this is also Alyssa's signature cut that she has been wearing for years. A shoulder-grazing bob is a great choice for her oval face shape and fine hair and the waves add some much-needed volume and body. It is graduated at the back, which is another great way to add body to fine or thin hair, while providing a face-framing effect in the front. Usually Alyssa goes for straight and sleek 'dos so the wavy texture gives her a whole new look. Her waves also give this cut an Eighties edge, as it looks more like a perm than anything else. Alyssa's waves are soft and slightly teased for volume, and more kinked than curly. If you like the cut but aren't so fond of the texture, use a curling tool to create more polished waves that don't have that Eighties feel.
The Color
If you're of a certain age, you may remember the "frosting" hair coloring technique from the Eighties as well. Although it is still around, since foil highlights appeared on the hair color scene, frosting is a form of coloring that is considered passé these days. On the other hand, Alyssa could be ahead of her time and this coloring technique could come back into fashion- who knows?
The main difference between frosting and highlighting is that highlighting creates sun-kissed streaks around the head, while frosting provides an all-over lightening effect where the light and dark tones blend in together. These are usually achieved by using a highlighting cap. As you can see here, Alyssa's naturally dark brown hair has been frosted to create a light caramel brown. Frosting is good for women who want subtly lightened hair, but it also provides less dimension than foil highlights or the bayalage method.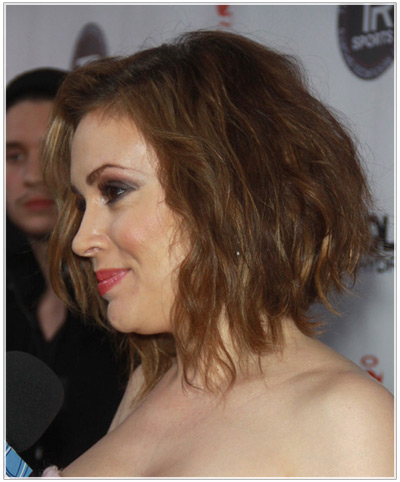 The Makeup
The Eighties had a lot of makeup looks that ranged from bold to barely there, but overall it was definitely a decade where more was more! Alyssa has a bit of the Eighties going on in her makeup here with regards to the application and color choice. Her palette covers a wide range of tones from pink to apricot to dark grey and she has gone heavy on the application. This isn't the best technique to use as the mixture of cool and warm tones create a clash, not to mention the fact that it can add on the years as well.
Overall, this isn't the best look for Alyssa but of course, she still looks beautiful. If you are feeling nostalgic for the Eighties, this is one look that will take you back!