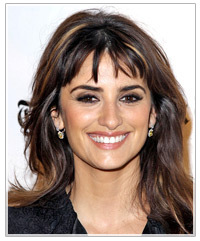 Spanish-born beauty Penelope Cruz is a film star with a successful secondary career as a beauty icon. Women worldwide covet her super glossy hair, large doe eyes and chic fashion sense. Now married and a mother of one, Penelope continues to maintain her cosmopolitan style with ease.
Penelope's look is all about the eyes, which is no surprise as she was once the face of L'Oreal's Telescopic mascara. Using rich dark brown shades, Cruz lines the upper and lower lashes with eyeliner and blends it out using different hues of brown eye shadow. Sometimes she will use metallics to bring a bit of sparkle and light to her otherwise dark makeup. Shades like copper, gold and even navy work well for her hair and skin tone. And don't forget about those brows! Penelope sports full eyebrows that look natural yet perfectly groomed.
Penelope's naturally tanned skin gives her a nice glow, which she highlights with warm shades of earth-tone lipsticks (like peach and beige) and blush shades. For women who have fair skin, add a bit of Spanish sun with a light dusting of bronzer on the apples of the cheeks.
Finally, top it all off with the super-shiny, tousled locks that Penelope is known for.
See more of Penelope Cruz's hair and makeup.