Whether you're after a natural, pretty daytime look, or a high glamour nighttime look, mascara can help create it by enhancing your eyelashes! Try it today with a little help from these eyelash makeup tips!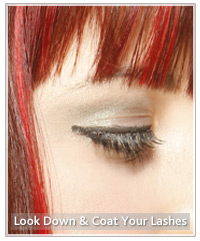 When it comes to applying mascara the number 1 rule is light layering. If you want to avoid clumps and unnatural looking lashes then applying 3 or 4 light coats is the only way to go.

When applying your coats of mascara, always remember to allow the first coat to dry before applying the second and so on. This will limit clogging and allow you to see how much mascara needs to be applied.

For a look that will draw attention to and widen your eyes, add some extra mascara to just the lashes on the outside edges of your eyes.

If you like to apply mascara to your lower lashes as well as your top lashes then always remember to apply a little less on your lower eyes. Not only are your lashes usually finer and smaller on the lower eyes (requiring less product), but too much mascara on your lower lashes could create a droopy eye effect.

A tip for applying mascara without getting it smeared onto your eyelid and ruining your eye shadow is to use a hand held mirror and look down into it before brushing your mascara wand from root to tip.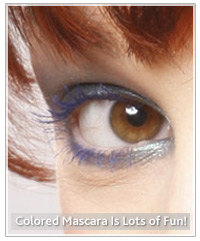 Just like your skin, keeping your eyelashes cleansed and moisturized will provide you with nourished lashes that look great. Keep your eyelashes in top condition by gently cleansing them when you wash your face during your morning skin care routine and night skin care routine and use an eyelash conditioner or Vaseline to coat your lashes overnight.

When applying your mascara, place the wand at the root of your lashes and then wiggle the wand back and forth as you pull it up to the ends of your lashes. This will apply more mascara at the base of your lashes and create the illusion of thickness and length.

If you find that too much mascara is applied to your wand, and therefore your eyes, wait a few seconds after pulling your wand out of the bottle to let the mascara dry a little, or gently wipe the excess with a tissue before adding the mascara to your eyelashes.

Colored mascaras can provide lots of fun and create a great contrast for your facial features. When it comes to choosing the color of your mascara, keep these tips in mind:
Black mascara can suit any combination of skin tone, eye and hair color, but does look best when contrasted with darker skin tones and brunette or black hair shades.
Brown to brown-black mascaras will best suit those with fairer skin and blonde hair as it will create great definition without overloading your features. It's also a great choice for anyone wanting a more subtle daytime look.
Blue mascara will make blue eyes pop, can bring real spark to brown eyes and looks good on hazel or black eyes.
Purple mascara will work well on brown eyes and really bring out the color of green eyes.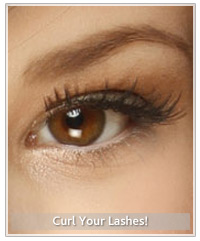 Our final eyelash makeup tip is to curl your eyelashes using an eyelash curler before applying your mascara. This will open up your eyes and make it easier to get to the roots of your eyelashes. The best way to curl your lashes is to use a heated eyelash curler (or warm a metal one using a blow-dryer) on clean lashes and to curl your lashes at the root and then at the halfway point of your lashes for around 10 seconds each.