Lots of ladies with porcelain skin try to give themselves a glow with bronzer or tanning cream, but why cover your beautiful porcelain skin up? Take inspiration from Dove Cameron and make the most of your fair skin by using fresh apricot and peach shades to give you a natural-looking fresh glow. Here's how to get this look: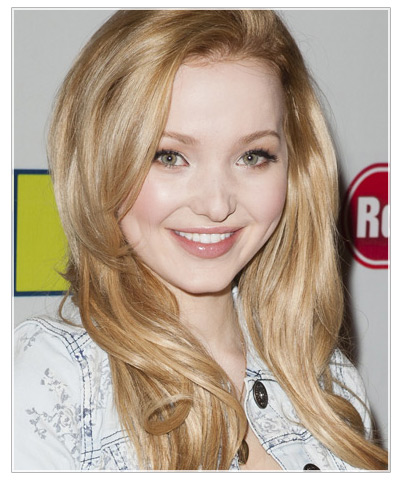 Create a strong frame for your eyes by grooming and filling in your eyebrows where needed. Use a pencil shade that is an exact match to your eyebrow color for best results.


On the eyelids, apply a soft shimmery peach shade and extend it up towards the brow bone.


Apply a warm chestnut brown eyeliner to the top and bottom lash line and smudge it slightly on the outer corners. Don't forget to use a brown or brown-black mascara to make your eyes stand out and add some drama to your lashes- after all, fair ladies often have very light eyelashes that need a color boost!


On the lips and cheeks, go for a true blush color with an earth-tone base to it. Try a muted rose rather than icy light pink. Wear gloss on your lips like Dove for a fresh, healthy glow.
For even more helpful makeup hints, see our full range of beauty articles and beauty blogs. You can even try some virtual makeup on your own photo or our model using our Virtual Hairstyler!