Any makeup look can be made sleek, sexy or modern with a good dose of lip gloss, so give your lipstick a splashy makeover with these shiny lip tips!
High Shine, Stay-Put Glossy Lips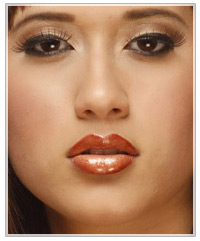 To ensure your lipstick and gloss will stay, prepare your lips by brushing any flakes and imperfections with a lip scrub or soft-bristled toothbrush and then...
1. Apply your lipstick with a lip brush for a professional finish. Red lipstick looks especially great with gloss, or you could try nude for a natural look.
2. Blot (don't rub) your lips with a tissue to remove excess color and then apply another coat of lipstick again. This will help your color to stain your lips and help combat fading.
3. Apply a high shine clear lip gloss, or a gloss with a hint of color if you prefer. Use a lip brush again for the best finish and to ensure you're applying the gloss evenly.
4. Clean up the edges of you lips with a tissue, and boom!, shiny, glossy lips with great color that will last you well into the day or night.
A glossy lip looks best with subtle makeup, but that doesn't mean you only have to give your lips the chance to shine. Team glossy lips with glossy hair by following the tips in our article, Hair Tips for Shiny, Glossy Locks!