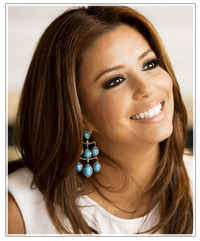 Eva Longoria is anything but a desperate housewife!
With a smokin' hot career, new boyfriend, and beauty contracts galore, Eva is on top of her game.
Her exotic Mexican-American looks are emphasized with her voluminous, rich brown hair and glamorous makeup that always looks fresh and clean.
She often wears copper or honey-colored highlights which add warmth to her skin.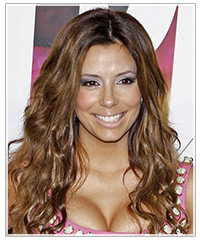 To highlight her large brown eyes she uses dark brown or black eyeliner on the upper and lower lash line, followed by soft smoky shadow in brown tones. Eva loves lashes, so she always has generous amounts of mascara on. A peach-beige lip completes her natural look.
Women with Eva's complexion should stick to warm palettes like coral, coppers and browns. Seen above a rare makeup disaster, Eva goes for a cool silver smoky eye shadow and chalky nude lipstick, which clashes which her naturally golden complexion.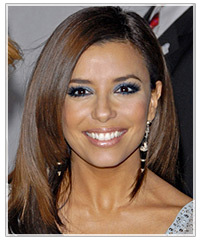 For a modern twist on the smoky eye, Longoria uses navy blue shades around the entire eye, with black liner and mascara. And to top off all of her makeup looks, she adds a bit of glow with bronzer, or one of her favorite products, Girlactik gold shimmer cream.