Emily Rose was recently papped with some gorgeous makeup on the red carpet that flattered her strawberry blonde hair perfectly. Strawberry blonde has the same tones as light copper hair, so if this color applies to you, look no further than Ms. Rose for makeup ideas.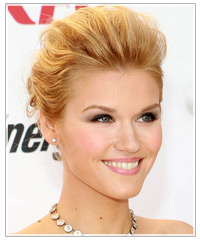 If your hair is this color naturally, you probably have a cool pink-based tone to your skin similar to Emily and will look just as good in this makeup palette. The best part about this look is her rosy cheeks and lips. To get this effect, choose a true rose pink that isn't too matte. Emily's cheekbones are done justice with this baby pink shade, and her lipstick has just the right amount of sheen to look fresh and natural.
The second part to this pretty look is the eye makeup. Again, if this is your natural color you will probably have green or blue eyes which can be played up with dark brown eye shadow. Notice how Emily has chosen a cool brown and not a warm red-based brown-- this is the best choice for cool skin. Her upper lids have a dark smoky effect and just a slight bit of smokiness on the bottom lash line.
Although this look is perfect for strawberry blonde and copper hair, it will look stunning with brunette and black hair as well—as long as the skin tone has pink undertones.