We're back with another edition of the viewer trend report! Find out what hairstyles were the hottest this month, as chosen by you, the viewer. Regardless of what's touted as the "must have" hairstyles on TV and in the fashion mags, what's really important is what you, the viewer, likes. So without further ado, let's check out what this month's best hairstyles were, according to fabulous you!
In a nutshell, the hottest hairstyles this month can be summed up in three words: bangs, bangs, bangs! That's right, all of the top five hairstyles favoured by our viewers this month had a super cool fringe. And, all the ladies out there are definitely into shorter hairstyles this month, which makes sense given that it's one of the hottest months of the year for most of us.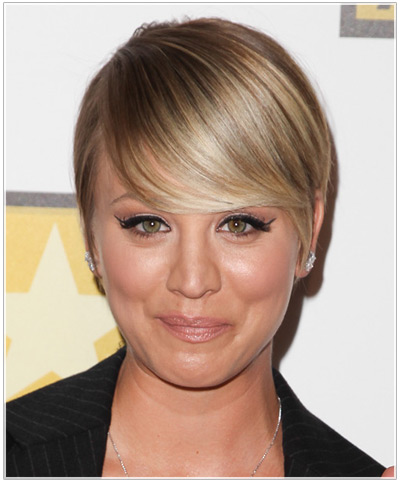 Coming in at number five is Kaley Cuoco's dramatic new 'do. This short hairstyle is chic and sleek with tapered sides and longer layers on top. Kaley looks sophisticated and sexy in this short 'do, as will any woman who copies this cut and color. Kaley is flaunting a gorgeous medium blonde base with champagne blonde highlights throughout that results in a glossy blonde hue. This is a killer hairstyle to flaunt on hot summer days and nights!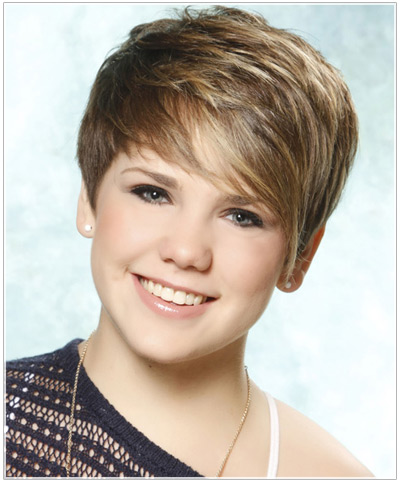 In the fourth position is our model, who is wearing a style similar to Kaley's but with a bit more texture and definition. As you can see here, this short side-swept hairstyle really adds a lot of volume and definition in the hair while creating a nice frame for the face. This is a great option for women with thick or coarse hair, whereas Kaley's would suit those with a medium to fine texture.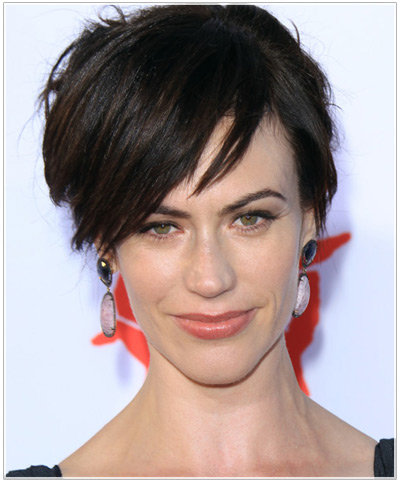 And in the number three position is Maggie Siff with yet another short, tapered hairstyle! Maggie looks cool and casual in this jagged cut hairstyle that has tapered sides and long layers on top. The fringe is choppy and sits to the side, creating a sexy peek-a-boo effect. Her dark espresso brown hair color is a great option for women with pretty much any skin tone- from fair to dark, this color will look fabulous. Maggie has styled her hair with some product for a high volume, messy look, which gives her a cool, trendy vibe.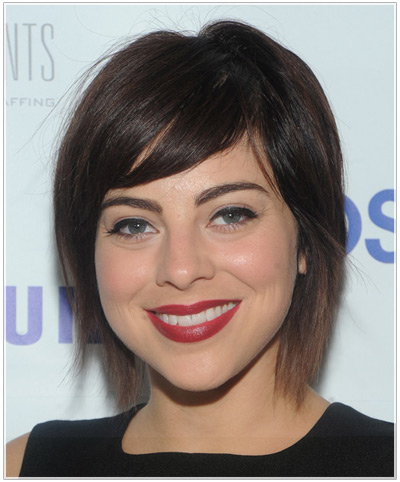 Krysta Rodriguez comes in at number two with her tapered bob and—you guessed it—side-swept bangs! This is one of the longer looks in this month's top five, so if you want a new style but aren't so sure about having tapered sides and a short back, then this 'do may be for you. Krysta's bob looks super cute here with a deep side part and razor cut ends for a fine, polished finish. This is a great option for women who have thick hair and want to take some of the volume out at the ends. Her fringe is prim and proper here, sweeping over from her deep side part and sitting nicely to one side. Her dark brown hair hue looks rich and luxurious too, giving her hairstyle an all-over sheen. Overall this is a polished look that would suit women who like a classic, professional look.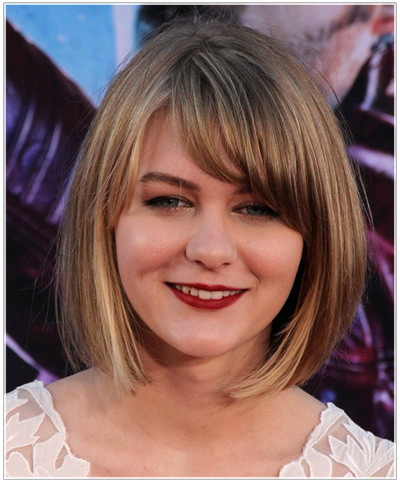 And in the number one spot this month is Ryan Simpkins with her swingy bob and thick side-swept fringe. Ryan looks adorable in this girlie 'do that consists of a shoulder-length graduated bob and angled fringe. This hairstyle makes Ryan's hair look thick and healthy, not to mention the color which gives her a nice golden glow all over. This hairstyle would suit women who like an easy, feminine hairstyle but also want the versatility of tying it back once in a while, which is just perfect for summer.
As you can see, July was definitely the month of short hair and the side-swept fringe. Check back next month to see what you, the viewer, will choose as the top five "must have" hairstyles!