Women choose to go short for many different reasons--minimal styling time, easy upkeep and practicality are just a few reasons why crop hairstyles and pixie cuts are so popular. Short haircuts bring all of the attention to the face, which shows that the wearer is confident and comfortable in their own skin. It also adds a polished and professional look which is ideal for women who want to exude a sophisticated and classic demeanor. For many women, going for a cropped haircut marks a point in their life when they want to express their individuality and are longer interested in maintaining time-consuming longer hairstyles. Whatever the reason, there is a variation of the casual short cropped hairstyle for every woman's needs. See below for the one that is right for you!
Short Crop with Volume- For Fine to Medium Straight Hair
This variation of the short crop or pixie cut is best suited to women with fine to medium straight hair. When straight hair is cut short and doesn't have a lot of natural volume and body to it, lots of layering is needed to add lift at the crown. This can be created in these styles by taking the following steps:
Go for jagged cut layers and slices throughout the top and sides, but make sure your stylists doesn't go crazy with thinning the hair out.
Use mousse or a root-boosting styling spray before blow drying--this is essential for creating volume in fine or limp hair.
Find the styling technique that gets the most volume at your roots. This could be blow drying your hair upside down, using a round brush to dry the hair straight up before smoothing it into place, or teasing the roots all over after blow drying for extra lift and hold.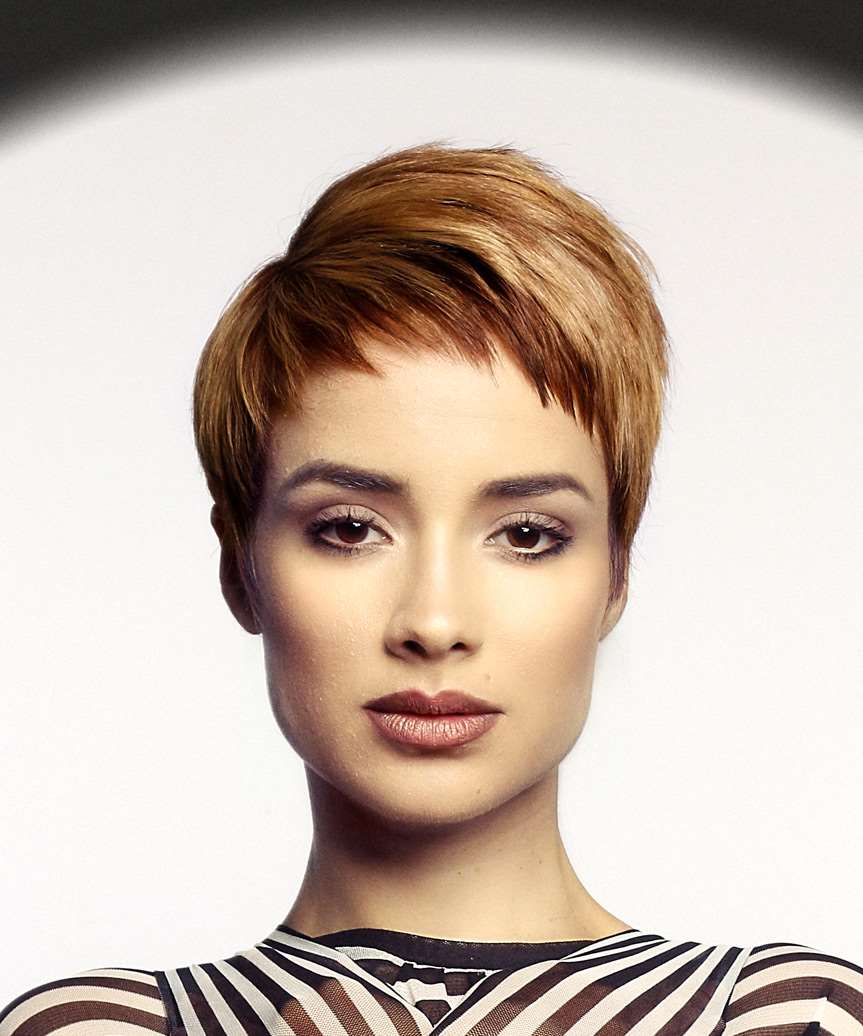 Our model shows off a cropped haircut with tons of volume at the crown. Her straight hair has been clipper cut on the sides and back for a tapered look, while the top has been jagged cut to add volume. Pinching styling wax throughout the finished style adds even more shape and hold.


This cropped hairstyle has much longer layers left on top that can be blow-dried and teased to add volume in fine hair. The sides and back are still cut close to the head but the long fringe and layers on top gives this 'do more styling versatility than a cut with short layers all over.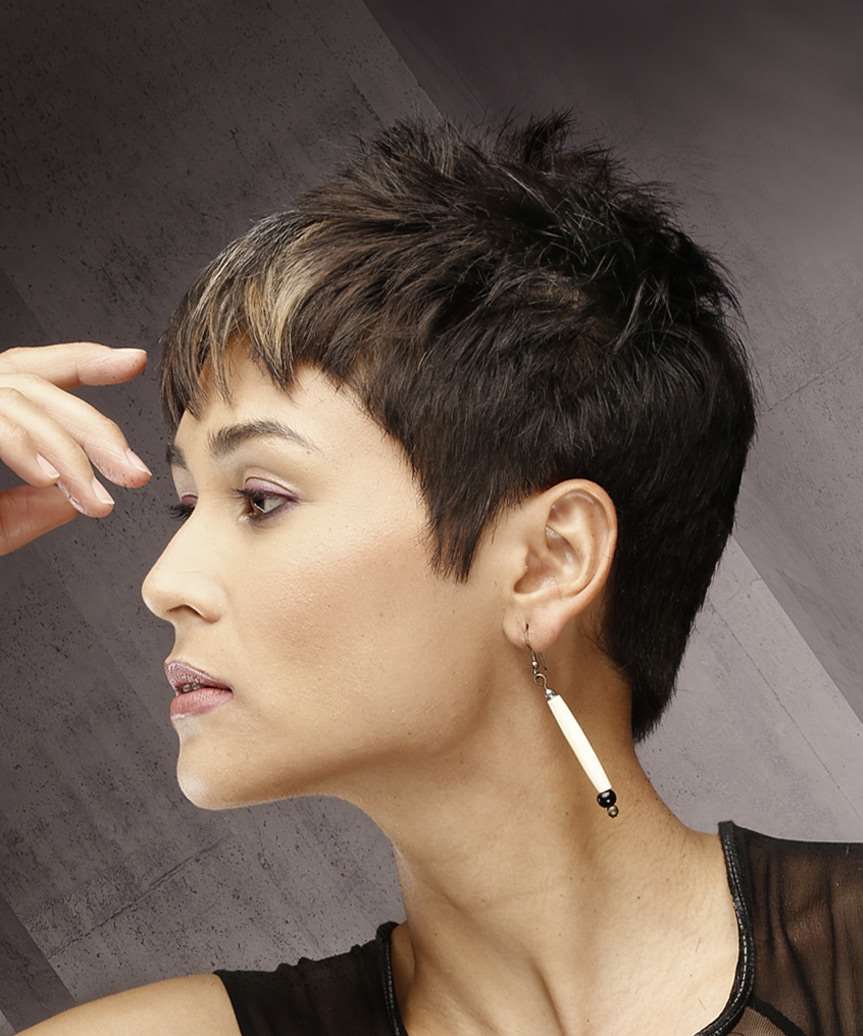 Ladies with straight hair will like this spiky crop hairstyle with a jagged cut fringe. By blow-drying the hair upwards and twisting the ends out with wax, this haircut can transform limp, fine hair into a voluminous and edgy style.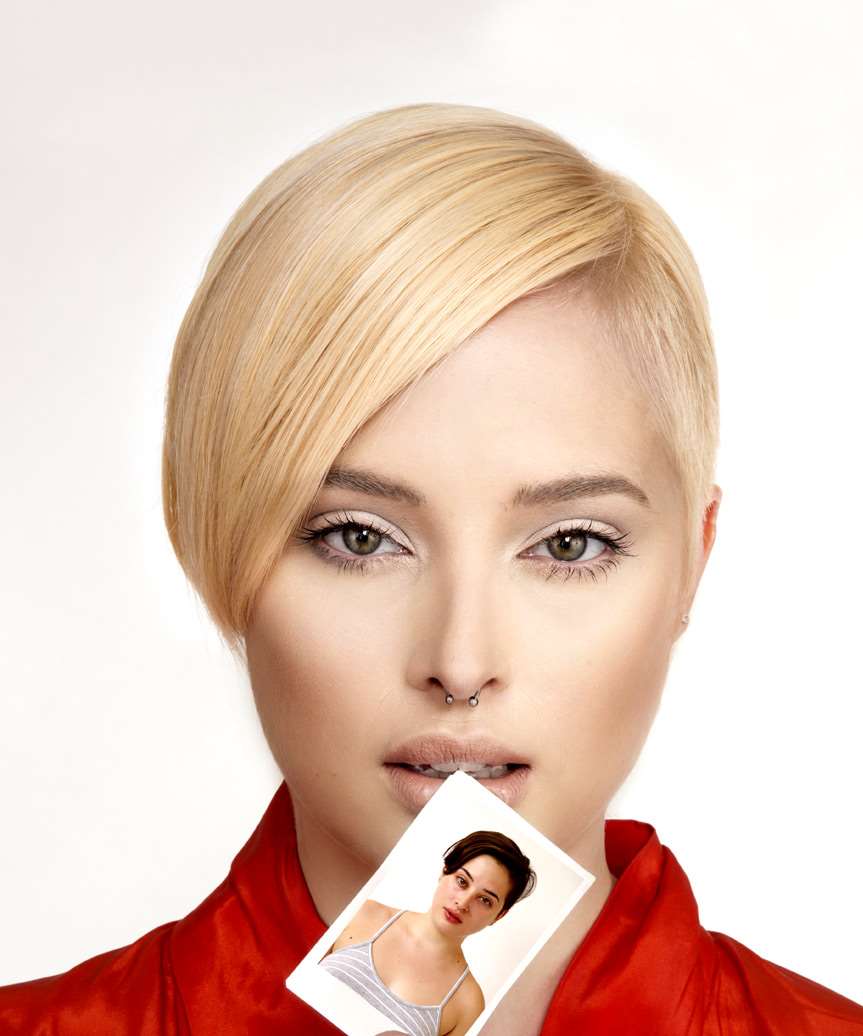 An asymmetrical blunt cropped hairstyle is another option for straight, fine/medium hair. Leaving the hair a uniform length and then layering and shaving one side to create an edgy look will work with this hair type very well while creating a chic look.


Side-Swept Short Layered Crop- For Thick Straight Hair
Ladies with thick hair may think that crop 'dos are out of the question but this is not the case. By going for lots of layers all over and thinning the hair out, thick hair can be molded into a sophisticated short crop 'do in no time. To style, use these tips:
Always use conditioner to tame thick hair and give it a more workable texture.
Blow dry the hair in the direction you want to it to fall.
Use styling cream to smooth and hold it into place.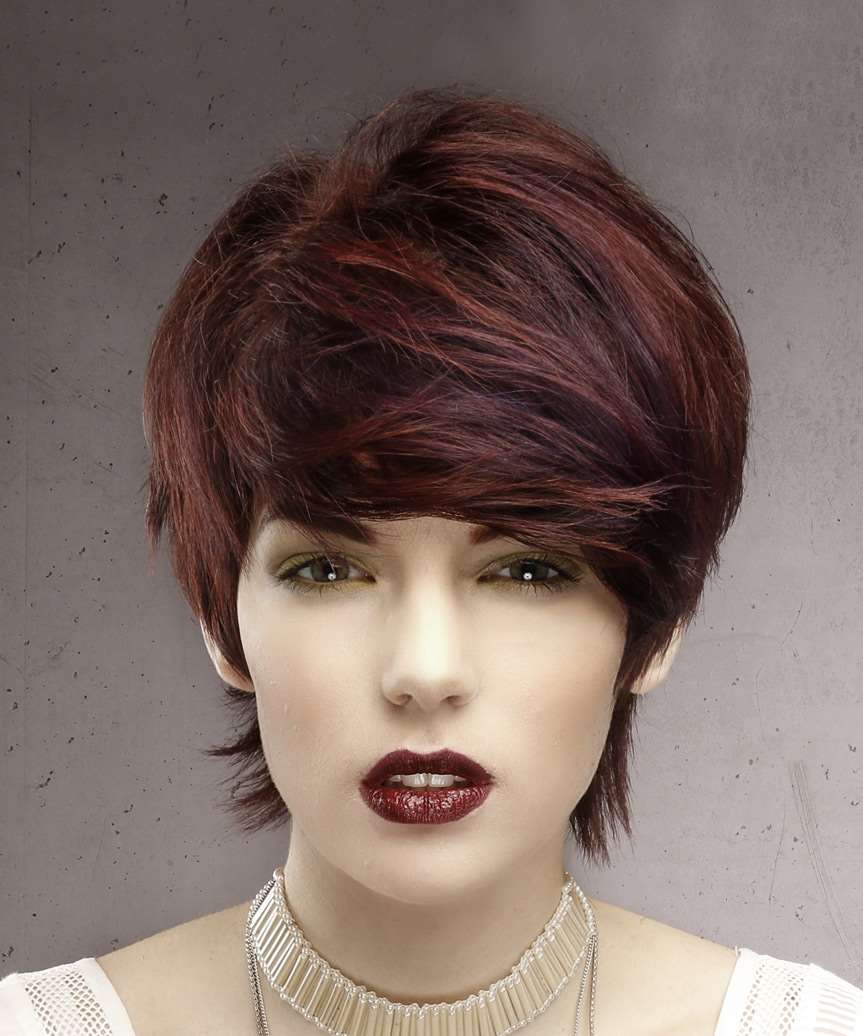 Our model sculpts her thick auburn locks into a layered, long crop hairstyle that is ideal for her hair type. The wispy layers cut all over uses her hair's natural texture to add volume while creating a rounded, smooth shape. Longer ends are left at the back for extra style around the neck and chin area.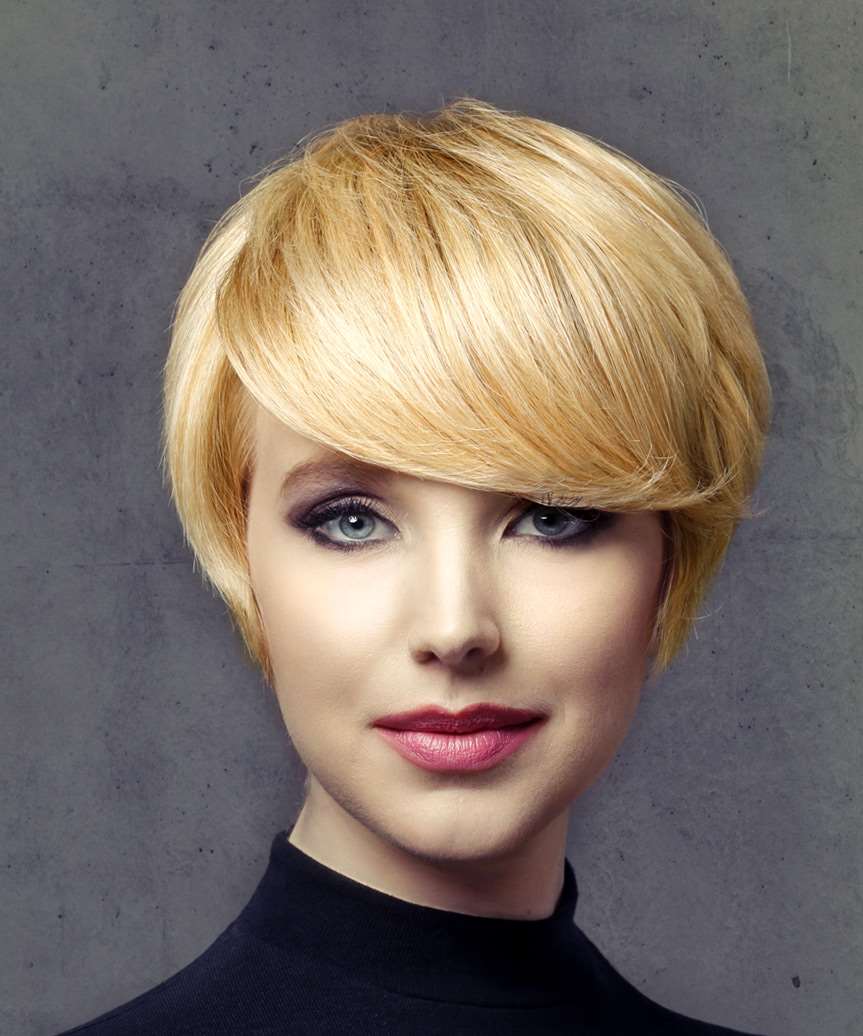 This Sixties-inspired cropped hairstyle has the hair taper cut in the back while the front and sides are left longer to create this chic look. Thick hair works well here as it adds volume all over and provides the heavy fringe that is needed to create this mod look.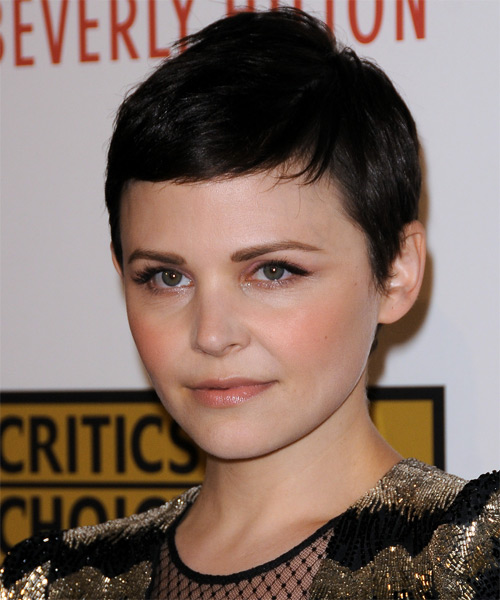 Thick straight hair also looks fabulous in super short crops such as Ginnifer Goodwin's 'do here. Her thick locks have been layered to sit close to her head and give her a smooth, sculpted finish.
Uniform Layered Crop Hairstyle- For Fine to Thick Curly/Wavy Hair

If your hair has natural curls or waves, then consider yourself lucky! Your hair's texture will ensure that your short hairstyle is always full of volume and body. By going for uniform layers all over, your curls and waves will be cut into a flattering shape and it will remove extra bulk that often accompanies this hair type.
To style:
Use a curl enhancing cream or serum pre-styling to get a smooth and silky texture to work with
Let your hair air dry naturally or use a diffuser.
Sculpt your curls into shape after drying by using a good gel-wax or smoothing wax product.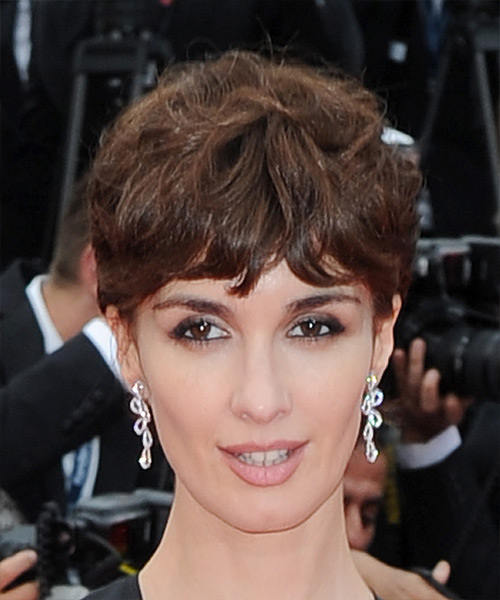 Paz Vega looks gorgeous in her short cropped hairstyle for curly hair. Her hair's natural texture is highlighted at the front while the back is tamed and shaped into place with lots of layering.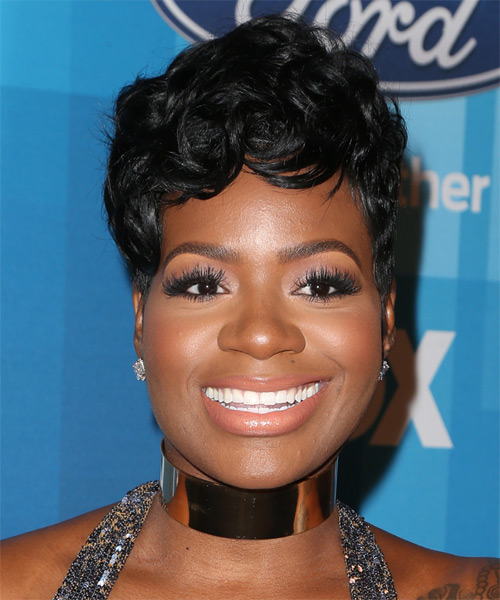 Fantasia Barrino looks elegant here in her cropped hairstyle that has a uniform length on top to show off those curls, while the sides and back have been clipper cut short for a sculpted, sleek look.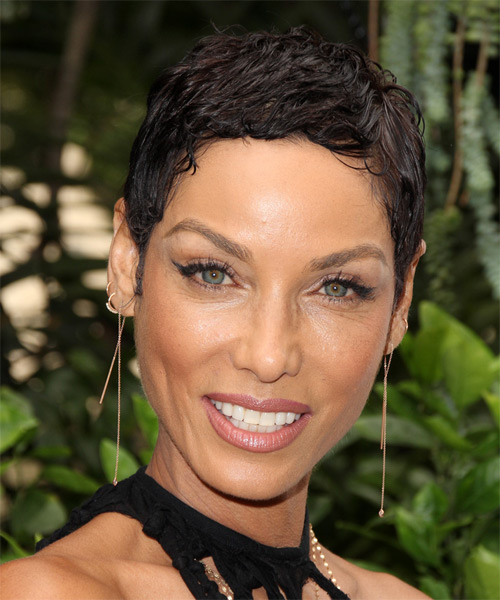 Nicole Murphy has fine, curly hair that is flattered by this close-cut crop. Her waves and curls poke through this super short pixie cut creating a gorgeous frame for her face, while her tresses are sculpted into a beautiful, soft shape.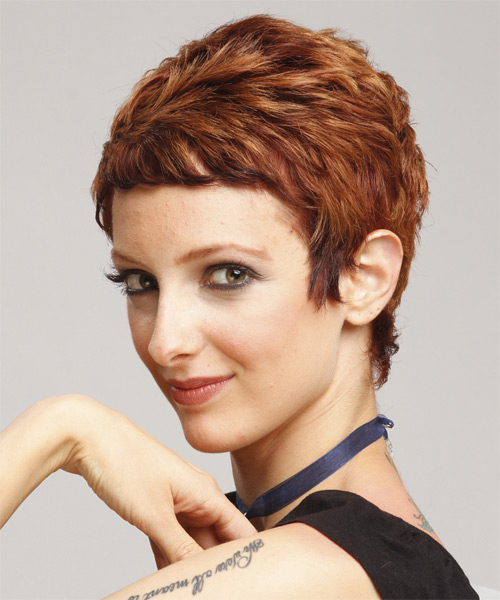 For thick and curly locks, a longer cropped 'do with a fringe may be a good option. The hair in front is cut to frame the face with the layers on top creating lift and volume. The super short fringe is a great option to add to thick and curly hair that can't be worn in longer fringe styles.
For more ideas and information on how to style short, cropped 'dos, you may want to check these videos out: