There's a big trend around at the moment, but the hippies will be angry. It's the braided hair trend. Once the stalwart style of no-shoes-wearing-Green Peace-types roaming the countryside in campervans containing backpacks full of the drabbest clothing imaginable, braids are now popular on everyone from svelte catwalk models to boho celebrities and everyday hair fashionistas.
Hippies started losing their exclusive rights to braids at about the time the boho look became a so-called edgy look amongst some B grade celebrities like: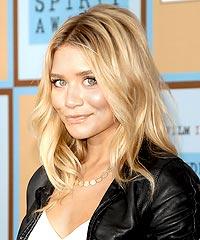 Ashley Olsen. Ashley and her sister are poster girls for the boho movement, which I kind of define as emo for blondes with disposable incomes. Ashley would probably say boho is a 60s inspired rock chick look- almost flower-power. Whatever the definition, braids and braided headbands are a common look for boho chicks.
Here's an example of someone who's taken the hippy/boho braid look and made it a bit more mainstream: Amanda Bynes.
She's definitely not a hippy type, and I'd make a small bet she doesn't really consider herself boho even slightly. I mean, check out her previous hair and outfit:
Anyhow, the braids look great, and we even recommended her braided hairstyle as a possible prom hairstyle. The contrast between the braided front and the back/sides left out to fall below the shoulders looks great.
My final example of braids proves exactly how far from the hippie tree a braided hairstyle has fallen: Jennifer Malenke.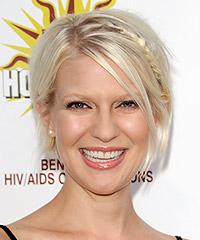 She's a reality TV star and music teacher from Connecticut. Here she's paired a short bob hairstyle with a small braid on top. This is a funky hairstyle that would suit casual or more formal events. There are no hippies anywhere near this style... the braid adds a little bit of difference and creates an interesting focal point, don't you think?
Braids were once a popular choice for practical hippy-types, but now they're a popular choice for everyone. I'm not against hippies- no way- I'm just celebrating the fact that braids aren't just about practicality like they once were, but have become a stylish hair element in their own right.