One of the must have hairstyles is "The Swag"! Taking over from the Lob (long bob), the Swag 'do is the "swingy shag" hairstyle. The main style features of this 'do is a long peek-a-boo fringe with the rest of the hair being heavily layered throughout. Think an updated version of the Seventies-style shag. The purpose of this 'do is to add loads of movement into the hair but also take out any heaviness from around the face. Some stars have been rocking this 'do for years, but you can expect this hairstyle to always be popular. So without further ado, let's check out the hottest Swag hairstyles!
What is the Swag hairstyle?
The swag is an update on the classic hairstyle known as the "shag". The swag hairstyle follows rules of its own and can be styled in a specific way to suit your face shape. The main aspects of the swag hairstyle are a long fringe and soft waves. This hairstyle can suit short to long hair. It is eye catching regardless of the length of your hair but works best with a shoulder length hairstyle. Other than that, the hairstyle can be personalized depending on your face shape as well as your personality.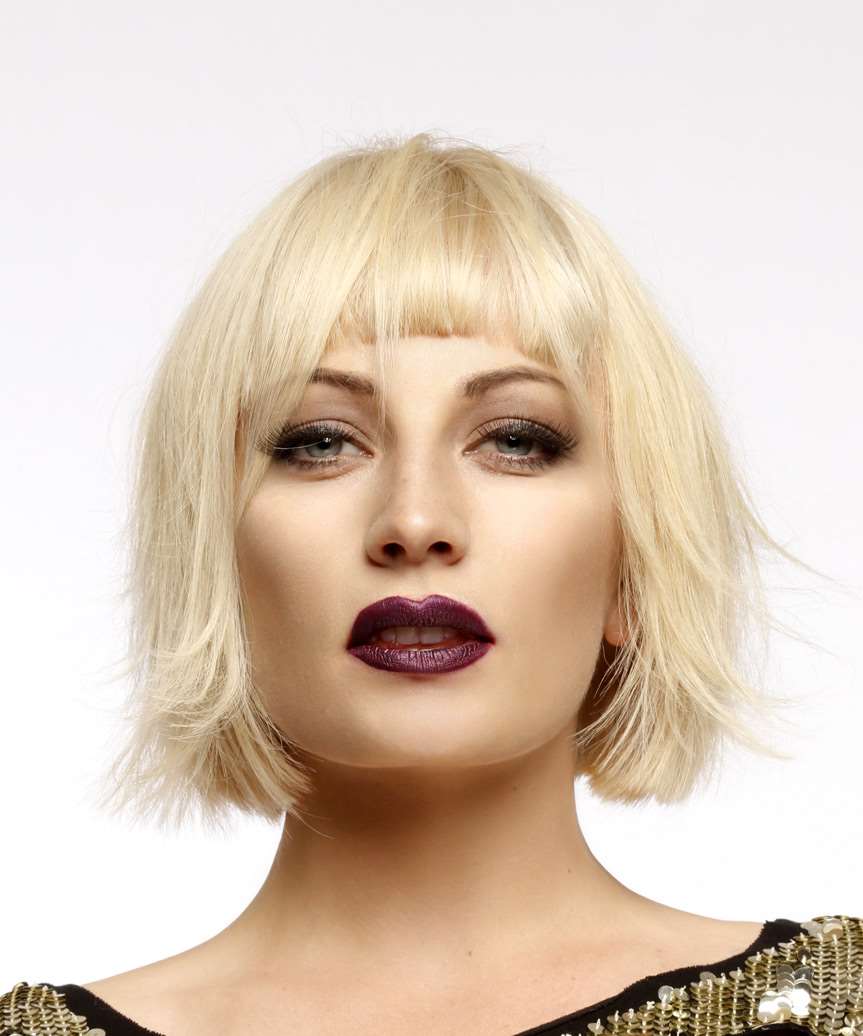 Overall the swag hairstyle is fun and it needs to embody great movement and volume. This hairstyle is going to bring out a cheekier side of you that everyone is going to love and want to become!
Advantages of having a swag hairstyle
A bonus for having the swag hairstyle is that the transition between the lob and this hairstyle is easy. All those lobs and even long mermaid waves are going to look amazing with a swag hairstyle. The key to the best swag hairstyle is lots of razored texture and movement in the hair. Your blow dry time will also be cut in half with this hairstyle which is always something you want to consider when it comes to people who do not want to spend a lot of time getting ready before a big night out or even the important meeting you might have.
The swag hairstyle embraces the natural texture of your hair whilst still being playful and choppy. The hairstyle has layers through the crown and a more heavy weight line on the perimeter. The hairstyle also works really well with a fringe. The length of this style can vary from shoulder length down to mid-chest. This aspect is good to know if you want a hairstyle that is playful and has a lot of movement but you do not want to cut your hair in the process.
The path of this type of hairstyle can also vary. You can choose to have a middle path with curtain bangs or you can go for a deep side-swept bang. This hairstyle is youthful and can suit almost all ages.
Does a swag hairstyle suit everyone?
The great thing about the swag hairstyle is that it can suit almost anyone and any age! Hair color helps to enhance this hairstyle. When choosing your hair color, you can either add a few highlights that are going to move well with your new style or you can go bold and do a full head of color. Your face shape will determine the way you will style your hair. You want your swag hairstyle to frame your face well as well as enhance your best facial features.
In order to make sure that this hairstyle suits your face shape, all you need to do is adjust your fringe length to suit your specific face shape. When it comes to your fringe, you want your fringe to be styled diagonally to the side or part in the middle like a curtain that is opening up your face.
If you have thinner hair, you want to opt for a fringe that is cut sideways. This is going to ensure that your fringe does not steal as much volume from your hairstyle.
Keep in mind that if you wear glasses, you want to make sure that your glasses will not clash with your new hairstyle. You and your stylist will need to choose a style that suits your face shape, your personality as well as if you wear glasses or not.
How to achieve a swag hairstyle
The key to your swag success is in the cut itself! If you want the frayed look, then you are going to need to use a knife or thinning shears. Your hair should be cut when it is dry to get the best results. The swag hairstyle depends on a very loose and springy kind of texture. You want your hair to flow and the best thing when it comes to your fringe is to ensure that your fringe is lusher and is generally longer towards to the sides.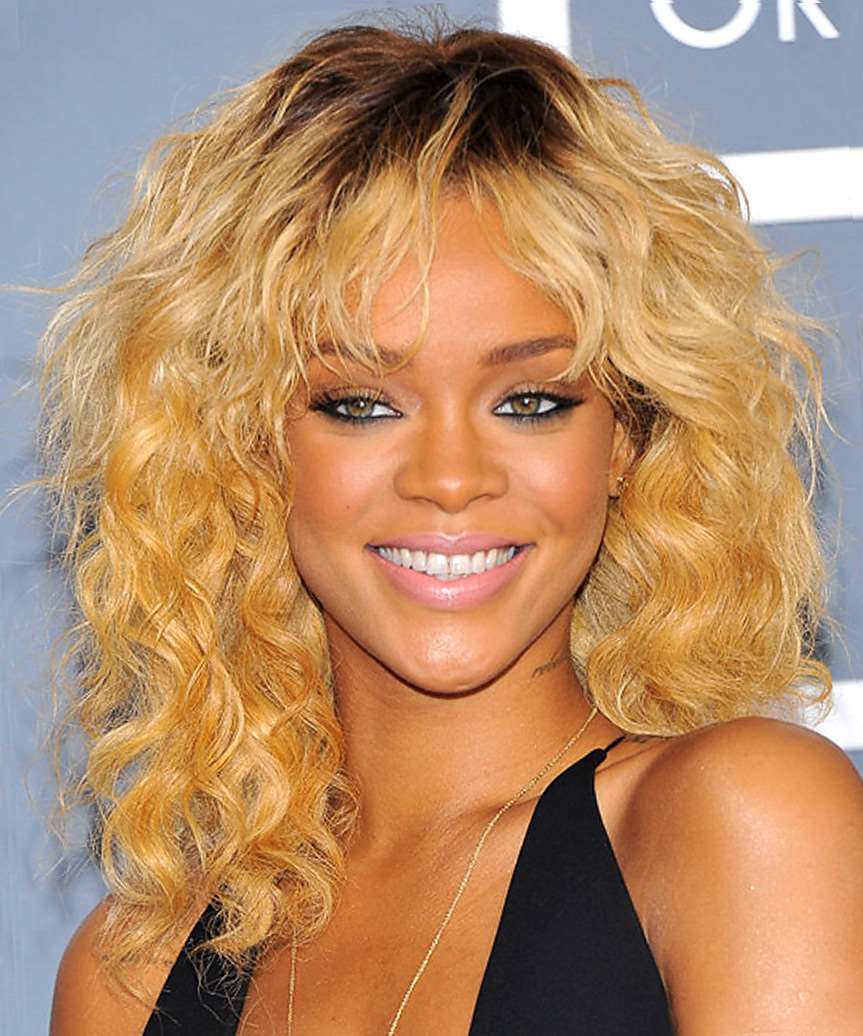 Here is the Swag 'do done to perfection by Rihanna, who was rocking this trend years ago but has only now just caught on. Here, her blonde tresses have been layered from the crown down, with a long face-framing fringe to complete the look. Her oval face shape looks fabulous with this haircut and her natural wavy hair texture gives this style loads of body and bounce. If you have wavy or curly hair, this is a wash-and-go look that is made for you!
Romina Gaetani is working the Swag 'do here with her curly tresses. This is a great way to tame naturally thick and curly hair - the layering throughout this 'do removes a lot of the volume and allows your curls to do their thing without overpowering the rest of your hairstyle. Romina has opted for a fringe that goes straight across but an arched fringe that frames the cheekbones would have been another good option too.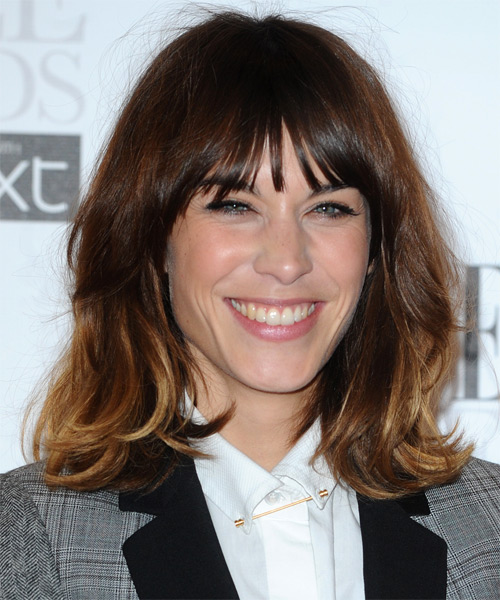 Alexa Chung is one celeb that has been wearing this hairstyle for years. The Swag matches her effortlessly cool/bedhead look perfectly, not to mention her oval shaped face. Here, Alexa's wearing a less layered version of the shag with her long curtain bangs, but check out paparazzi shots of her over the years and you will see she was wearing the Swag years before it became popular. To update this 'do, Alexa would need to take a lot of the volume out of her hair by layering the hair heavily all around the head to get that Seventies vibe.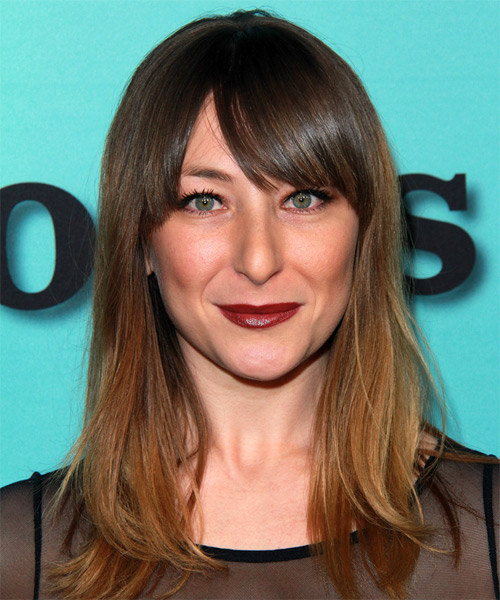 Isidora Goreshter is wearing a version of the Swag on straight hair with minimal layering here. Ladies with straight hair may not be able to do the Swag to its full extent because it can be difficult to blend short layers on this hair type. Isidora has struck the perfect balance here though by getting the signature Swag curtain bangs and minimizing the shag effect by layering throughout the ends only. Women with fine or poker straight hair will want to copy this technique to get the best results. The best part about this look is that she is showing us that you can have a swag hairstyle even if you have straighter hair.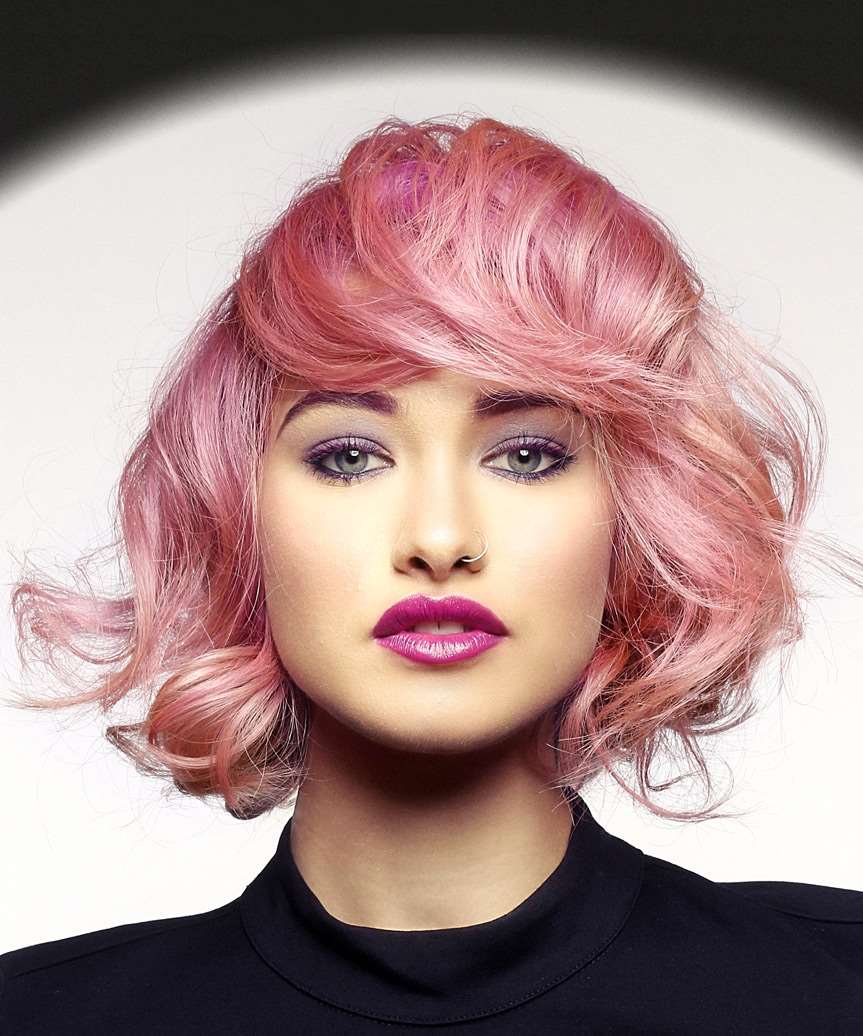 This look is showing you that color makes a difference to the hairstyle. The layers showcase the color nicely and makes it look like there is more than one color going on when she moves around. The side-swept bangs frame the top of her face nicely, and the curls along the side of her face make her cheek bones and chin stand out. This hairstyle as well as the color is fun and playful, but at the same time really packs a punch! You are going to be turning heads everywhere you go with this hairstyle and color.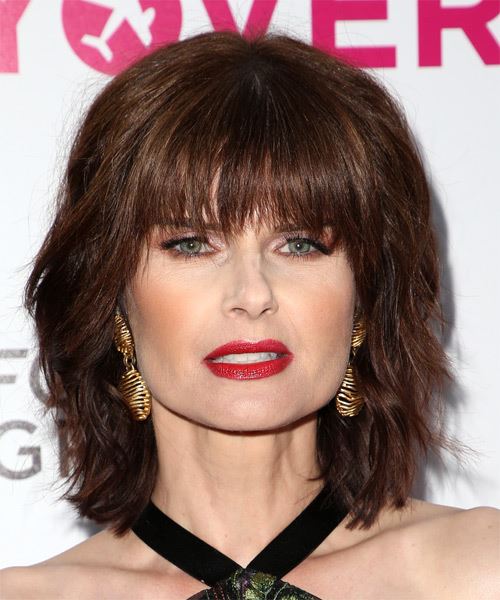 Carrie Genzel is showing us that age does not matter! You can have a gorgeous hairstyle and flaunt it just like she is. Even though this style is covering her forehead, it opens up the rest of her face. This is going to help highlight any accessories that you wish to wear around your neck area. The only downside to this hairstyle is that it will not suit someone who wear glasses so you are going to need to wear your contact lenses if you want to style your hair like Carrie Genzel.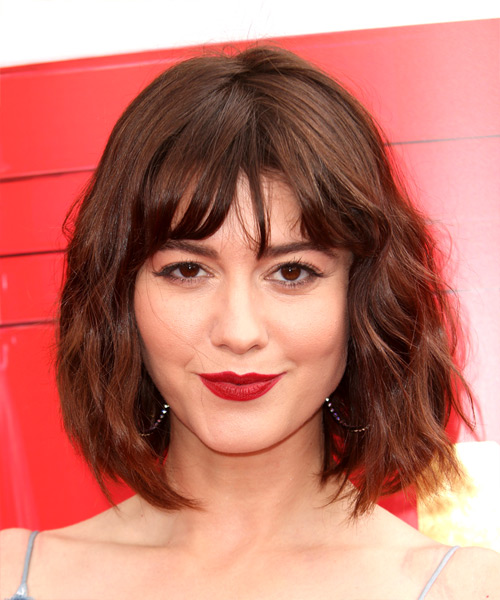 Mary Elizabeth Winstead is looking cheeky with this cute swag hairstyle! This hairstyle is bold and has great movement. The layers really bring out her facial features. She has made this hairstyle look effortless and so can you! This is a care free looking hairstyle that you do not have to worry if you have one or two flyaway hairs that do not want to stay in place throughout the day.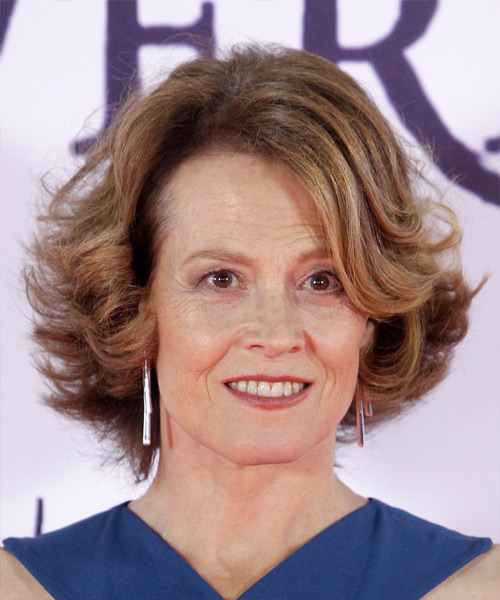 Sigourney Weaver is showing us that the deep side part with the layered curls are something that you can pull off at her age and look as fabulous as ever! The side-swept bangs open up her face and show off her gorgeous eyes. A sexy smokey eye and perfect lip will look stunning with his swag hairstyle. You can add your own twist to this 70s inspired hairstyle and turn it into something modern that everyone will want to copy!
How to maintain a swag hairstyle
Remember that a little product goes a long way. You are going to need to use hairspray to lock in the curls and keep the swag hairstyle in place throughout the day.
You are going to need to cut your hair once every 4 week or so to ensure that your new swag hairstyle stays in shape.
If you are going to color your hair, you'll need to touch up your color once every 4-6 weeks to keep your color looking vibrant and fresh.
Do not set your hair dryer too hot.
If you want to create good hold and volume, knead your hair with your fingers when you are styling your hair. Do not forget your fringe!
If light curls are not bold enough for you, you can use a curling iron to create bolder curls in your look. You want to brush out your curls after for the wicked and iconic swag hairstyle.
If you are going to use a curling iron to style your hair, make sure that you use a product to help protect your hair from being damaged from the heat of your iron.
To achieve the best overall swag look, you are going to want to use professional salon approved hair products. This is going to ensure that your hair stays healthy and your style stay in shape without having to use a lot of product to achieve it.
If you are not sure how to style a swag hairstyle, ask your stylist to show you so that you can style this look at home.
If you have naturally wavy or curly hair, you can let your hair dry naturally without using a hair dryer. All you need to do is put some mousse into your hair so that the curls can dry nicely.
As you can see, there are many ways to wear the Swag hairstyle. It is always nice to try out a new hairstyle, and the best part about the swag is that it does not matter about your age, face shape or hair color. This style will suit you regardless.
The nice thing about the Swag hairstyle is that it is going to bring out a new side of yourself. This hairstyle is going to help you become more confident and you can play around with this style and you can try something new every time you style it.
But remember to personalize this cut based on your hair texture, length and face shape for best results. Not everyone can pull off this Seventies-inspired shag, but a good hairstylist will create a variation that is just right for you.