There were lots of great hairstyles in 2008, including Katie Holmes' bob, Victoria Beckham's crop and Kim Kardashian's luscious waves. Some of these hairstyles were really influential too- and some more than others. We've chosen a selection of what we think are the best hairstyles of 2008, and we want you to help us decide which is the very best and who deserves the title of Hair Icon 2008.
Victoria Beckham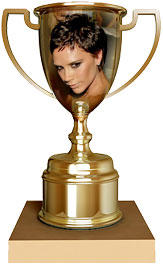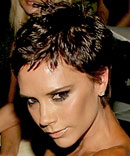 Posh is probably the favorite for Hair Icon 2008 because of her ultra short pixie crop. She's no stranger to fanfare surrounding her hairstyles (remember all the hoo-ha about her concave bob a couple of years ago)- and some even say she's already today's most influential hair fashionista.
Posh's pixie crop of 2008 though was probably her most drastic hairstyle. The media agrees: it was a bold move that put the spotlight on short hair for women, but for many it's just too severe and is a style that really only suits a few (not those with rounder faces). Also, since it's so short it would take a long time growing it out.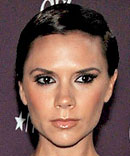 What would you say about Posh's crop? Cutting edge or risky and severe?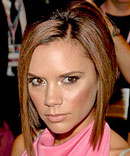 Is she a style icon or not?
Katie Holmes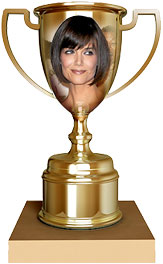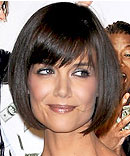 Katie's an obvious choice for Hair Icon 2008, mostly because of the impact of her bob earlier in the year. There's no denying the bob was a hugely popular style, and many agree that Katie's straight medium bob majorly kick-started this hairstyle's massive comeback.
But some also say Katie had some dud hairstyles last year too, maybe suggesting that she's not the most genuine hair guru after all. Critics point towards her straight short hairstyle from later in the year, attacking it as overly conservative and boring. But others say it's a daring hairstyle nonetheless, and yet another example of the sexiness of short hair.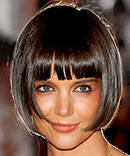 What do you think?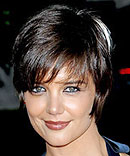 Rihanna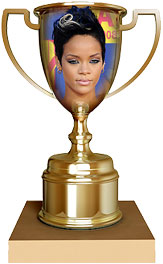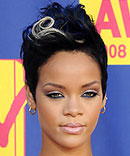 Rihanna's another celebrity known for her short hair, and she's been quoted suggesting that she gave her long hair the chop to differentiate herself from her contemporaries with stereotypical long flowing hair (Ciara, Mariah Carey and Beyonce Knowles). Another source confirms the notion that Rihanna cut her hair as a kind of protest, suggesting it was a way for her to "take back control of her life."
These are all good reasons to snip her hair off, but what about the end result? Rihanna proves it's a myth that short hair isn't versatile (she's worn her hair casually and made it look quite formal), but does it also look good, does it suit her, and is it a style you'd consider for yourself?
Is Rihanna 2008's hair icon?
Kim Kardashian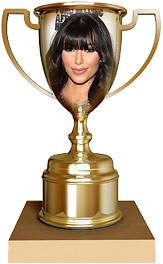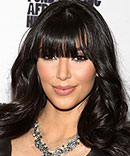 Kim's a long hair contender for the title of Hair Icon 2008. She's well known for lovely long hairstyles with lots of body and bounce and many agree that her hair's consistently impressive, whether it's worn with a center part, pinned up, or with blunt bangs snipped at her eye level.
It seems that the majority of people say Kim proved time and time again in 2008 that long hair is truly sexy, glamorous and sophisticated. But the majority of people aren't necessarily right.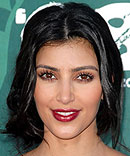 What do you think?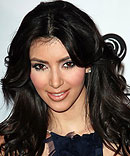 Miley Cyrus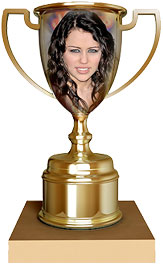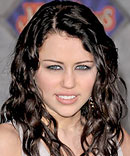 Miley gets a pretty bad rap because of all that other stuff going on in her life (little things like the fact that she's only 16 and drives a Porsche), but aside from those the hairstyle obsessed public seems to have totally adored her locks in 2008.
For many, Miley's firmly established long wavy hair as a spunky style that looks as great at the mall as it does somewhere more formal like a prom or wedding (after all, to make long wavy hair look a little more "polished" all you need is a good blow-dry finished off with a little spray of gloss). But debate still rages about whether Miley's always acting too old for her age, and whether her hairstyle's a part of that problem.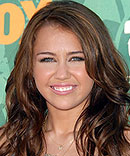 Do you agree?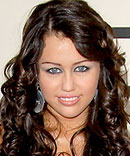 At TheHairStyler.com we like it when celebrities do something daring with their hair, proving that their image is more than just what they look like in a magazine. So for that reason we think Rihanna's got the best hair and should be crowned Hair Icon 2008. Not only does her hair look great, prove the sexiness of short hair and break the stereotype that long hair is best, but also, Rihanna uses her hair to say something she thinks is really important about herself.
But we're not always right at TheHairStyler.com...