It's been a while since we rounded up the latest and greatest hairstyles for African hair, and it just so happens that there have been some fabulous 'dos on the red carpet for inspiration lately. Whether your hair is long, short, curly or relaxed, there's bound to be one hairstyle here that will give you some style inspiration. So, without further ado, here are some new, smoking hot hairstyles for African hair.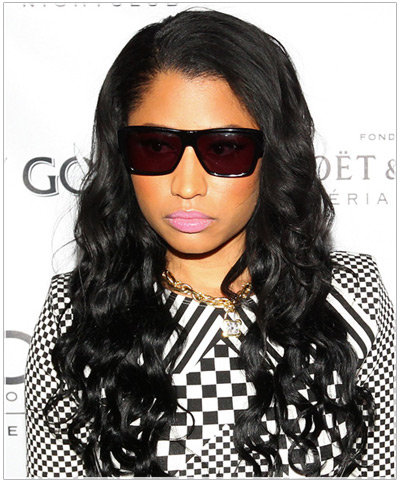 Why the glum face Nicki? Your hair looks fabulous! Nicki Minaj is known for her crazy hairstyles and colors, but here she is rocking a somewhat subtle look that is definitely working in her favour. The jet black color looks amazing with her skin tone, not to mention her op-art dress and bright pink lipstick. Her hair has long layers throughout which gives body and movement to her waves and reduces any extra bulk on the ends. This hairstyle would also look amazing with straight hair as well.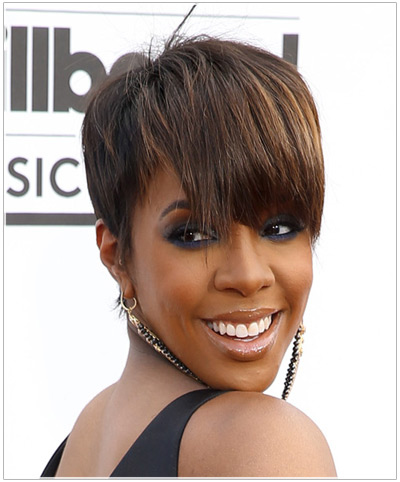 Always a trendsetter, Kelly Rowland looks oh-so-chic in this short tapered 'do with longer layers on the top section. This haircut is the perfect option for women who like a no fuss short style that is ready in minutes, yet like to have longer layers on top to work with. Kelly's fringe area is cut in jagged layers around her eyes for a cool peek-a-boo effect. This looks great worn down and straight but other options are to part it to the side or sweep it back off the face for a completely different look.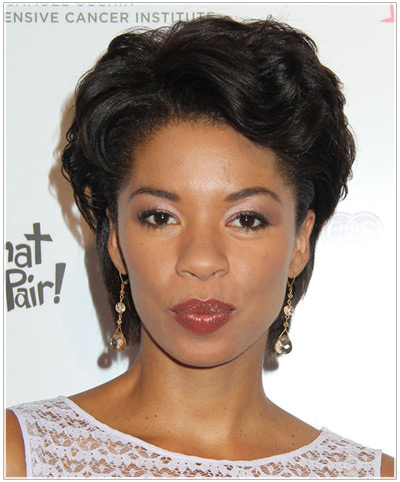 For women who like a more sophisticated vibe, check out Angel Parker's short curly 'do. This hairstyle is the perfect option for women who prefer shorter hairstyles that ooze sophistication and glamour. Notice how Angel's hair is longer at the nape, giving this a softer finish than a cut that is cut close to the neck. This gives you some more styling options as you can flip it out, curl it under or wear it straight.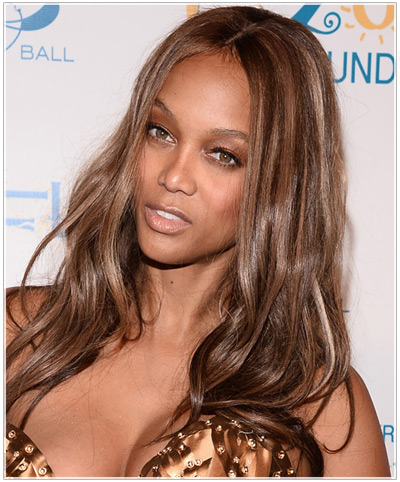 If you are more into the model look, why not try Tyra Banks' simplistic style? Her long mocha hair has been highlighted with beige blonde highlights for an all over soft and feminine look. Her style is very simple—long and parted in the middle, with a few face-framing layers thrown in for good measure. This is an easy and versatile hairstyle for women who like a lot of variety. Wear it down, up, in a bun, ponytail chignon…you get the idea!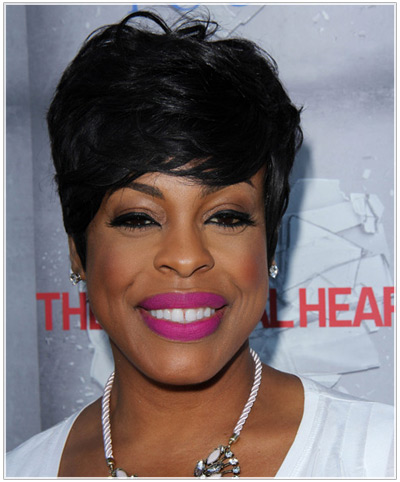 Finally, we have Niecy Nash sporting an elegant short 'do that is smooth and sophisticated. This hairstyle is short and tapered on the back and sides for a more mature look, with wispy layers on the crown. Niecy has created a gorgeous side swept bang that blends beautifully with the voluminous layers on top to create mega volume at the crown. This is a lovely option for women who like a polished, professional look.
As you can see, there have been some fabulous hairstyles on the red carpet lately. Which one is your favorite look: Nicki Minaj's long jet black waves, Kelly's short and sassy cut, Angel Parker's sophisticated curls, Tyra's model hair or Niecy Nash's sophisticated short 'do? Let us know in the comments below!