Brunette hair covers a wide spectrum of shades from light to dark--espresso, mocha, chestnut and caramel--the options are endless. Finding the right shade of brunette for you will depend on your skin tone and eye color. So, the first step is to see if your skin tone is cool or warm. In general, the rule of thumb is if you have golden undertones, you will want a warm brunette shade, whereas if you have pink undertones you will need to go with a cool or ash brunette. And if you are one of the lucky ones with a neutral skin tone, you can pull off any shade of brunette!

To figure out what skin tone you have, use these steps:
Check the veins on the inside of your arms, near the wrist. Cool skin will tend to have blue veins, while warm skin will make the veins appear greenish.
Another way to figure out if you are cool or warm is to stand in front of a white wall and drape a gold piece of cloth around your face and shoulders, and then a silver one. One will definitely be more noticeable flattering to your skin tone, and the other will create a tired and shadowy appearance.
Now, check the iris of your eyes. If there are gold or yellow flecks in them, you have warm skin. If your eyes have silver or grey flecks, your skin is cool. Dark black, brown and icy blue eyes tend to accompany cool skin, while amber brown, green and lighter brown eyes tend to accompany warm skin.

After your have figured out your coloring, whether it's to update your current shade, or to cross over to the dark side, let these brunette hair ideas provide you with inspiration!


Sun-Kissed: Good for warm skin tones and any eye color
Not all brunette shades have to be dark and dramatic to make an impression. A sun-kissed brown shade is a beautiful soft color that has plenty of natural appeal. The different tones throughout the ends give it a beachy vibe, making it the perfect option for a summer look. Above, Lucy Hale flaunts a light sun-kissed brown tone that brings out her eyes and makesher complexion glow. Below, Rocsi Diaz shows off a dark sun-kissed brunette look that has a gorgeous finish. Her locks look thick, healthy and full of dimension.


Highlighted: Good for warm and cool skin tones and any eye color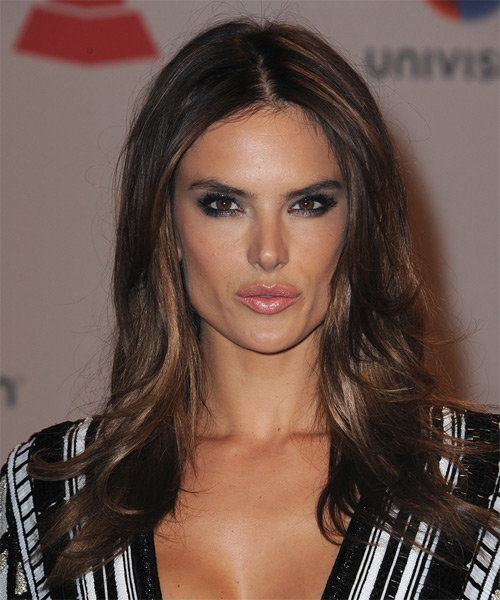 Dark brown hair can sometimes look a little one dimensional, but by mixing up a darker base shade with lighter tones on top, you can inject interest and the illusion of movement. Warm skin tones should stick to golden-based browns in their hair, as seen here on Alessandra Ambrosio, while cool skin can start with an ash brown base and lighter tones on top, as seen on Sarah Hyland, below.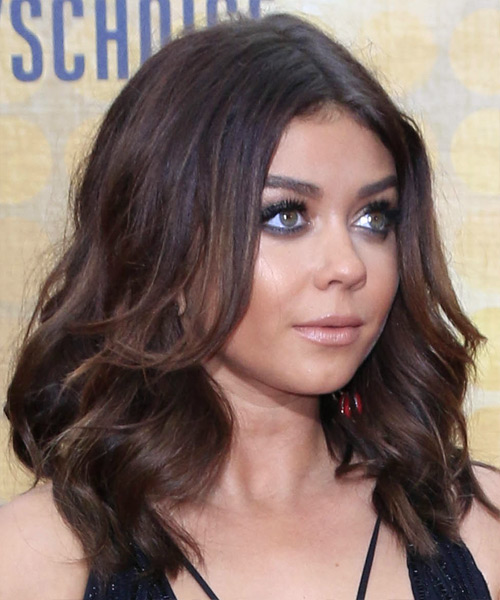 Other Shades for Cool Skin:

Chestnut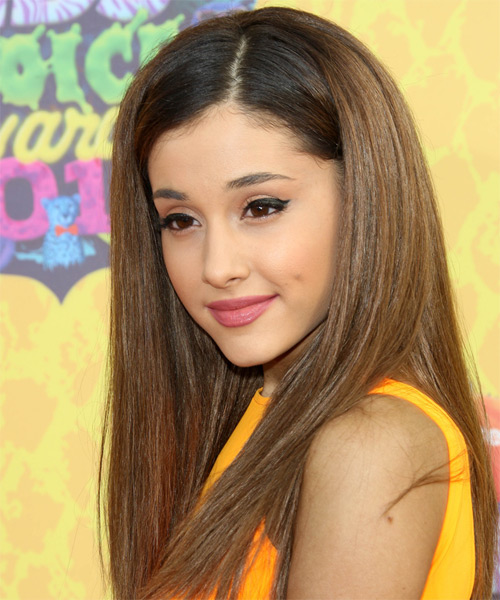 A gorgeous light brunette option is a chestnut tone. This one playfully flirts between a light and medium shade and would be perfect for those with cool skin tones. Show this shade off with a simple hairstyle that lets your hair color be the star of the show, just like Ariana Grande has done here. Her long, sleek locks are a great match for this shiny, light brunette tone.
Mocha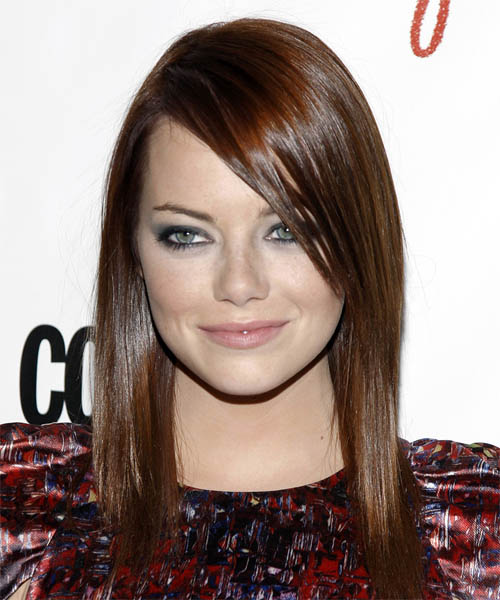 For those who want a brunette shade with high shine, why not try this great mocha option? It mixes dark and red tones to create a rich and vibrant brunette shade. Healthy locks are a must to pull off this color result with the finish it deserves. Emma Stone's layered locks here are ideal for showing off this gorgeous color.
Mahogany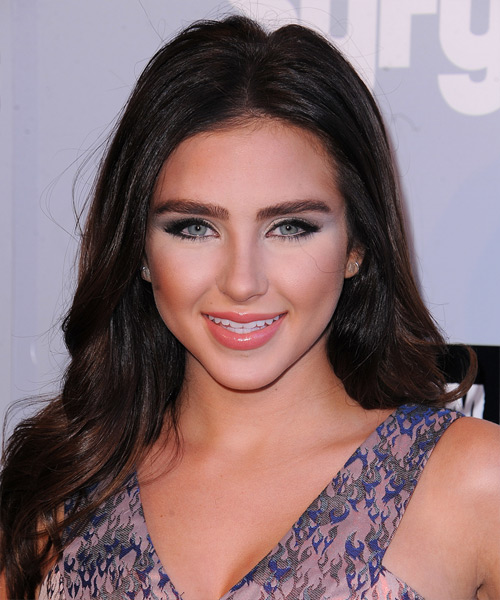 The red base of this brunette shade is perfect for flattering a cool complexion, and looks especially great with light eye colors. Ryan Newman looks stunning in this cool, dark brown tone that makes her icy blue eye pop!


Chocolate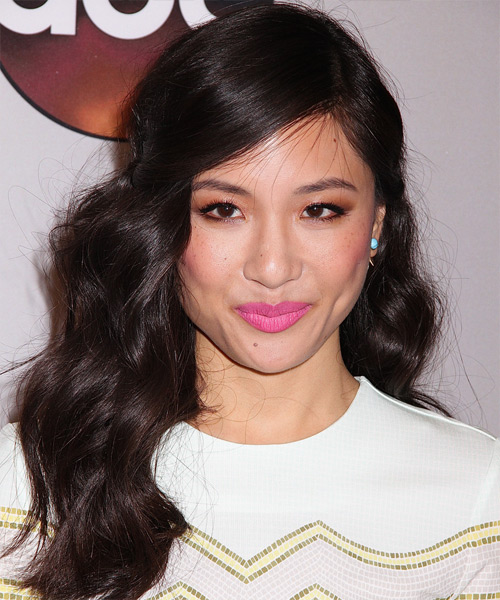 For a dark and dramatic tone, chocolate brown is ideal for cool complexions. This rich color is a great match for dark brown or black eyes. Constance Wu models a rich chocolate color here that flatters her complexion and gives her tresses tons of shine.



Other Shades for Warm Skin:

Caramel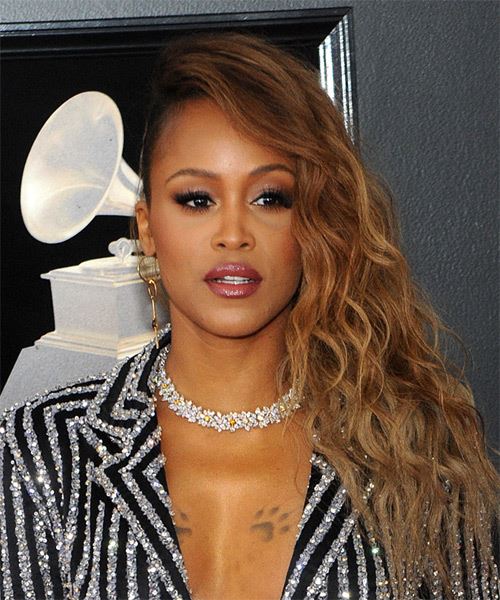 Eve's light honey brown color is ideal for warm skin tones and suits brown, amber, green and blue eyes. This tone looks especially good with tanned or dark skin. Eve has added blonde tips for an extra dose of style to her locks.
Cinnamon brown hair has mixed tones of light brunette and red to create a light and shimmery brunette that is ideal for warm skin tones. This color makes a nice contrast with dark eyes and brings out light eyes nicely, as you can see on Jennifer Love Hewitt here.



Honey Brown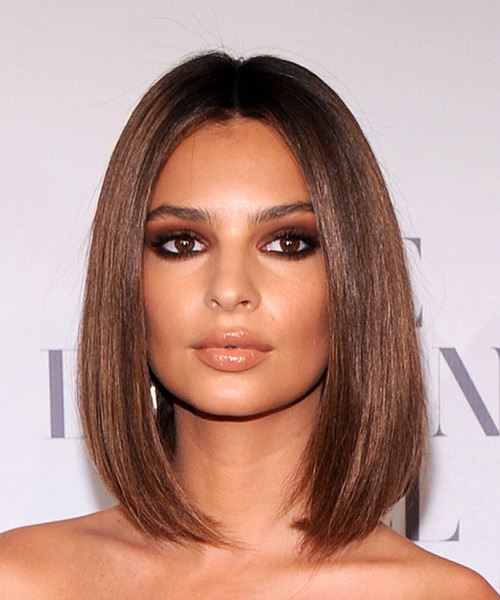 Emily Ratajkowki's medium honey brown tone is a natural looking shade for warm complexions. It suits both light and dark skin tones and the golden base will bring out eyes with gold or yellow flecks beautifully.


Espresso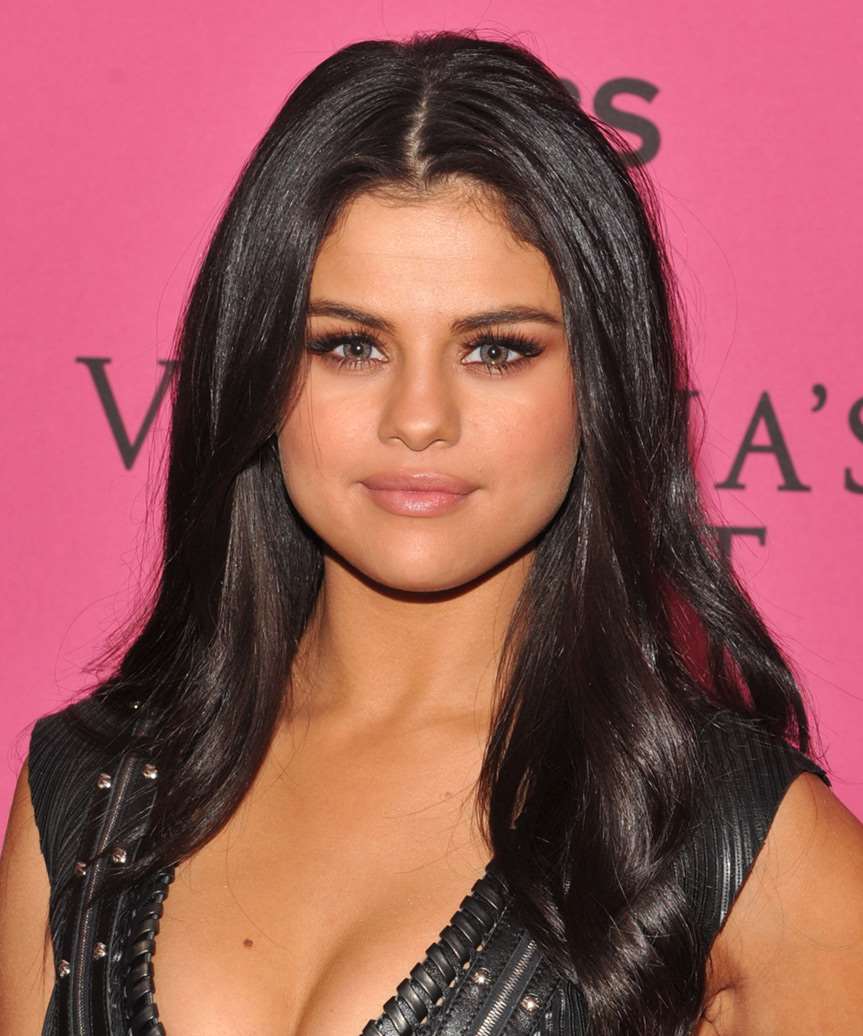 For a dark and dramatic look, choose and espresso brown shade like Selena Gomez. This tone is ideal for warm complexions. This color borders on black and is a great match for dark brown or black eyes, and will also look stunning with light eyes.
Brunette Tones for Natural Blondes
If you have fair hair but want to go to the dark side, check out these transformations for some style ideas!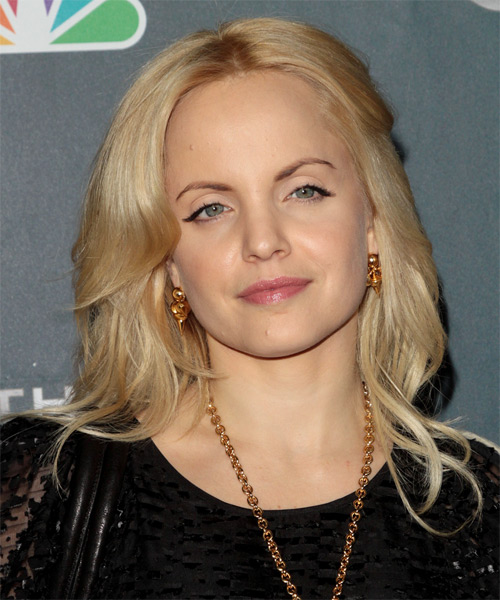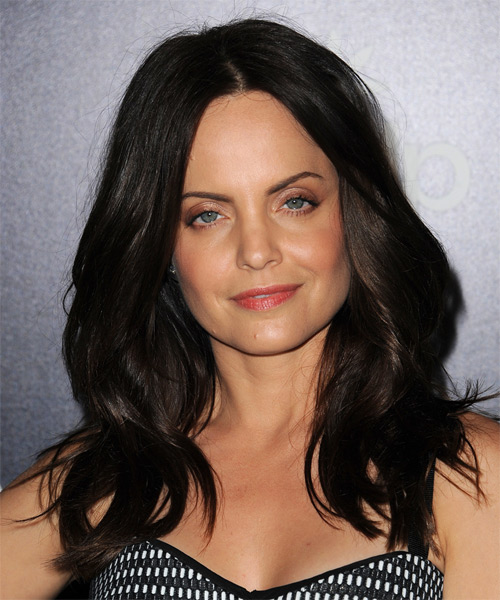 Mena Suvari goes from all-American girl to a glamorous and sophisticated look whith her switch from light blonde to chocolate brown locks, staying in the same warm/golden color pallette. Mena has used bronzer to balance out her super dark locks, which is a great tip for ladies with fair skin who want to sport very dark brunette locks.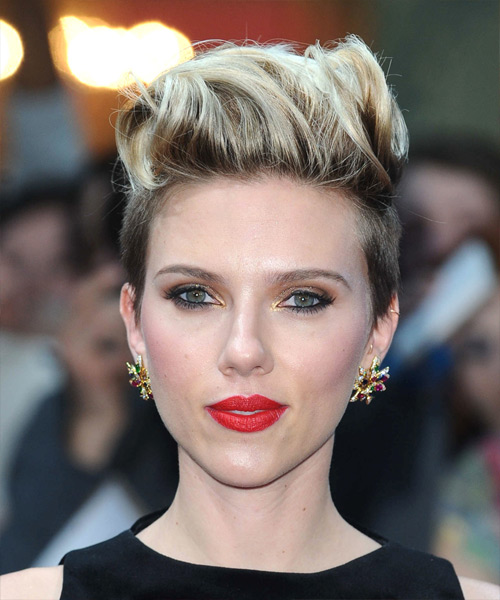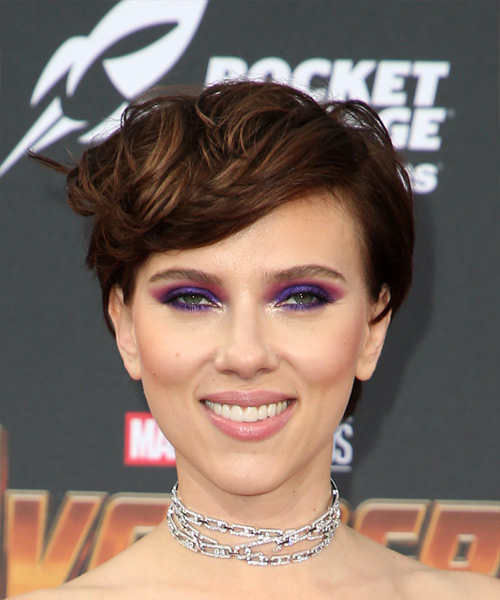 Scarlett Johansson pulls off brunette hair effortlessly here and instantly warms up her complexion with this rich golden brown shade. She also switches from a cool tone to a warm tone with ease, thanks to her neutral skin tone. By changing her makeup pallette to vibrant purple and pinks from orange and red tones, she compliments her new hair color perfectly and makes her eyes the center of attention.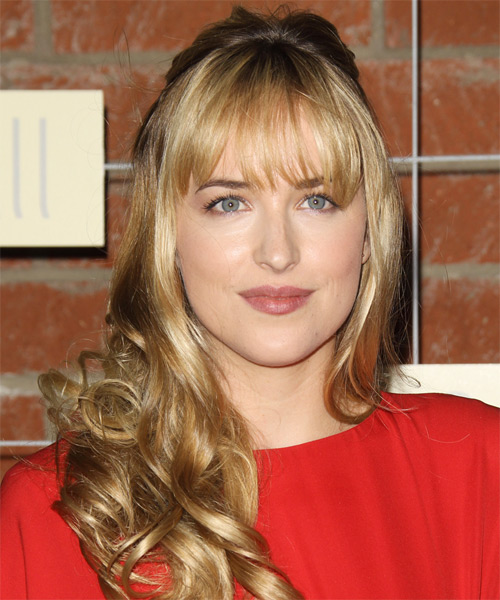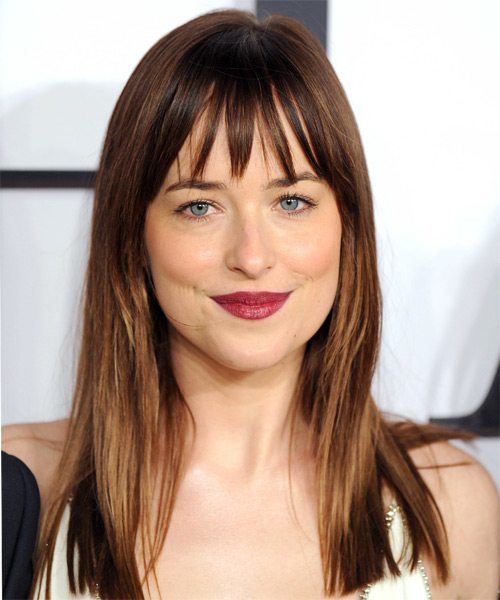 Dakota Johnson makes the change from blonde to brown successful by maintaining lighter lengths and ends for dimension and to match her fair skin tone. Her eyes and complexion look fabulous with these golden honey brunette locks that have a warm base to them, juse like her original honey blonde tone.
As you can see, there is a gorgeous brunette shade for every skin tone and eye color. Did you find a shade that you like? See how you'd look with any of the hairstyles pictured in this article- just click on the above images to try the virtual hairstyles with your own photo!