Taking a fabulous feature such as your eyes and highlighting them with eye shadow is what makeup products were designed to do. Taking that great result further by also using your makeup to bring out the best in your hair color at the same time is even better!
To find out how to boost your hair color with your eye shadow, take a look at these tips and ideas...
Red Hair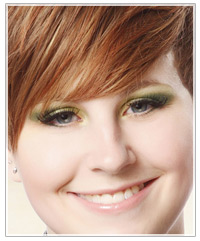 Green is a fabulous shade to match to red hair and will highlight your eyes and make your hair color pop. Choose shades of green in emerald, jade and mint. A subtle color over your entire lid works great for a day look (pair with a lashing of mascara) and work in a smokey green eye for night.
Brunette Hair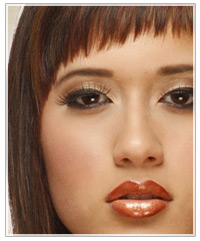 If you're shade of brunette hair borders on deeply dark then create a striking match with blue or green eye shadows. A smokey aqua eye for night is a great choice. If your brunette shade is lighter then match your hair color with brown shades that are named like they come with a caffeine hit (think mocha, coffee and espresso).
Blonde Hair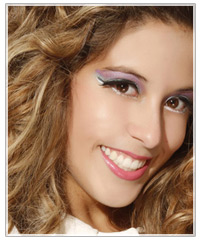 Blonde hair creates a nice clean canvas to work with so most shades of eye shadow will look great. To really achieve an eye popping look, however, try shadows in lavender or pink. A splash of violet across your eye lid teamed with some icy platinum blonde locks is the perfect party look. Or a subtle hint of rose pink across your peepers will allow your golden locks to glow during the day.
To see how you'd look with any of the salon hairstyles pictured in this article, click on the above images to try the virtual hairstyles with your own photo! You can even add a great eye shadow look using our virtual makeup.