Imagine this: you're having a great time, relaxing on a balmy beach or frolicking through a brilliant snowfield, and when you get back to your hotel you find that your hair hasn't quite adapted to the weather your trip has served up. It's a complete mess! Dry locks, frizzy hair, lacklustre strands, oily roots and major hair color fade are all casualties of vacation fun.
To avoid something like this happening, make sure you bring the following hair care product essentials- they're the bare minimum hair care products you really need. Oh, and before you go ahead and start packing them, here's a tip about getting a new hairstyle for your holiday. It's best to get your hair colored and cut about a week before you go away because this will allow you time to get used to your new look and it will also allow your color time to "settle."
1. Hair Elastics and Pins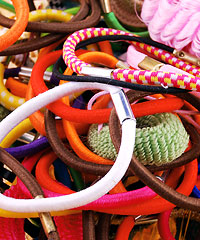 Maybe you're thinking that hair elastics and pins are the last things you'd take away with you because they're the kind of accessories you use mostly around the house (to keep your hair back while you're cooking or something). Well they're some of the first things I pack when I'm going on vacation.
Obviously they're a convenient way to keep your hair off your face when you're out and about; but also, pulling your hair into a quick updo or even a simple ponytail is a simple, easy and effective way of creating a glamorous hairstyle for a night out. All you need is a hair dryer, some water spray, a paddle brush and your pins.
(A good tip also is to put the hair elastics and pins in a plastic zip lock baggie to keep them together and to stop them from migrating to the bottom of your bag).
2. A Good Comb and Brush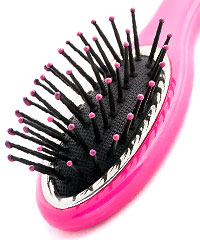 You need a good brush for using on dry hair to keep it smooth and shiny, and for styling simple looks like updos and "perfect ponytails," but you also need a good comb for detangling your wet hair after swimming and showering. Many people forget to bring both when going on vacation, and to keep your luggage nice and light I recommend a folding or "pop-up" brush and a mini comb.
3. Hair Care Treatments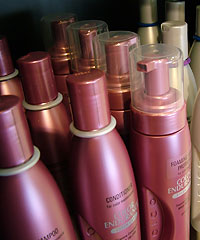 Alongside your shampoo and conditioner (you can get most kinds to suit your hair's texture and elasticity in mini bottles) a hair treatment specific to the climate you're visiting is another vacation hair care product essential. If you're going somewhere hot, protect your locks- just like your precious skin- with a leave-in conditioner or moisturizing product with UV protection. If you're going somewhere cold, avoid getting cold-damaged hair and split ends with a moisturizing mask or a deep conditioning hair oil treatment. These kinds of products aren't big and bulky to carry and they'll make sure you've got shiny hair and healthy hair for your holiday.
4. A Shower Cap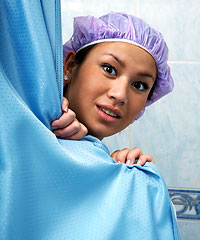 You don't have to be a grandmother to appreciate the benefits of a shower cap. Put one in your toiletries bag (they're nice and light and compact) because they're a great idea if you're going on "mini break" and you want to avoid washing your hair so your new color lasts. Also, if you get your hair done for your vacation and you want to have a quick shower to freshen up when you arrive, a shower cap will help keep your style salon perfect.
You don't necessarily need to bring a trunk full of hair care products when you go on vacation- you can get away with taking only these essentials. So don't let your hair be a casualty of vacation fun. Leave a comment below and add any hair care travel tips that have helped you keep your hair under control when you're on vacation.