Actress Sarah Hyland is instantly recognizable with her long locks, large green eyes and that adorable heart shaped face. Sarah always has her hair and makeup styled to perfection, making the most of her large eyes and doll-like heart-shaped face. And, she's constantly mixing her style up providing plenty of inspiration for other hearts as well. Sarah always looks gorgeous both on and off the red carpet thanks to her natural good looks and of course, her fabulous hair! Sarah has thick brunette locks that she keeps styled to perfection whether she's going for a sporty and casual look or something more formal. She has a typical heart shaped face with a low, wide forehead, a wide cheek and jaw area and a narrow chin. This face shape often gives one a doll-like appearance so girlie hairstyles are a must!
Let's check out some of Sarah's latest gorgeous hairstyles for heart shaped faces: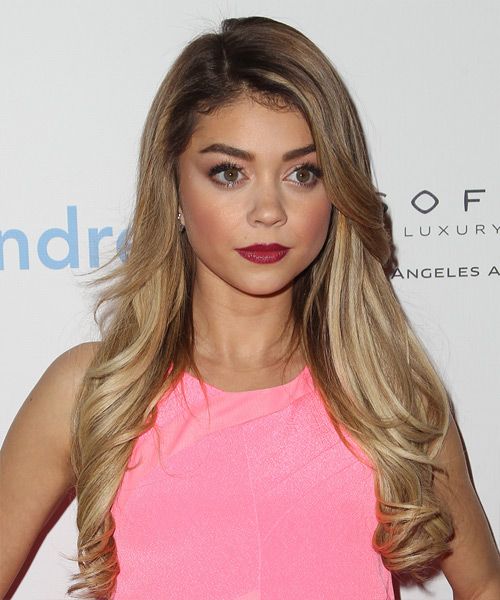 In her most recent look, Sarah has gone blonde for a change from her usual warm golden brown hair colour. Her heart shaped face looks great in this ultra long curled 'do that falls almost to her waist. If you want to get this look, you may want to consider extensions if you don't have the patience to grow your hair out. Or, just go for something slightly shorter and add the curls in - hearts look great in any hair length. The sweeping side fringe is another nice feature of this hairdo, which suits the typical heart shaped face's low forehead nicely. A center part will work well here too.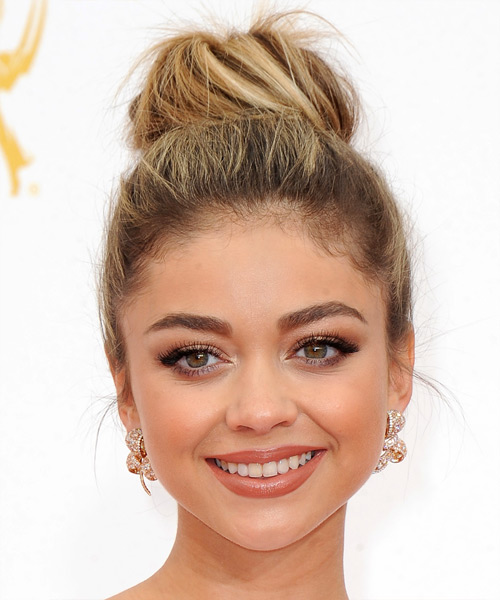 Every girl needs a go-to up-do, and in Sarah's case it's the casually cool top knot. This hairstyle looks great on a heart shaped face and can work for both day and night. To get this 'do, simply tie your hair in a high ponytail and put a sock or bun 'donut' around the base, pulling the ponytail through. Distribute the hair around the sock/donut and secure it. Don't forget to add some great earrings to finish off this pretty look.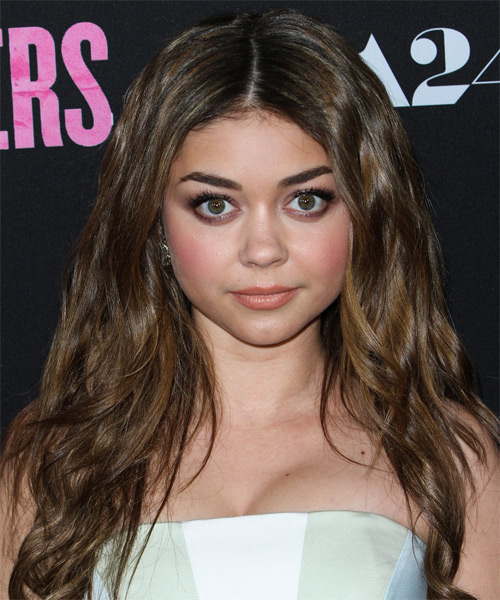 If you're a casual kind of heart, you'll like Sarah's long, loose and effortlessly cool waves. Sarah is wearing her hair darker and letting her natural waves do their thing. Let your hair dry naturally and use a sea salt spray to give it that beachy look.
This hair colour brings out her eyes more and her natural hair texture looks great in this easy, long layered 'do. Heart shaped faces look great in a center part as we can see on Sarah here, and the waves add a nice softness overall. If you have a heart shaped face, try switching up your part for a different look, and adding some loose waves or curls if you have straight hair. A centre hair part looks hot on hearts, so give it a try if you haven't done so already!
Here's another gorgeous up-do that will look fabulous on all the hearts out there. This romantic up-do was created by first curling the hair in ringlets and then pinning it back, keeping a sharp centre part in the middle. Some long tendrils have been left down, creating a soft frame around the face and the overall hairdo is loose and elegant. This is one look heart ladies will want to try out for their next formal event.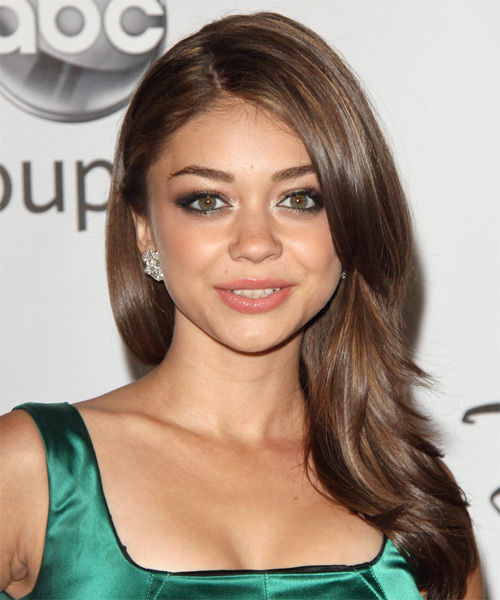 Here, Sarah looks stunning in sleek, glossy waves that are layered from the cheekbones down. This is a fabulous cut for hearts as it balances out a narrow chin line and adds loads of volume to the hair.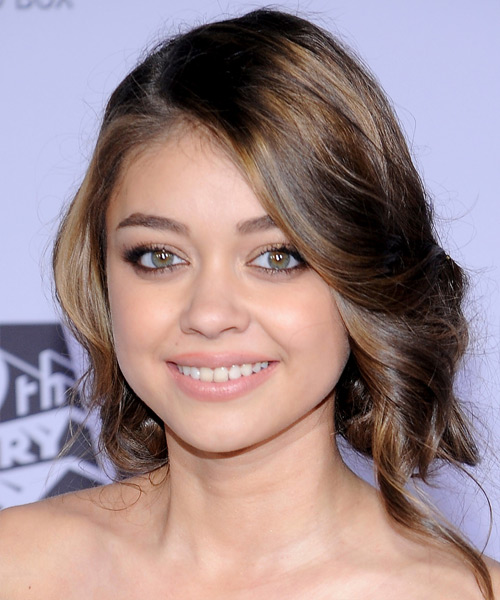 Here, Sarah pulls off a stunning low-do, styled from long loose waves that have been swept to the back and pinned into place. The loose and deep side part look stunning on a heart-shaped face.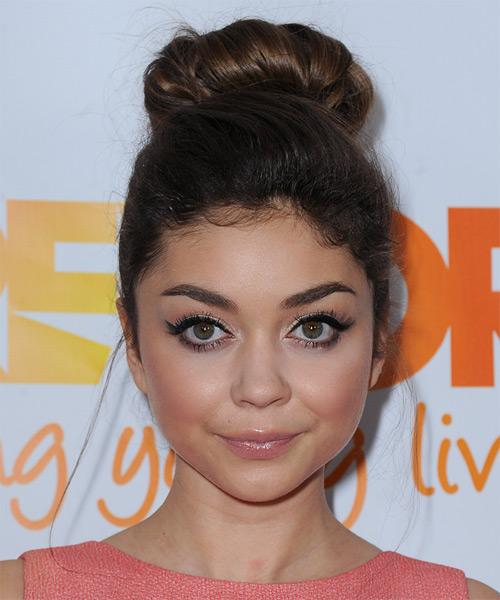 For a quick and easy updo, hearts look fab in voluminous top knots, as seen here on Sarah. This works for day or night and it only takes a few minutes!
As you can see, Sarah Hyland knows how to wear the best 'dos for her face shape, and has lots of variety in her hairstyles. Click here to see even more Sarah Hyland hairstyles.
To see how you'd look with any of the great hairstyles pictured in this blog, click on the above images to try the virtual hairstyles with your own photo!