Sexy actress Eva Longoria has never had a hair fail that we can think of, nor has she ever sported a cringe-worthy look—both on and off the red carpet. Eva is one of those ladies who is a true beauty icon because she always looks classy, elegant and youthful. So what is her secret? Well, good genes obviously plays a role in Eva's beauty, but she also knows how to work her best features and not mess with a good thing. Eva never experiments with crazy cuts or colors and while yes, that is known as playing it safe, it also guarantees a flawless look every time. So without further ado, let's check out Eva' hairstyle history and see how her look has evolved (or not?) over time.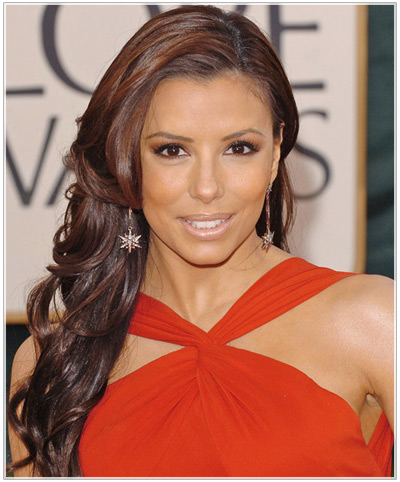 Here's Eva a while ago, with her signature long curls. This is a simple hairstyle that suits her oval face shape nicely and provides all of the versatility that a red carpet regular needs. This 'do has long layers for volume and body which look fabulous with her curls and waves. The color is a deep brown base (her natural shade), but she has added in some auburn highlights for definition. Overall, this is a good look for Eva, although she needs a lipstick that has a touch more color, if she doesn't mind us sayin' so!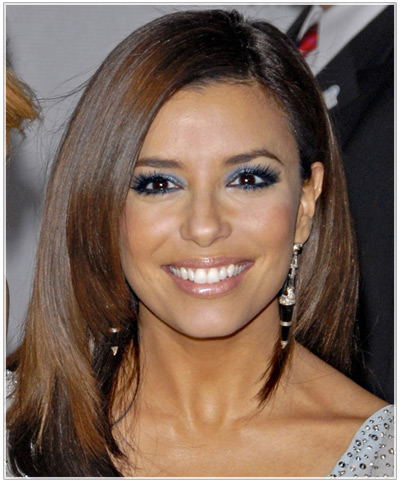 In another look, Eva goes shorter and smoother for an elegant twist on her usual hairdos. The shorter length looks fabulous with her face shape, especially the layers around her jawline. A simple side part and some shine spray perfect this hairstyle, which looks gorgeous for day or night events.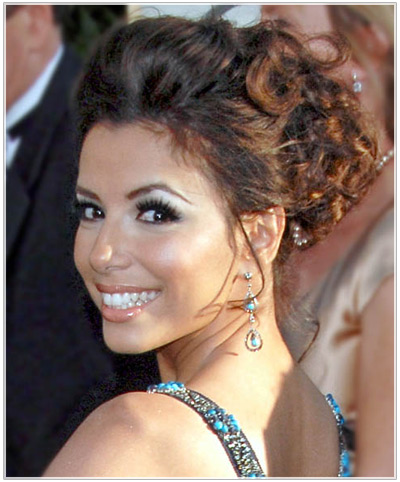 Having long hair, Eva is obviously a fan of wearing an updo on occasion. Here, she is making the most of her natural curls with this high volume, high glamour hairstyle that is fun, flirty and feminine. This look is also easy to achieve at home for all of the Eva fans out there. Simply backcomb the top and crown area to create a bouffant effect, and then twist and pin the rest of the hair up loosely at the back of the head. You can choose how crazy you want this hairstyle to be—for more curls, simply pin it very loosely and leave some ends hanging out. For a sleeker look, wrap your sections tighter as you twist them into place for a sculpted bun instead.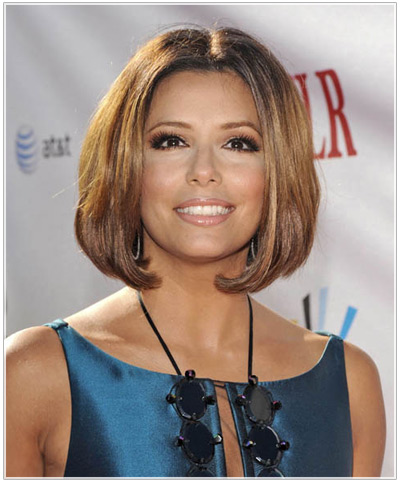 Remember when Victoria Beckham and Eva became great friends? This was the result. Whether she copied her new BFF's 'do or Vicky persuaded her to chop her hair into a Pob (Posh Bob)- the results were lacklustre. Although Eva still looked pretty, this was not her best look. The angles were too harsh and her thick, curly hair isn't meant for a graduated bob. We'll blame this one on VB.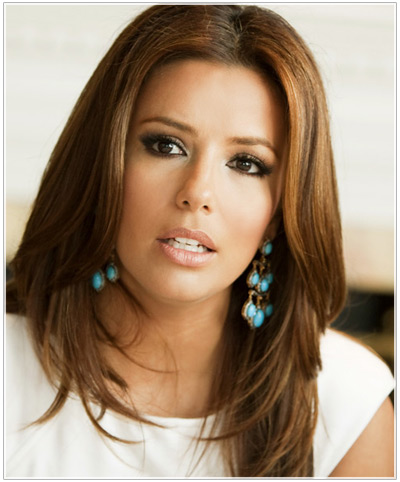 But back to her best here, Eva looks flawless in a simple layered hairstyle with gorgeous light brown highlights. This is a simple haircut but Eva's fabulous color makes it a stand-out look for her. If you have a similar skin tone to Eva, you may want to try this color out!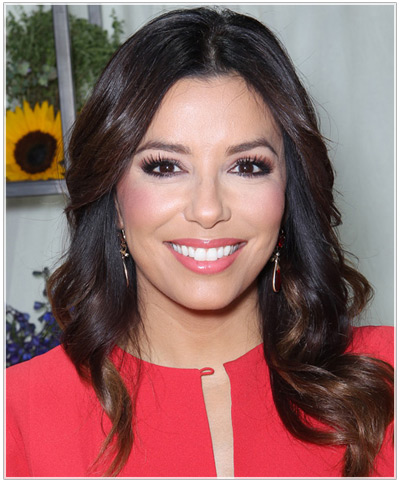 And finally, we have Eva in the present day with another classic and elegant hairstyle that suits her perfectly. Eva has gone dark and dramatic with a deep espresso brown hair color and slightly sun kissed ends. Her length is a bit shorter these days which gives her a nice polished look, and the style is simple: parted in the middle with loose waves throughout the ends.
You can see that Eva loves to work with her natural hair color and texture which every woman should strive to do. Bring out your natural beauty and work with what you've got, just like Eva!