Kelly Rowland was part of one of the world's most famous girl groups and had a successful singing career on her own. And if that wasn't enough, she has also carved out a name for herself as a hair and beauty icon. That's quite an impressive resume Ms. Rowland has! Kelly appeals to so many women because she is talented and beautiful, yet she gives off a personable down-to-earth vibe that makes her all the more likeable.
When it comes to her hair and beauty, Kelly is a style chameleon that changes up her look often. Not only does this keep her relevant, she also provides us with some great hairstyle ideas too! Check out Kelly Rowland's best hairstyles below to see why she is known as a beauty icon for women all around the world.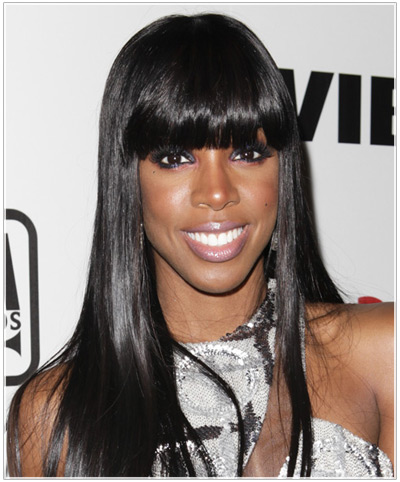 Back in the Destiny's Child era, Kelly was a huge fan of long, glossy locks. She bounced back between curly and straight but one of her best looks was this simple sleek 'do. Kelly's eyes and megawatt smile look amazing with this straight blunt cut that really brings out her best features, and perfectly compliments her oval-shaped face. The brown-black color is also a winner here and a good shade for women with a similar complexion to wear. It has just the right amount of warmth to harmonize with her skin tone while still looking dark and dramatic. This shade looks fab with her eye color as well!
Here, Kelly is still rocking the long locks but has added some softness and volume to create a totally different look. This hairstyle can be achieved by using large Velcro rollers to set the hair or by using a large-barrelled curling iron. Once the curls have been set, separate them by using a comb to soften and expand the curls for a fuller look. Feel free to add backcombing at the roots for extra volume. Kelly has also added a bit of curl to her bangs and swept them to the side, which is a great tip for ladies who are starting to grow out their fringe or simply want a softer frame around their face.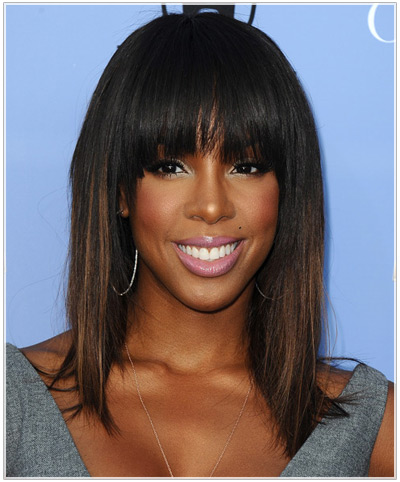 In this photo, Kelly is looking gorgeous in a chic shorter 'do that oozes style and sophistication. Again, the stick straight texture looks fabulous on Kelly and her eye-skimming angled fringe creates a nice frame for her eyes and cheekbones. This hairstyle is one of Kelly's best, and is made even better by her subtle sun-kissed highlights throughout the ends. If you have naturally dark hair, try this shade of warm chestnut brown if you want to give your color a gorgeous subtle glow.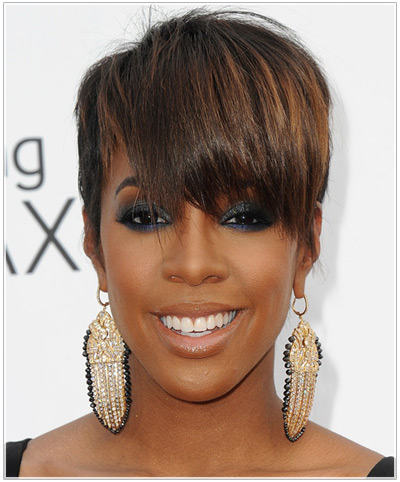 Fast forward to 2014 and Kelly is looking better than ever! She is experimenting more with shorter styles and has lightened up her hair even more with randomly placed coppery brown highlights. Paired with her jagged short hairstyle, Kelly looks fantastic. Although this hairstyle is short, Kelly can really play around with it by styling it to the front (as seen here), flipping it to the side or even sweeping it off the face and towards the back for a cool, edgy look.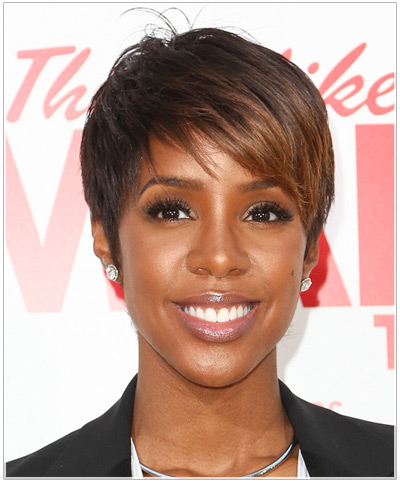 And for her most recent look, Kelly has gone demure with this chic layered 'do that is tapered on the sides and back. Kelly is really coming into her own sense of style here and her new look says that she is confident and happy with herself. This wispy haircut really provides a beautiful frame to her face and lets her natural beauty shine through. Her color is even redder than before but it works well with her complexion and gives her an all-over warm glow.
It's easy to see why Kelly Rowland is a hair and beauty fave amongst women. Which of these looks is your favorite?