Some looks just wouldn't be complete without a hint of red lipstick, but this attention grabbing makeup staple can also hurt a look when tamed with the wrong hairdo, outfit or makeup. To ensure that you know how to get a great red lipstick look, remember these tips:

Red lipstick should be selected based on your skin tone (please, no matching to your hair color or dress).
Fair skin requires red lipstick with blue undertones.
Olive skin tones can pull off orange based red lipsticks.
Dark skin is made for deep, dark red lipsticks.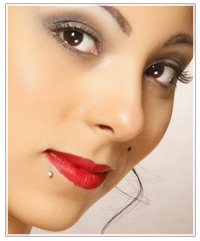 It's not only the choice of color that gives red lipstick such impact, the type of lipstick can also make or break your look...
If you want flat color that will last the night, choose a matt variety.
For a finish that won't dry out your lips and will give you the truest color, try a creamy lipstick.
If you're after a subtle red lip, a frosted or tinted lipstick or lip gloss is your best bet.

If you're using lip liner, make sure it's not darker than your red lipstick.

For the best finish possible, use a lip brush to paint a layer of color on, blot with a tissue and then apply another layer of lippy. Repeat the steps until you've built up to the shade of color that you want. Applying and blotting in layers will also help your color last longer.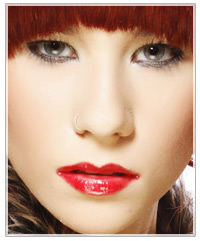 If you know that your lips are prone to dryness, prep them with a lip primer or some Chapstick before applying your lipstick. When all eyes will be on your lips, you want them soft and supple, not dry and flakey.

Red lips draw attention so keep the rest of your makeup low key to ensure your lips shine. Use neutral eye shadow, light lashings of mascara and only a hint of blush.

To ensure that your natural lip color doesn't interfere with the red lipstick color you've chosen, go over your lips with a nude lip pencil before apply your lippy. The neutral base will ensure the color in the lipstick tube is the color that will appear on your lips, and help keep the lipstick from fading.