If you love the look of Miley Cyrus, Skrillex and Rihanna's hairstyles, then you are a fan of the edgy undercut. This hairstyle is so popular that it is no longer considered an alternative style and is now a mainstream look. This means that if you have always wanted to get this dramatic cut but were too timid, then now is the perfect time.
The undercut will suit any face shape and hair type, and can be tailored to suit your personal style. For example, women who want just a hint of edginess can get a small undercut just around the ear, whereas those who want a bolder look can take it right up to the crown. Check out these hairstyles and see which one speaks to you.
Our model goes for a sleek look here with a deep side part and angled fringe. One side is shaved to the parting while the other falls diagonally across the face for a peek-a-boo effect. This side cut will suit oval, oblong, square, and diamond face shapes the best, and straight hair will give the best overall look here. Our model has made this hairstyle even cooler by adding streaks of bold red underneath her dark brown base shade. This is a chic take on the undercut hairdo that will suit women who want an edgy yet sophisticated look.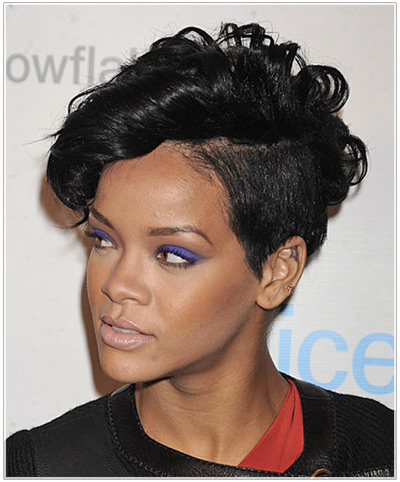 For all of the curly haired ladies out there, check out Rihanna's funky hairstyle here. RiRi has shaved one side of her head to meet her deep side part, and lets the rest of the layers fall to the side. This haircut will suit women with round, oval, heart, and triangular face shapes the best, and of course, the more curls and waves the better! Rihanna has further funked up her look with a bright violet eye shadow, which looks amazing with her black hair and dark skin tone.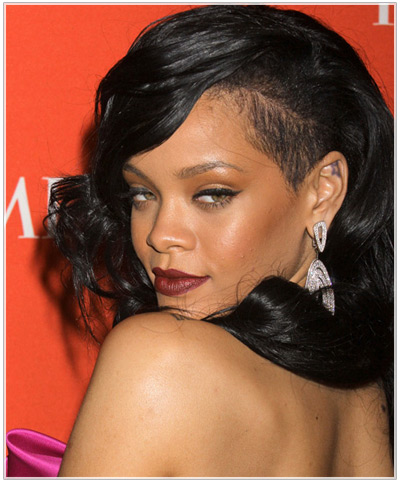 If you prefer a longer look, here is the queen of the undercuts again, this time in a more elegant hairstyle but still with that bit of edgy undercut. Rihanna is working long wavy hair here with just a bit of undercut that starts behind the ear and moves diagonally up towards the temple. This is the perfect peek-a-boo undercut for women who want to hide their edgy side for work, and let it come out for play! This hairstyle will suit oval, oblong, square, and diamond shaped faces the best.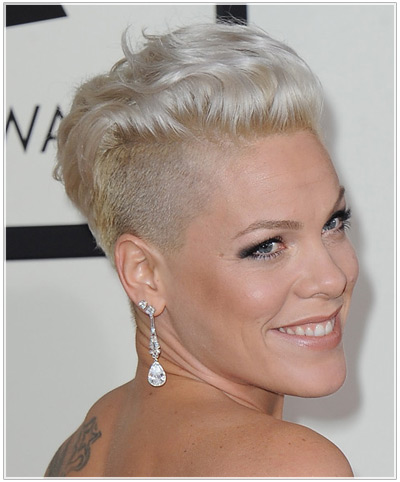 For those of you who like a bit of vintage rockabilly to their look, check out Pink's cool 'do here. This hairstyle was created by shaving both sides just above the temple and down the back of the head to create a faux-hawk effect. Pink's hair is naturally straight but she has created a pompadour style by curling her hair towards the back before backcombing the roots to give it lift and volume. This hairstyle will suit round, oval, heart, and triangular shaped faces the best and can work on straight, curly and wavy hair with success.