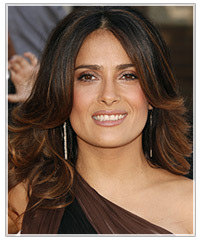 The recent trend of celebrities flaunting hair with the grown out roots look usually involves brown roots that fade into light blonde ends in a subtle and natural way (if it's done correctly, that is!) Salma Hayek has also caught onto this trend, but instead of going blonde, she has added golden brown tips to the ends of her dark espresso-hued locks. These two shades flatter her olive complexion and also match her eye color.
Salma keeps it looking real by using very thin sections for the highlights, which start at various areas on the head to avoid the dreaded "band of color" look that can sometimes result from this coloring technique. The result? Her hair transforms from espresso to honey brown naturally, which is perfectly highlighted with her Charlie's Angels-inspired 'do.
Her hairstyle is easy to achieve if you have long hair with hair layers than begin at the chin. Simply use large hair rollers to curl the hair outwards from the head, then break up the curls with your fingers or a comb and spray in place with hairspray.
You can also do a DIY version of Salma's color technique by using a home highlighting kit, however the color and placement is tricky to achieve, and is probably best left to a professional!
See more Salma Hayek looks and try the hairstyles on with your own photo using our Virtual Hairstyler.