Most bridal magazines are filled with wonderful hair and makeup ideas for the star of the show, the bride, and her bridesmaids. But treating your flower girl to a beauty makeover on your big day is just as important, even though they may not even have hit the double digits yet!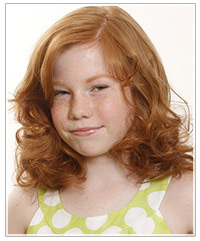 Here is a great example of a simple and elegant hairstyle for your flower girl that will make them feel like a princess. This style is easy to create too! After blow-drying their hair to look sleek and smooth, set it in hot rollers using two-inch by two-inch sections all over the head. Once the hair has set, unroll it from the rollers and then gently separate the lengths and ends using a pick comb. Do not brush it out completely or else you will lose the curls and end up with slight waves instead. Then, create a side hair part and smooth the hair over, spraying it in place. Give it a final spray with hairspray all over and add flowers or other hair decorations where needed.
Don't forget to make your flower girl feel extra special by adding a touch of makeup to her look. Here, our model shows us how just a bit of nude lip gloss and blush can polish off your flower girl's look to perfection.
For even more helpful makeup hints, see our full range of beauty articles and beauty blogs.