Let's face it, sometimes having straight hair can be a pain, contrary to what most people think! Especially if you want to wear a shorter style, straight hair can be too pokey, too fine, or too limp if it's cut improperly. The first step is finding a stylist that excels in cutting straight hair—don't be afraid to ask around or leave your current hairstylist if they just aren't getting your haircuts right. The second step is to check out our style gallery and get some ideas!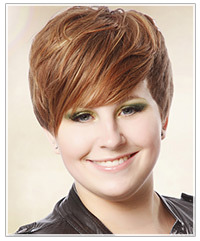 Our model shows a fantastic way to wear thick, straight hair. This layered haircut is tapered on the sides and back, with a long side-swept fringe that covers the forehead. This cut is great for round faces and looks especially chic with highlights!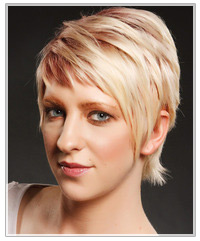 If you want a short hairdo but prefer to have some length, this haircut is just for you. Longer layers in the back and around the ears create a sophisticated look. Our model has a short, jagged fringe but a grown-out fringe also works with this style.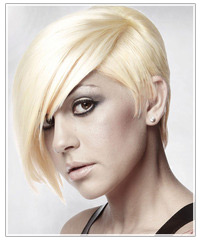 If you have an edgy sense of style, this asymmetrical haircut is made for you. A dramatic deep side hair part and closely tapered side looks oh-so-trendy, and the light hair color gives it an extra does of style!