Are you a country bumpkin looking for a city slicker hairstyle? If you are sick of wearing boring, dowdy hairstyles and are in search of something made for the streets of New York, LA or London, then we have some hairstyles for you. These hairstyles are perfect for city living because they can go from day to night and work to play effortlessly. They are timeless and trendy so no matter what you wear with them, you will always look on par with the trendsetters. Check out the best city chic hairstyles here and choose the one that is best for you!
Short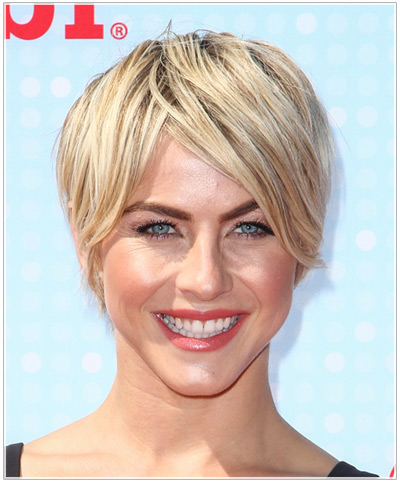 Julianne Hough is flaunting a super cool cropped hairdo that is perfect for city living. This short and sassy hairstyle suits women with oval, oblong, square, and diamond shaped faces who have straight hair. To get this look, ask your stylist for a tapered cut that has long layers on the top and sides. The back should taper nicely into the nape of the neck. To style, simply blow dry your hair, shaping it with your fingers or a small barrelled round brush. Julianne is going for a funky, brushed forward look here but this hairstyle would also look fabulous swept to the side or pushed back off the face with a headband.
Makeup and outfit idea: Pair this hairstyle up with bronzer, soft brown eye shadow and a nude lipstick for a sexy daytime look. The perfect outfit to match this hairstyle is a great pair of jeans, simple grey t-shirt and a leather jacket for an effortlessly cool and casual look. For night-time, try an LBD for a striking look.
Medium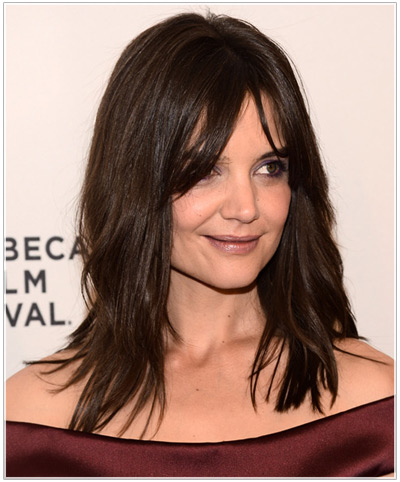 Katie Holmes is wearing a gorgeous medium length hairstyle here that will work great for city chicks on the go. This layered hairstyle suits oval, oblong, square, and diamond shaped faces the best and will work on all hair textures, although the best results will be seen on straight hair. To get this look, ask your stylist for a shoulder-skimming length with long, jagged layers added throughout for movement and volume. Katie's Bardot bangs work wonders on her face and bring out her eyes and cheekbones nicely. This is a great option for women who like a bit of coverage on their forehead but don't want to commit to a full-on fringe.
Makeup and outfit idea: Katie's got it right here with a simple earth tone makeup palette and nude lips here—the perfect daytime look for city slickers. Wear this hair and makeup with an oversized sweater, scarf and leggings for the daytime, and a chic tailored dress in the evening.
Long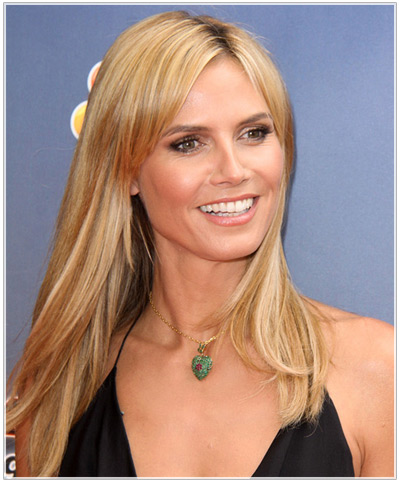 Heidi Klum's elegant long hairstyle is a great option for big city life. This hairdo can be worn down for a sexy and sleek look, or tied back into a ponytail, bun or chignon for a casual cool updo. This hairstyle will suit women with oval, oblong, square, and diamond shaped faces the best, and will work with straight or wavy hair textures nicely. To get this haircut, ask your stylist for a blunt cut with a few face-framing layers in the front. Feel free to experiment with the fringe here and choose from a full, blunt fringe or a side swept style. Or, part yours just off the centre like Heidi.
Makeup and outfit idea: Work this haircut in the daytime with a chic camisole top and faded jeans, and go for a sexy strapless dress in the evening. Keep the makeup light and fresh like Heidi's, but feel free to vamp it up with some smoky eye shadow for the evening.