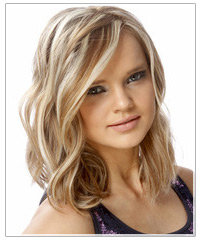 Beachy waves are always a hot summer look, but what is the best way to add some bohemian bounce to your hair in 2012? Here, our model shows how this year's boho waves are polished, with an edgier vibe compared to the more retro Seventies-inspired looks we have seen in the past. Here's the key to getting sexy beach hair for summer 2012:
Nicole Richie was once the queen of beachy hair with her long, sometimes scraggly waves. That look is over! Instead, more structured cuts with defined layers are the perfect base for beach hair.
Volume is also key this year. Add tousling in the crown and roots for bouncy beach hair.
When it comes to your waves, go for edgy waves that aren't uniform. Perfect Raphaelite curls are giving way to looser, rock-chick inspired waves this summer.
And what about hair color? Bold, rich tones are the way to go for the summer season. Whether you have a monotone color or various tones in your hair, make sure it's dynamic. Our model has a gorgeous combination of champagne blonde and light copper hues. Get creative, and make sure to use UV-blocking products to keep your hair color looking great all summer long.