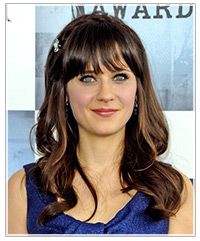 Having a long, blunt fringe is an ultra-modern, fashion-forward look that not all people can pull off. First, you must have the right face shape—sorry squares, these bangs aren't for you. Next, you need patience to style them everyday and tame fly-away hairs that just don't want to sit in place. But even with the constant maintenance, an eye-skimming fringe will instantly make your eyes stand out and highlight your cheekbones—well worth it!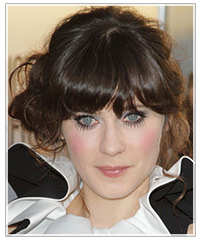 Zooey Deschanel is a fan of the long, blunt fringe, which is a great look for her dark hair and blue eyes. Zooey's hair has some wave in it, so her long fringe is often slightly curled at the ends. Adding large loose corkscrew waves to the ends of the hair complete this feminine look that works for day or night (pictured above).
For a fun updo (left), Zooey keeps her fringe curled and voluminous at the ends to match her curly side bun. She looks just like a porcelain doll with her flawless fair skin, rosy cheeks and uber-dramatic eyelashes!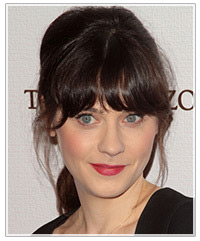 Deschanel can also pull off the retro look (right), using her Sixties-inspired fringe with a ponytail that has lots of hair volume on the crown. To get this look, backcomb the hair at the crown of the head, then smooth the top layer over and back before securing your ponytail.
See more hair and makeup looks from Zooey Deschanel and try them on.