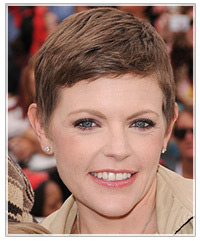 Cue a double take—yes, this is Natalie Maines! Years ago, the country crooner and her fellow Dixie Chicks built their image on being platinum blonde cuties that took country music to a new level, but now it seems that Natalie is developing a new persona. Before she had this light brown pixie cut, she had an even more daring look- a buzz cut.
Natalie has a cute face with bright blue eyes, a small nose and wide smile, meaning she can pull off super short hair. She is also very petite, so the long bleach blonde hair of her earlier years was a bit overpowering for her small features and frame. The pixie haircut is a great option for petite women who want to look more mature and sophisticated.
Although we are used to her long blonde locks, this new short do' shows what a confident person Natalie is. The only thing that lets it down is the wishy-washy hair color. Just a bit more richness or vibrancy in her color would make this hair 100% A-List. The current tone matches nicely with her skin and makeup pallet, but some highlights or a color gloss wouldn't go amiss. 
What do you think of Natalie Maines' short hairdo and new color? Leave a comment below.